Artist Josephine Halvorson Helms CFA Graduate Painting Program
Goals: encouraging diversity of voices, building community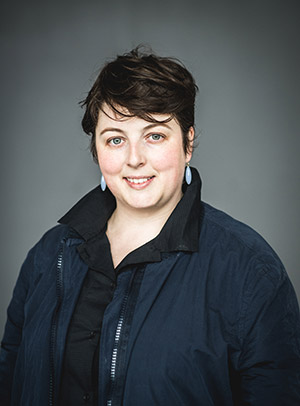 A row of salvaged doors propped up by painted cinderblocks bisects a cavernous room on the third floor of 808 Comm Ave, home to the College of Fine Arts graduate program in painting. One side of each door is painted with a color or motif intended to evoke Mexico, the other side has been left as the artist found them. Students and professors sit on both sides of this makeshift wall.
The MFA student who created the piece starts to explain her work to the audience, invoking both her personal connections to Mexico and the recent presidential election, with its talk about walls. Soon, two visiting critics, who don't know the student or the work, begin to offer a candid critique. They're intrigued by the binocular vision offered by the piece, by the fact that a viewer can see, albeit imperfectly, through the wall. But it isn't all hearts and flowers—far from it. "The conversation got hijacked by your description of what it's about," says one. "My heart just sank."
It might not be the assessment an aspiring artist would want to hear. But this sort of honest, nonjudgmental exchange of views and ideas is part and parcel of becoming an artist.
So contends Josephine Halvorson, hired last September to chair the CFA School of Visual Arts graduate painting program. The critique was one of a series of end-of-semester reviews of the program's MFA candidates; students and faculty members also meet weekly throughout the semester to critique one another's work. In these sessions Halvorson strives to steer students away from "positive/negative, working/not working, in favor of more complex language. It's so important in liberal arts, and specifically in art education, for students to feel like there is no right answer," she says.
"We are often told to experience the world in terms of binaries—red/blue, success/failure, male/female—but in art, this way of thinking is not especially helpful," she continues. "When we critique work, instead of saying, 'It's great,' or 'It's terrible,' or 'Thumbs up, like it on Facebook,' how can we talk in more holistic terms to get to the complexity of what art is?"
That view goes hand-in-hand with Halvorson's overall approach to teaching and to the painting program. "I don't want there to be any one overarching pedagogy in the program, one style or way of looking," she says. "What I bring is somewhat the opposite of the atelier model, in which there's a master who teaches students to paint in the same manner; it's a very strong academic tradition, but that's not what I offer. My job as an art teacher at the graduate level is to remind students of the diversity of voices and that every voice is important." Toward that end, she has focused on bringing in visiting artists to speak to the students—visitors who she hopes will "contradict each other and confuse the students, so that ultimately the students are left listening to their own unique voices."
Halvorson was chosen to fill the famously large shoes of John Walker, who led the graduate painting program from 1999 to 2014. She came from Yale, where she had spent six years as senior critic in the MFA program in painting and printmaking, and before that had done stints at Princeton, Columbia, Cooper Union, and the University of Tennessee, Knoxville. When she came to BU, she faced the tricky task of both honoring Walker's legacy and expanding upon it. Richard Ryan, a CFA associate professor, had been interim program head and was a member of the search committee that chose Halvorson. He says that "the program was a very traditional painters-making-paintings kind of situation. John Walker was trained in the English world and style. It wasn't backward-looking, but it was strongly rooted in the history of art from the 15th to 20th centuries. The idea was to get Josephine to bring it up-to-date without abandoning that strength."
Lynne Allen, CFA dean ad interim, is of the same opinion. "We wanted a person who could continue our tradition," she says, "while also offering new discussions about painting in the 21st century."
A lonely endeavor
That's not to say, however, that Halvorson is dismissive of history—quite the contrary. In a conversation in her airy office-cum-studio, with oversized windows looking out over a busy stretch of Comm Ave, she emphasizes the inescapable weight of history, from past centuries to very recent, that informs all art: "Every painting you make, every brush stroke you make, conjures loads of art history, whether you want it to or not. Whether artists embrace it or antagonize it, it's there." At the semester-end critiques, she urges each student to consider his or her work in an art-historical context.
As a student at Cooper Union, she was in downtown Manhattan on 9/11 and saw the second plane hit the World Trade Center. "All I smelled was burning for months after. That was a profound experience….These things take time in how they show up in your work. But 9/11 defined and changed who I am in lots of ways. For many students, an election like 2016, and how to grapple with it, will be with them for a long time, perhaps forever."
The sense that, even more so than usual, these are precarious times for artists leads Halvorson to another overarching concern: building a sense of community for her graduate students. By its very nature, making art is a lonely endeavor, she says. At one time, artists could form community through a sort of organic bohemia of cheap rents in marginal neighborhoods. "It's not like that anymore," she says. But in graduate school, "students go through this very shared experience together, and when they leave, they have hopefully established a real practice for themselves and also find themselves part of something bigger, feeling a momentum to contribute to art in a way that's hard to do without a sense of community." As part of her effort to build community, Halvorson has instituted a weekly "town hall meeting," as she calls it, for the students, a safe space to air questions and concerns. As a native of Massachusetts—she grew up on Cape Cod—she says, with a laugh, "Town meeting is part of my religion."
Halvorson's own work, encompassing painting, sculpture, printmaking, and drawing, has been exhibited in New York, London, Paris, Seoul, and Rome. A contemporary realist painter, she paints from observation, on site in urban and rural areas. She says her paintings "describe the physical appearance of the subject at hand, while also expressing that which is invisible, yet nonetheless felt: place, time, history, and emotion."
She has received numerous fellowships, including a Fulbright, and was the first American recipient of the Rome Prize from the French Academy in Rome. In 2009 she was honored with a Louis Comfort Tiffany Foundation Award. She earned a BFA from Cooper Union School of Art and an MFA from the Columbia University School of the Arts.
Halvorson wants to make sure that her graduate students are able to articulate their views and apply intellectual rigor to their process. "One thing that's really important to me is to be smart, to think and express oneself as creatively as we make things," she says. "Artists are among the smartest people I've met." Historically, the BU program has had the reputation of being "very materials-oriented and hands-on….It's always been a 'making' kind of place. I don't want to lose that in favor of discourse, through placing the emphasis too much on language, but I don't think they're mutually exclusive. I want these students to be robust, in both their thinking and making."
At the end-of-semester critique, another student presents her work as "bizarre," as challenging certain norms. The visiting critics aren't so sure. But bizarre or not, art exists within a context, and Halvorson is determined to make that understood. "What's at stake for you? How does this challenge convention? Relative to art history, what are you pushing up against?" she asks. The questions are more probing than challenging, encouraging the artist to go further, go deeper, to find her own voice.
That, finally, is Halvorson's goal as a teacher: to try, as she puts it, "to facilitate students' own expression" so they do the demanding work of making meaningful art.
"Some of them," she adds, "would love to be told what to do, but I'm not going to give it to them."
Jane Dornbusch can be reached at jdornbusch@verizon.net.