Four BU Professors Receive University's Highest Faculty Honor
CTE researcher, prizewinning novelist among 2019 William Fairfield Warren Distinguished Professors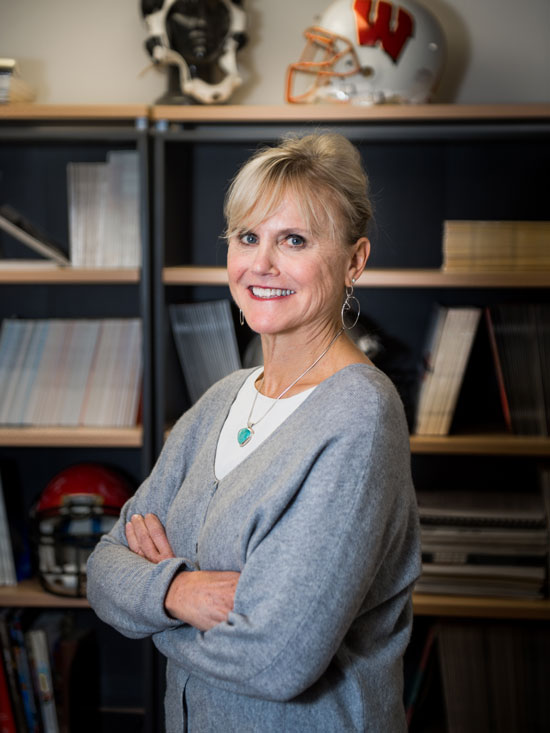 It's been a year of professional triumphs for Ann McKee, who does groundbreaking research into chronic traumatic encephalopathy (CTE) and repeated head trauma in soldiers and athletes. In addition to being elected to the National Academy of Medicine, the School of Medicine professor of neurology and pathology also received a lifetime achievement award from the Alzheimer's Association International Conference and was named one of Time's 2018 100 most influential people.
She has now received another distinction: she is one of four BU faculty named a William Fairfield Warren Distinguished Professor, the University's highest faculty honor. This year's other awardees are Christopher Chen, a College of Engineering professor of biomedical engineering and of materials science and engineering, Michael Hasselmo, a College of Arts & Sciences professor of psychological and brain sciences, and Ha Jin (GRS'94), a CAS professor of creative writing. The appointments were announced April 29 by President Robert A. Brown, who along with Jean Morrison, provost and chief academic officer, notified each recipient personally.
The William Fairfield Warren Professorships, named in honor of BU's first president, were established in 2008 to recognize BU's most distinguished faculty. The award is the highest distinction bestowed upon senior faculty members who remain actively involved in research, scholarship, teaching, and the University's civic life. It comes with an annual scholarly allowance of $20,000 and funding for a month of summer salary. Each recipient is bestowed an emeritus title upon retirement.
McKee says that she is deeply honored, noting that because this is an internal distinction, "the award feels personal and special. I am energized by the validation of my work by my own institution, just as I am very proud to represent BU in all my interactions with other scientists, other academic institutions, and the media."
"Through her research and public spokesmanship, Dr. McKee has transformed the national—and international—conversation about sport safety," Brown says. "Like her fellow Warren Professors she reflects the best of Boston University and what we seek to achieve in the world."
McKee is the director of BU's CTE Center, whose brain bank has more than 600 brains donated by professional athletes and their families and by many others. CTE is associated with dementia, mood changes, and aggression. In November 2017, McKee announced that her team had determined that Aaron Hernandez had the worst case of CTE ever found in a young person. Convicted murderer Hernandez, a former New England Patriots football player, was 27 when he died from suicide in jail in April 2017.
McKee has published more than 70 percent of the world's CTE case studies and has testified before Congress. She is the associate director of BU's Alzheimer's Disease Center.
In a Boston Globe profile naming her the 2017 Bostonian of the Year, she said that her nieces call her "Auntie Badass."
"BU students are innately curious and ask a lot of questions. I am too," says McKee, who was a Green Bay Packers fan growing up. "I enjoy sharing my journey as a physician-scientist to try to figure out what makes human beings think, behave, and act by looking deeply into their brain. There is so much we do not know."
Christopher Chen is one of the world's leading experts on regenerative medicine. He studies tissue engineering and mechanobiology, which combines engineering and biology to study how physical forces and changes in cell or tissue mechanics affect development, physiology, and disease. He is director of BU's Tissue Microfabrication Laboratory, founding director of the Biological Design Center, and deputy director of the National Science Foundation Engineering Research Center for Cellular Metamaterials, both housed at Boston University. Chen is also a member of the Harvard Wyss Institute for Biologically Inspired Engineering.
"It means a great deal to be sharing this esteemed professorship with other luminaries here at BU, and especially being the first ENG faculty to be selected," says Chen, who also recently won the 2019 Robert A. Pritzker Distinguished Lecture Award and is a fellow of the American Institute for Medical and Biological Engineering. "It is especially meaningful to know that my research and educational activities are being amplified by this honor, and I hope to continue to add to its luster."
Chen says the news of the professorship caught him off guard. Brown had invited him to a meeting at his office "to discuss nominations for awards, so I presumed he was asking me for input on one of his projects," he says. "I thought something was up when he and Jean Morrison sat me down and they were beaming. It was meaningful to receive the honor personally from them."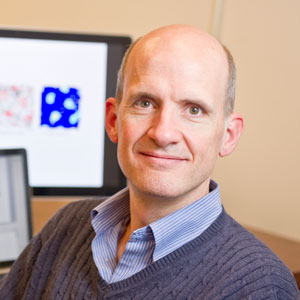 The director of BU's Center for Systems Neuroscience, Michael Hasselmo uses neurophysiological recording and computer modeling to link the dynamics of cortical circuits to memory-guided behavior. His work is relevant to how memory and cognitive function are impaired in individuals with Alzheimer's disease and schizophrenia.
Last year, Hasselmo was inducted into the American Academy of Arts & Sciences. He is a member of numerous scientific journal editorial boards, including the board of reviewing editors at Science, as well as a fellow of the American Association for the Advancement of Science. He is also a principal investigator on two National Institutes of Health R01 grants and a $7.5 million Office of Naval Research Multidisciplinary University Research Initiative Award and is a mentor in the University-wide Graduate Program for Neuroscience.
"I enjoy introducing students at BU to theories about the mechanisms of brain function, particularly in my own field of research on memory and goal-directed navigation," Hasselmo says. "This is an exciting area with many exciting recent breakthroughs, but also with tremendous opportunities for future contributions. I take pleasure in training students on the available experimental data and theoretical techniques, and also encouraging them to think in terms of their own potential future contributions to the field."
Hasselmo has previously written letters supporting other senior faculty to receive the Warren Professorship, and says he is proud to receive the honor himself. "I have always been interested in the history of academia, and I appreciate the value of the named professorships at universities, so it is marvelous to receive this honor from Boston University," he says.
The award-winning author of nearly 20 books, among them novels and poetry and short story collections, Ha Jin (the chosen pen name of Xuefei Jin) was 14 years old when he enlisted in the Red Army, after the Cultural Revolution closed schools in China. He later earned a bachelor's and a master's in his native country before coming to the United States and eventually enrolling in Brandeis University. He won a National Book Award in 1999 for his novel Waiting (based on his experiences during five years in the Red Army); two PEN/Faulkner Awards, for Waiting and for War Trash; a PEN/Hemingway Foundation Award, for Ocean of Words; the Asian American Literary Award; and the Flannery O'Connor Award for Short Fiction. Jin was elected to the American Academy of Arts & Sciences in 2006 and the American Academy of Arts and Letters in 2014.
He says he is extremely honored to be named a Warren Professor, and that the appointment makes him "more determined to do my best in serving the BU community." Jin, who has been a professor at BU since 2002, says that "many of BU's students are experienced in life, and some are actually working while studying here. I enjoy mixing with them and get stimulated by my interactions with them."
"These highly capable and accomplished individuals are emblematic of the quality of our institution," Brown says. "We are inspired by their work and grateful for their service."
Find a list of the 13 previously named Warren Professors here.