Style
What's Hot in Fall Fashion Accessories? These Terriers Show Off Their Favorites 
"Accessories are important and becoming more and more important every day," the iconic fashion designer Giorgio Armani once famously said. But what's considered a must-have accessory one season may be out of fashion the next. This fall, fashion magazines and websites have pointed to women's accessories like shearling footwear, platform boots, dangling earrings, clasp bags, and belt bags as being particularly popular. And for men, vintage watches, sling bags, and leather-trimmed mesh sneakers are trending, say fashion wags.

We asked Terriers around campus to tell us what their favorite fall fashion accessory is this season and where they shop for accessories, from scarves and footwear to jewelry and eyewear. Take a look.

Ashley Erica Wong (LAW'21)

Favorite fall fashion accessory: My black Brixton cap. It matches well with a light peacoat and instantly elevates a casual outfit by making it more sophisticated. It also works well with thigh-high boots and accessories with metal accents, like earrings, and it's great for keeping your head warm for those fashionistas who think a baseball cap will disrupt the overall flow of their outfit.
Where I shop for accessories: For fast fashion, I like to shop at H&M (that's where I bought the cap), Zara, TopShop, Primark, Asos, and boutiques in Soho in Manhattan. For more classic and higher-end items, I shop at Cos, Theory, and French Connections. And for unique and inexpensive finds online, I like to shop Korean websites like Yesstyle.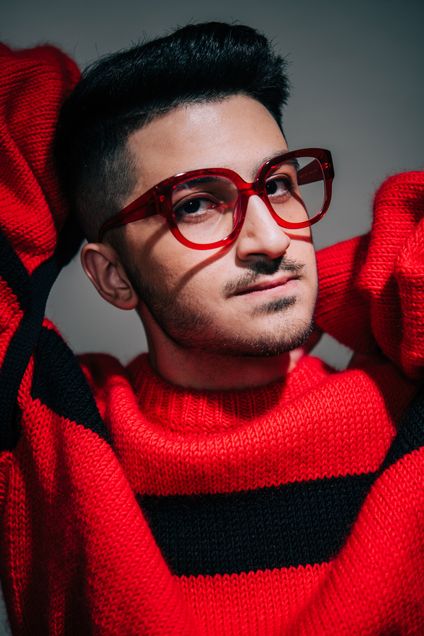 Tareq Alkhudari (COM'20)

Favorite fall fashion accessory: My red glasses, which I bought in London at Bailey, Nelson. I've always loved eccentric-looking eyeglasses. I have black/brown ones from Warby Parker, white frames from Carrera, and big black frames from Armani. I've even had cat-eye frames. They're all special to me. I liked these red frames for their bold appearance. A couple of years ago, I wouldn't have thought about wearing anything red: I thought it was too strong a color for me. But today I own many red accessories, including sweaters, shirts, and jackets. Having a fickle artistic personality that changes every day, being able to match how I feel with my glasses is important to me. It projects how I want to appear to others on any given day.
Where I shop for accessories: I love wide-brim hats, scarves, and traditional Arabic Qitras that I can wrap around my neck. I also love to wear rings. I shop at numerous places, including Zara, Aldo, Guess, ASOS, and for hats, Goorin Bros, on Newbury Street. Accessories reveal how sophisticated, fun, formal, or casual you are feeling.

Asjha Malcolm (CFA'23)

Favorite fall fashion accessory: I love these mesh cheetah socks I got online from ASOS.com, a British online fashion retailer. I wear them a lot because they look funky without trying too hard. Often socks are overlooked in the wardrobe, but wearing fun socks adds so much to an outfit.
Where I shop for accessories: I like ASOS because their apparel and accessories like jewelry and shoes are affordable and they have lots of options. I go thrifting a lot. When I'm at home in Connecticut, I like to go to Favors, a chain of thrift stores that sell dresses, pants, and skirts.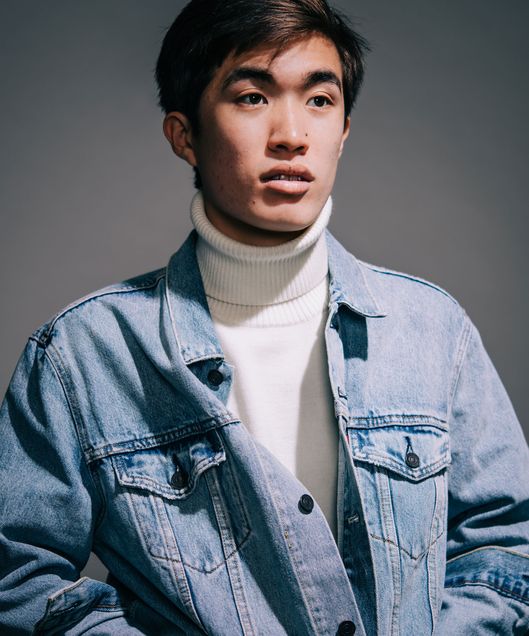 Trevor Powell (CAS'23)
Favorite fall fashion accessory: I really like this denim jacket from Levi's. It's really big, size extra large. I usually wear a size small, but I like the oversized look this gives me. And it's easy to add layers underneath. I bought it at the Levi's outlet store at Wrentham Village in Wrentham, Mass. It was just $15, marked down from $100.
Where I shop for accessories: I like to shop at Uniqlo on Newbury Street or at Quincy Market. They have a lot of great basics that are versatile and affordable. I love shoes and usually buy those online from Footlocker, Adidas, and Nike. And I like to visit thrift shops. I've been to Garment District in Cambridge and the Goodwill on Comm Ave in West Campus.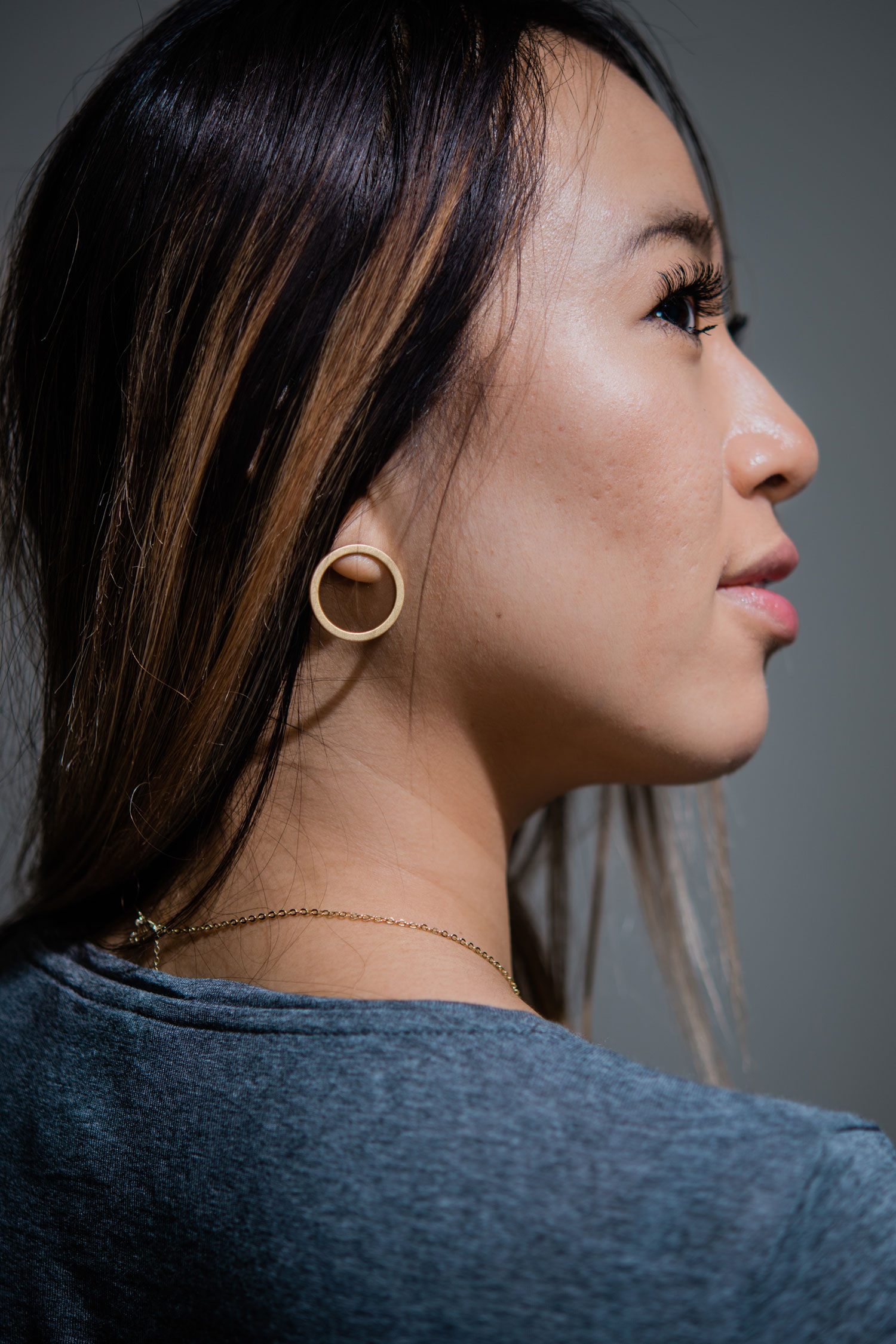 Geneve Lau (COM '21)
Favorite fall fashion accessory: I love a good small chunky hoop earring. I wear little teeny ones that my mom gave me on a daily basis, but some days I want a little extra "oomph" and I'll wear a pair of thicker ones. These [pictured] are unique because instead of being traditional hoops, they're actually like circle earrings! I always get compliments on them when I wear them. I purchased them at Ashby's, a local boutique in Richmond, Va.
Where I shop for accessories: I really like to wear gold necklaces that are personalized—that either have my first initial or my zodiac sign, etc. I find them on Etsy, Amazon, and Zara. I also like to shop one-of-a-kind boutiques for jewelry.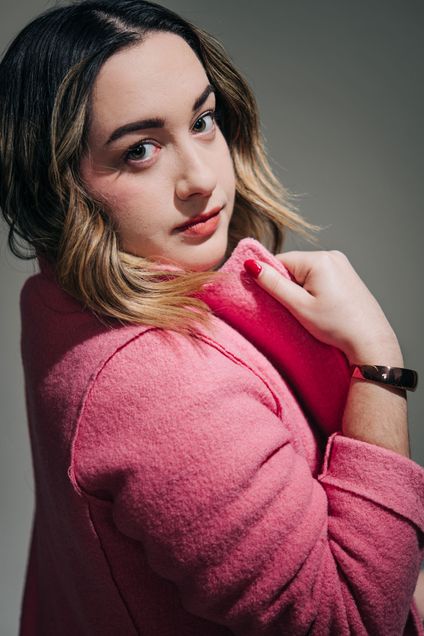 Natalie Held (CAS'21)

Favorite fall fashion accessory: My pink coat is from J.Crew. It was a gift from my grandmother. Pink is my favorite color and you don't see a lot of pop-up color in fall and winter clothing in Boston. It's wool, but the weight is meant for fall weather. It also has deep pockets—perfect for holding my phone, keys, wallet, and chapstick. My other favorite accessory is this bracelet from Flare. It's a stylish and chic bracelet that's also a safety net. It has a button connected to an app to reach out to friends or call with an automated message if I'm in an uncomfortable situation. The company sent it to me as part of a pre-launch for this bracelet. People tell me they like it and then when I show them how it works, they're really interested.
Where I shop for accessories: I like to shop at Urban Outfitters, Anthropologie. I also like to support local artists here in Boston like Nicole Ficchera through her pop-up store, Hourglass Boston. She makes really cool hand-cut acrylic earrings.

Alex Pan (Sargent'23)
Favorite fall fashion accessory: I picked up this flower pendant at a local beads/crafts shop in my hometown when I was little because I loved how sparkly it was. It was only last year that I finally strung it onto a long gunmetal chain to make a necklace. I like how it's kind of '60s-inspired—I love drawing inspiration from that era when styling my outfits. The necklace pretty much goes with everything I wear right now.
Where I shop for accessories: Everything in my wardrobe has come from a thrift store or a small/local business. At home in New York, I shop at L Train Vintage and a shop called Beacon's Closet. Here in Boston, I like to shop at Buffalo Exchange and Goodwill on Comm Ave. I find it really exciting to hunt around for unique treasures, each with their own story. Every piece I wear has been thrifted. I buy everything secondhand because it's better for the environment. I also wear jewelry that my mom makes. She creates necklaces, chokers, earrings, and bracelets in her spare time, using glass seed beads, Swarovski crystals, polymer clay beads, you name it. Her crafts drawer is basically a tiny version of a Michaels crafts store.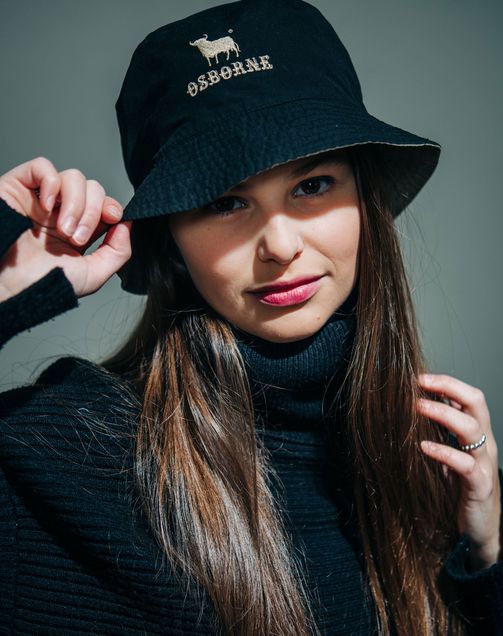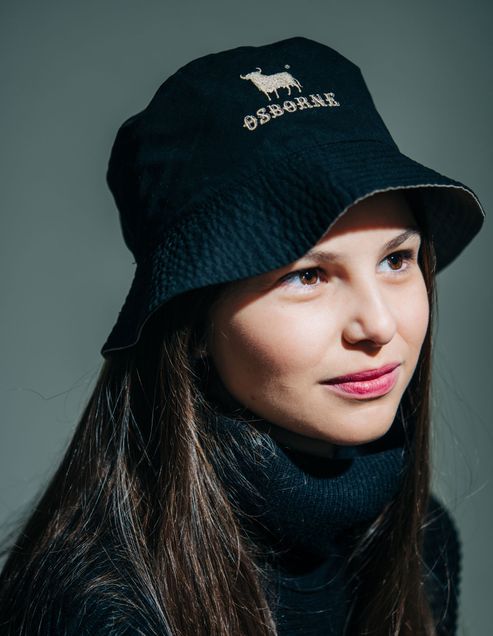 Silvia Velazquez-Gaztelu Ortega 
Favorite fall fashion accessory: I love this reversible rain hat with the Osborne logo. I'm from Madrid and Osborne is a popular Spanish wine and food manufacturer. The bull logo represents a well-known symbol of Spain. Rain hats are very trendy right now. This one is my mom's. I really like how it completes an outfit.
Where I shop for accessories: I love to buy hats, scarves, belts, and shoes. I shop at Zara, Mango, and Massimo. The clothing and accessories there are elegant, but you can also find stylish everyday wear.

Armand Manoukian (COM'21, CAS'21)
Favorite fall fashion accessory: I love my New Balance 990v4 sneakers! I think they're the perfect fall sneaker for a couple of reasons: they're meant to be worn, and in fact, look even better when they're broken in. You can also wear them when the weather gets bad, unlike an all-white sneaker that you're scared to scuff. The 990v4 also fulfills the very "in" look of a chunky sneaker, but because it's a New Balance product and they've been making these forever, they're super comfy. I paid $90 for them on Amazon, almost half of what they cost on New Balance's site.
Where I shop for accessories: I usually go to Amazon first, because they have such a huge inventory. I like to shop at Uniqlo stores because every week they have a new promotion. Everlane, which is online only, has a slightly higher price point, but the quality is excellent: you always know what you're going to get. I try to shop off season—e.g., I'll buy a lot of winter clothing in March, when it's being marked down.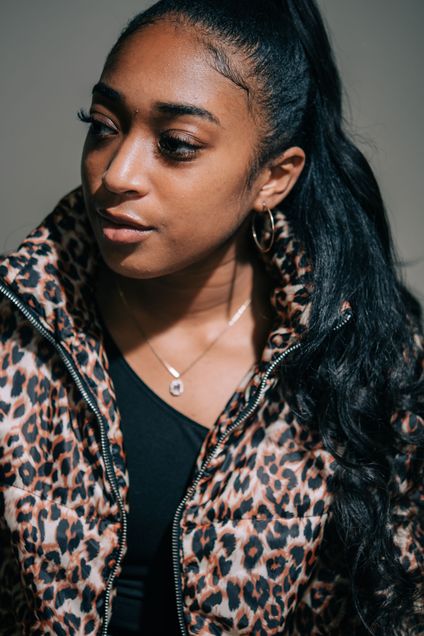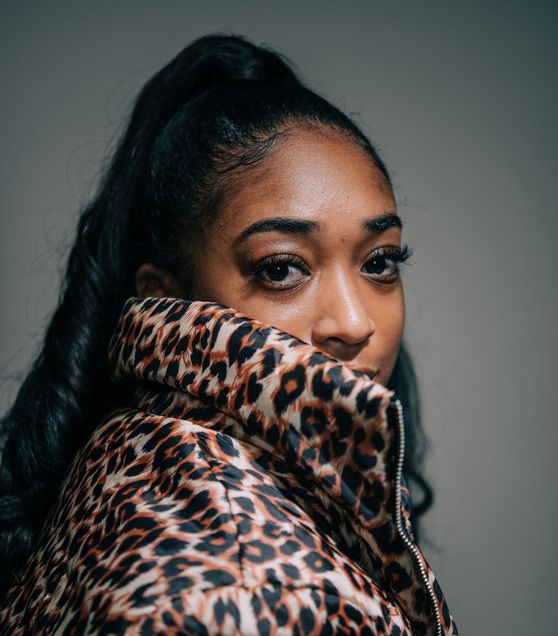 Kelsey Russell (CAS'22)
Favorite fall fashion accessory: I love animal prints, so anything in my closet with an animal print, including hats, jackets, socks, and scrunchies. I love animal prints because I tend to dress within a monochromatic color palette and fall is the ideal time for that. It's all about embracing neutral tones and identifying earth-tone hues that compliment you. Accessorizing with an animal print is the perfect way to draw attention to my neutral palette. These prints easily catch the eye and they're classic. You can find them thrifting, in high-end boutiques or instagram boutiques. And no animals get hurt in the process.
Where I shop for accessories: I like to buy bold, printed gloves, sparkly socks, hoop earrings, dainty necklaces, and fun earmuffs. I shop at a mixture of places like COS, Zara, Forever 21, Neiman Marcus, Bloomingdale's, and small Instagram boutiques. I like to have an assortment of high-quality accessories, along with more trendy, affordable, and replaceable items.

Maya Malekian (COM'20)
Favorite fall fashion accessory: These gold wire earrings were made by my mom. She used to have a jewelry business, but sold it. Now she makes all my jewelry, necklaces, and bracelets. These earrings are my absolute favorite. I always get asked where they're from, and I feel so proud to tell people my mom made them.
Where I shop for accessories: I love to buy my hats and purses on my trips abroad. I bought some of my favorite purses in London and Paris and some of my favorite hats on trips to Brazil, Greece, and Sweden.