Dan Rather Talks Trump, Journalism, and Truth at BU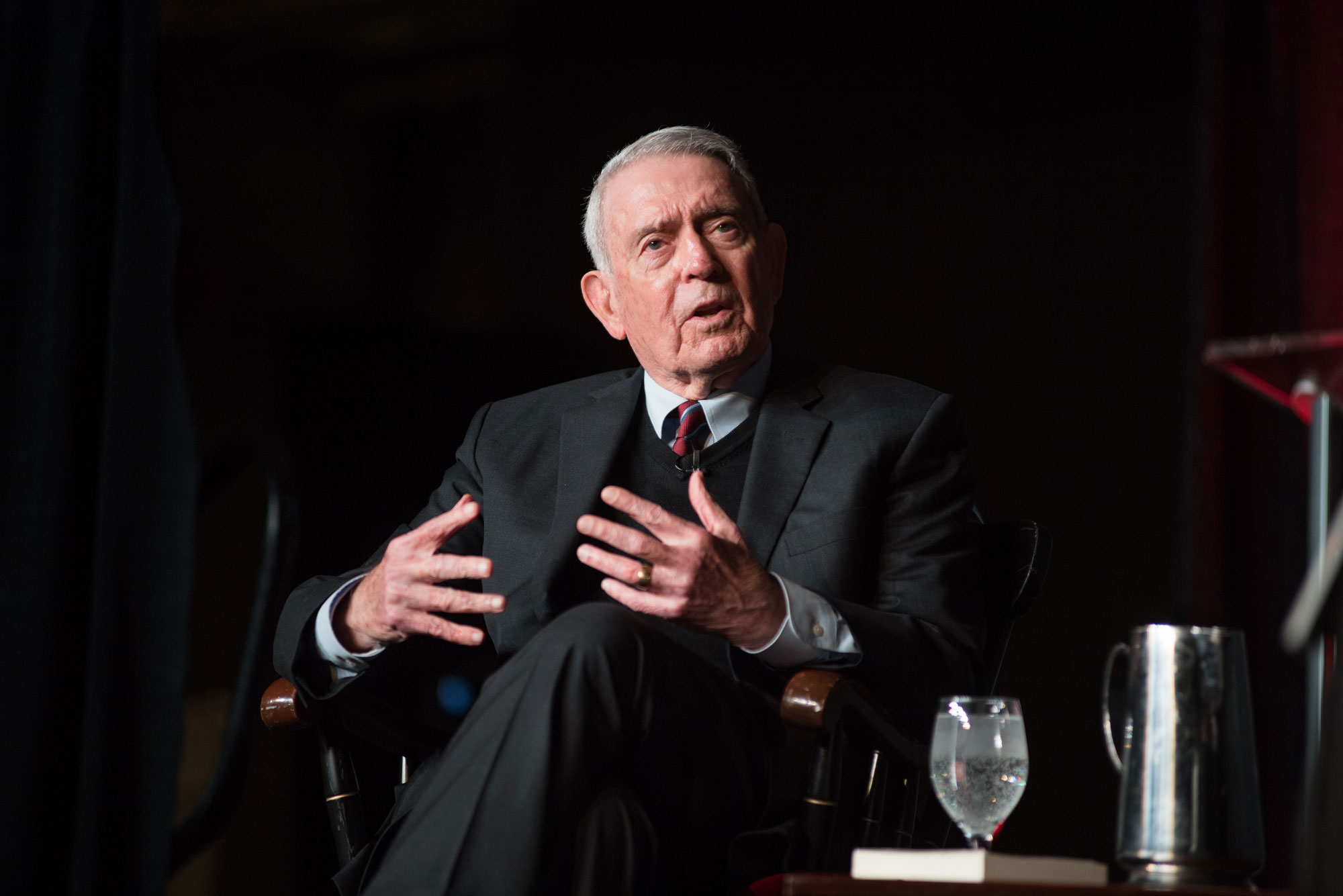 Journalism & Media
Dan Rather Talks Trump, Journalism, and Truth at BU
Renowned CBS journalist Dan Rather has covered nearly every major news event since former President Richard M. Nixon resigned his office in disgrace in 1974. And right now, he has a lot to say about President Donald Trump.
Americans will have to decide "what level of bad behavior is bad enough to remove a president," Rather (Hon.'83) told a packed audience on Tuesday night at the George Sherman Union Metcalf Ballroom. "But truth does matter, and truth is closing in on President Trump and his administration."
Now 88 years old, Rather has covered the past half century like few reporters can claim to have done, from the assassination of John F. Kennedy to the devastation of the 9/11 terrorist attacks. As the anchor of CBS Evening News for 24 years, as well as an investigative correspondent for 60 Minutes, he held a seat of power in television, reporting on the Challenger space shuttle explosion, the Soviet-Afghanistan War, and the Iran-Contra affair, ending each broadcast with the words: "That's part of our world tonight."

Unlike many of his generation, Rather has embraced social media as an outlet for his thoughts and news commentary. He is the founder of the independent production company News and Guts, which has more than 1.4 million Facebook followers. And he holds a commanding presence on Trump's favorite communication channel, Twitter, where he often posts several times daily to his more than 821,000 followers.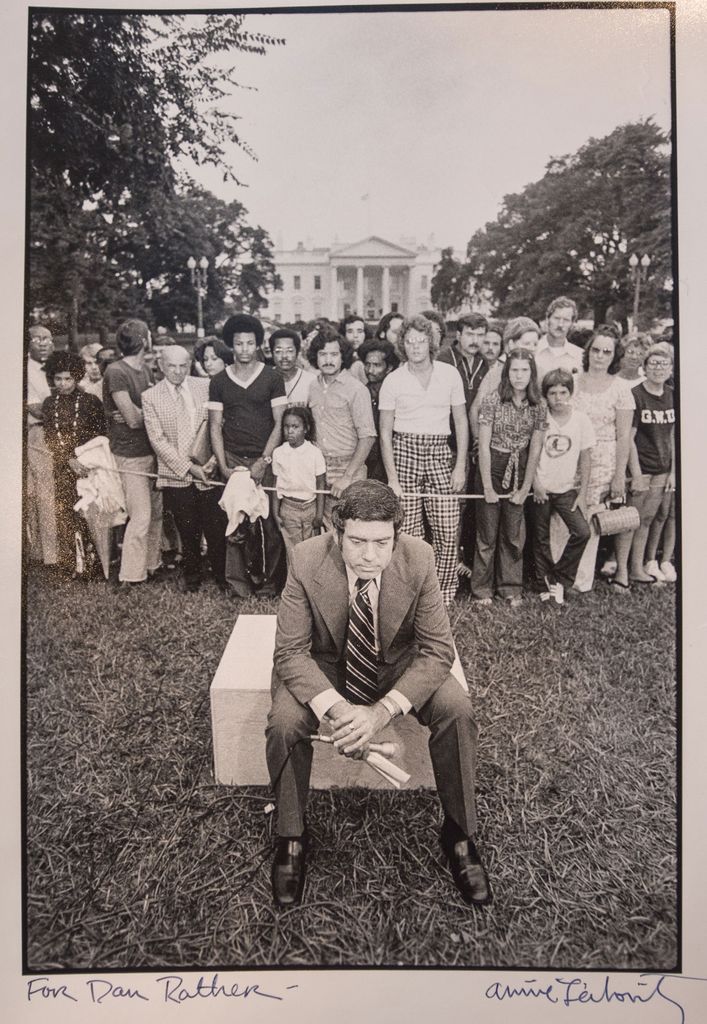 Trump's impeachment is currently one of Rather's favorite topics, and he came to BU to talk about it, as well as about his latest book, What Unites Us: Reflections on Patriotism (Algonquin Books, 2017). The event was hosted by BU's Howard Gotlieb Archival Research Center, which holds Rather's archive. Sofie Isenberg (COM'21) and Nicholas McCool (CAS'20, COM'20) were selected to ask questions of Rather, leading to an hour and a half discussion that touched on his Texas upbringing following the Great Depression, his ouster from CBS after more than 40 years, and frequently, the national mood around impeachment and its implications.

In the Watergate era, he said, it took the American public about a year and a half to understand the severity of the president's actions and that he had led a criminal conspiracy.

"That's not to suggest that the president will be impeached. We don't know. We're finding out," Rather said. "I'm skeptical of the view that the Senate will never vote to convict a member of their own party."
Rather recalled the institutionalized segregation and racism of Texas in the 1930s and 1940s. He had heard rumors about the Ku Klux Klan, he said, but had never witnessed a rally firsthand until he was hired by CBS to cover the early stages of the Civil Rights Movement.
At his first KKK rally, he could "barely believe my eyes," he said. "If this scares the hell out of me, what must this be like for people of color?"
Television news coverage, still relatively new at the time, helped expose those horrors to the American public, lessening the KKK's power, Rather said. His concerns today are the way racism has taken on new and more sophisticated forms in the digital era.
When asked what a post-Trump Republican Party will look like, he said the thought confuses him, and he thinks Republicans will spend the next decade repairing and rebuilding what Trump has broken.
---

You're going to get scars, you're going to have wounds. Journalism can be a great career, but only if you burn with a hard, hot flame to do it, to let it consume your life.

---
"Trump has effected a lot of change—for example, sowing mistrust of just about every major institution," he said. "Supporters will say, that's why we voted for him. But whether you like it or not, a lot of damage has been done."
Rather relishes the role of unflinching questioner and presidential critic. In March 1974, when Nixon held a press conference in Houston in an attempt to salvage his administration and reputation, Rather, then a young man with conspicuous sideburns, showed his chutzpah as CBS White House correspondent. He was applauded and booed when he introduced himself. Nixon quipped, "Are you running for something?" and Rather responded, "No, Mr. President. Are you?"
The exchange was part of a live broadcast, and Nixon supporters criticized Rather, saying he had "sassed" the president. Nixon resigned as president less than five months later, and Rather went on to become one of his generation's "Big Three" newscasters, alongside Peter Jennings and Tom Brokaw.
Several decades later, in 2006, after 44 years with CBS, Rather left in controversy following a segment he reported alleging that President George W. Bush had received special preference as a member of the Texas Air National Guard in the early 1970s that helped him evade military duty in Vietnam. Although Rather defended the story as true, leaked documents that backed up the reporting were later exposed as forgeries. CBS ultimately retracted the report. (The story was later the subject of the movie Truth, starring Robert Redford as Rather.)
Asked about his departure from the network, Rather told the crowd that "journalism is not an exact science," saying the greater the power that a reporter challenges, the more heat he or she will take. "We reported a true story," he said. "I made some mistakes. We made mistakes."
He also called reporting a crude art that nobody can do perfectly. Journalists who want to be loved "better get a dog," he advised.
Rather encouraged journalism students to continue the work despite efforts to discredit the profession. Whether he was covering the Kennedy assassination or the September 11 terrorist attacks, the job required sealing away his emotional or human response to tragedy.
Those hidden emotions, however, would bubble up and suddenly overtake him in the weeks and months following a tragedy, he said. It happened after his days of unrelenting on-air coverage following 9/11.
"You're going to get scars, you're going to have wounds," Rather told aspiring journalists in the audience. "Journalism can be a great career, but only if you burn with a hard, hot flame to do it, to let it consume your life."