CFA Student Wins Poster Contest for Zach Braff Movie
Sam West's illustration earned a trip to Hollywood, chance to work with noted director
One evening last fall, graphic design student Sam West was doodling some digital illustrations on her tablet and MacBook. On a whim, the College of Fine Arts senior decided to submit them to Adobe's Movie Poster Movie Contest. The first-of-its-kind contest was launched by Adobe to help students unlock their creative potential in new, innovative ways. College students across the country were invited to submit an original design for a poster for a movie that didn't yet exist. Adobe partnered with actor, director, and screenwriter Zach Braff, best known for his Emmy-nominated turn on the NBC series Scrubs, and asked him to select the winning design and turn it into a short film. Braff picked West's.
More than 1,000 students entered the competition. West had read about it on Instagram and uploaded her poster, with the movie titled In the Time It Takes to Get There, to the social media platform with no thought of winning. But in January, she discovered that Braff had chosen her submission and she would fly to LA to participate in the two-day shoot for the film Braff had written and was directing, inspired by her design.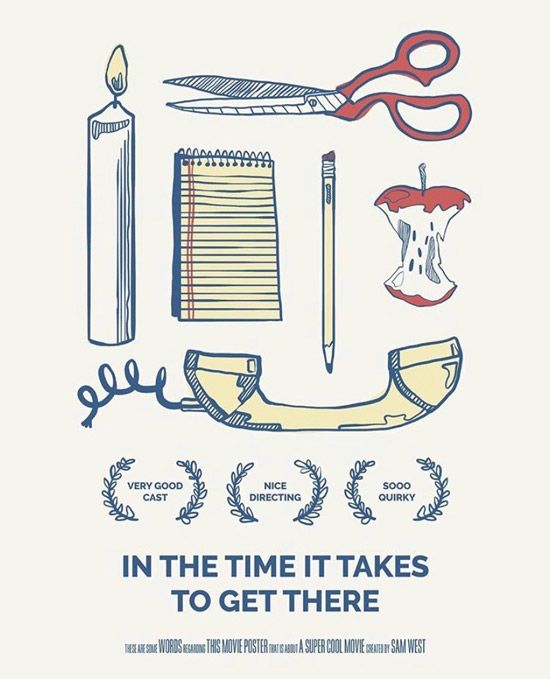 The film stars Alicia Silverstone and Florence Pugh. Set in the Victorian era, it's an inventive, biting send-up of social media influencers and the power of celebrity in the digital era.
In the Time It Takes to Get There is now available on YouTube and will premiere at the Fairmont Copley Plaza on Thursday, April 18, during an elaborate masquerade-themed event hosted by Adobe, starting at 7 pm. The premiere is designed to transport guests back in time to the film's setting—the 1890s—so they feel they're inside the movie. It will feature a red carpet entrance, free food, a live DJ and band, gift bags, and other surprises and is free and open to all college students on a first-come, first-served basis. Registration is strongly encouraged.
BU Today spoke with West about her Hollywood experience, what it was like to work with Braff and see a film she inspired come to life on set, and where this new career trajectory may take her. The interview has been edited and condensed for clarity.
BU Today: Your poster design is so idiosyncratic. What inspired the illustration?
West: Last semester I was taking a nonrepresentational painting course. Our assignment was to spend $15 on anything we wanted at the Goodwill on Comm Ave, bring it back to the studio, and innovate. I was inspired by all the other things that my classmates were working with. And I was drawn to the innate narratives that surface when you group objects together.
Were you familiar with Zach Braff's movies? Had you seen Garden State, his feature film directorial debut?
I downloaded it for the plane ride to LA, but I didn't have time to watch it. It's busy being a student. I had seen another one of his movies, Wish I Was Here.
You spent a couple of days in Hollywood while Braff was directing the film. What was it like to work with him?
Zach was really genuine. I'm grateful that someone like him would be interested in something that I made. I think he's a really talented storyteller. He was so kind. My first day, I shook his hand and hugged him. He took out his phone to show me my poster was his lock screen.
In the Time It Takes to Get There features some familiar faces—like Silverstone (Clueless) and Leslie David Baker from The Office. What was it like bumping elbows with showbiz veterans?
I saw lots of movie magic. We were shooting in West Hollywood at ScottFree Productions, which had signed Braff just a few months before. Seeing posters of Alien—that was amazing. Our director of photography was Mauro Fiore, who won the Academy Award for Best Cinematography for his work on James Cameron's Avatar. Being behind the camera, I watched the back of his head for a few hours.
What did you take away from the film shoot?
I learned a lot about the processes that go into bringing a story like this to life. I love storytelling; that's why I went into design. This project confirmed my belief that design is a part of everything.
Do you find it ironic that the short film you inspired is a critique of social media influencers and Instagram, but you learned about the contest through Instagram?
It is, isn't it? You know, I've been thinking about that a lot. Especially now that I'm caught up in all the media and the promotion of this thing. It's poetic in its own way.
Not many seniors can boast of this kind of experience. You're graduating this spring. What's next for you?
I just accepted an internship from the advertising agency Pereira O'Dell, which was offered to me as a result of the Adobe opportunity. So, I'll be moving to New York this summer to work with the agency. I'm very excited to launch my career in design and learn from their team.
In the meantime, you've got a lot of other projects going on here on campus.
Right. I'm so grateful for this opportunity, but it has meant that I really have had to postpone my life. I'm doing the branding for the College of Fine Arts BFA thesis shows—web and print stuff. It's been interesting to incorporate what I learned about production in LA. And there's still ongoing press about this contest. When it's all done, I have to do my thesis.
The Adobe Movie Poster Movie Contest premiere of In the Time It Takes to Get Here is Thursday, April 18, at the Fairmont Copley Plaza Hotel Grand Ballroom, 138 St. James Ave., Boston. Doors open at 7 pm. The event is free to college students with a valid ID on a first come, first served basis. Register here.
Graduate student Geoffrey Line (COM) can be reached at gline@bu.edu.