BU Beats: Chordially Yours All-female A cappella Group Shares Some Favorite Songs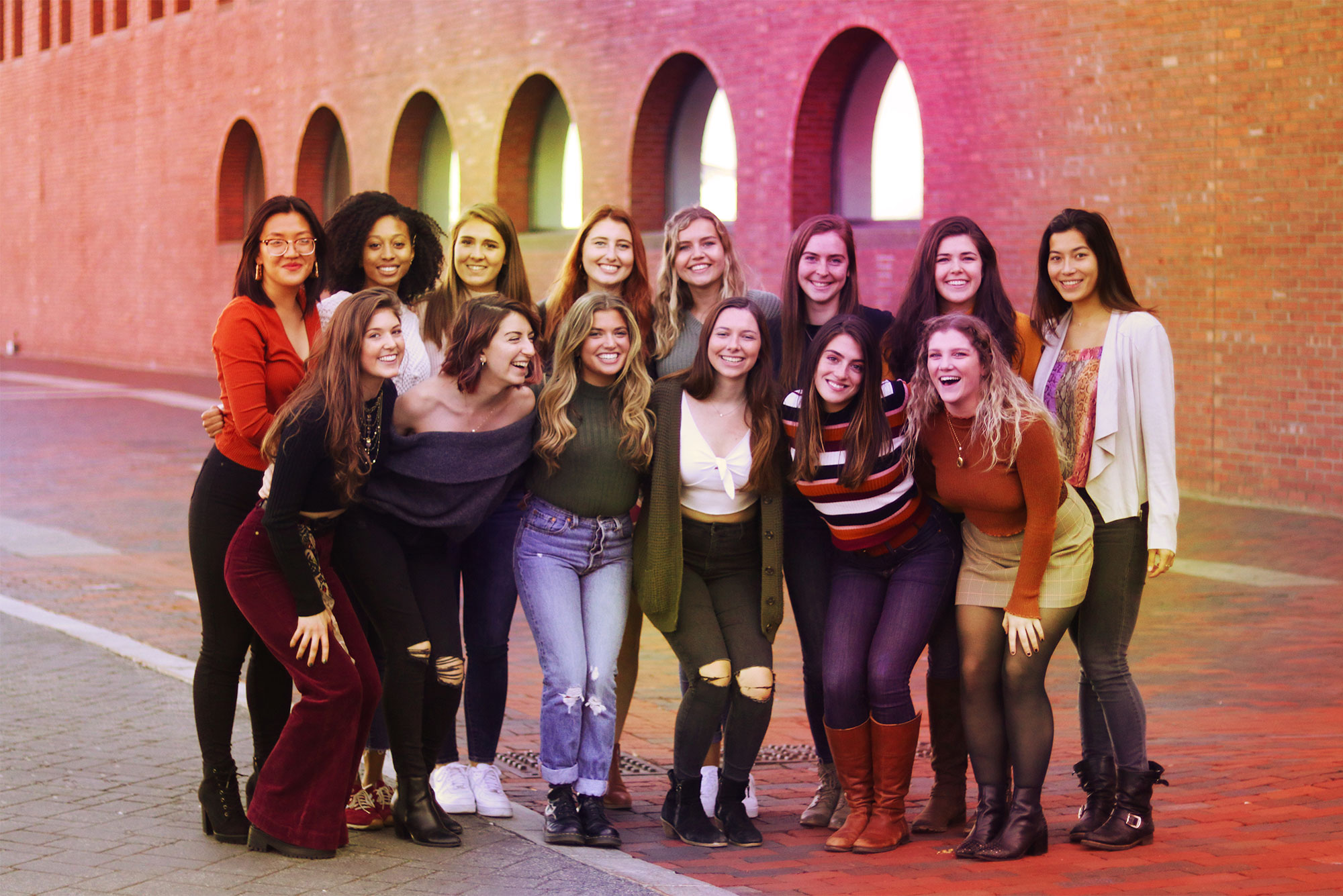 Music
BU Beats: Chordially Yours
All-female a cappella group shares some favorite songs
If you've ever seen the 2012 comedy Pitch Perfect, you know that a cappella is full of harmonizing, dancing, and mash-ups. The film's portrayal of female a cappella isn't too far from Chordially Yours, one of several BU all-female a cappella groups. Last spring, Chordially Yours competed in the International Championship of Collegiate A Cappella—a contest similar to the one featured in Pitch Perfect 2. The BU group's arrangement of Becca Stevens' "Queen Mab" took the award for best arrangement.
Chordially Yours ("Chords" for short) has been arranging music, singing, and performing for almost two decades, and last year, the group released its second EP, Bloom. Currently, the ensemble has 14 members. They kicked off their fall season last weekend at a Family & Friends Weekend event hosted by the Dear Abbeys, another BU a cappella group.
"Our sound is unique because we aren't afraid to push the limits of traditional a cappella," says Sophie Odrich (COM'20), president of Chordially Yours. "We sing various songs in different genres, and we do our best to make sure each song stands out in its own way." 

The group can be heard again this Friday, October 25, at Acatoberfest 2019, hosted by the BU a cappella group Aural Fixation at the Life Science & Engineering Building at 8 pm. In addition to Aural Fixation and Chordially Yours, the BU groups the Allegrettos, the Bostones, the Dear Abbeys, In Achord, Kol Echad, Suno, Sweethearts, the Treblemakers, and Terpsichore will perform, as well as the College of the Holy Cross Sons of Pitches.
To celebrate the Acatoberfest concert and the start of a fun year of a cappella gigs and events, we asked Chordially Yours members to put together a list of favorite songs that best reflect their alternative sound. Among the songs selected for their Spotify Playlist: "Like a Girl" by Lizzo, "Best Part" by Daniel Caesar, songs that are part of their current repertoire, including "Distance" by Emily King and "Runaway" by Aurora, and four selections from Bloom.
Event Details
Aural Fixation's Acatoberfest 2019
Purchase tickets ($5) online here.
Interested in joining Chordially Yours? Keep an eye on the group's Facebook page for announcements about spring 2020 auditions.