Five Ex-Terriers (Players and Coaches) Have Huge Role in Bruins Stanley Cup Run
Coyle, McAvoy, Grzelcyk ready to roll as Bruins seek championship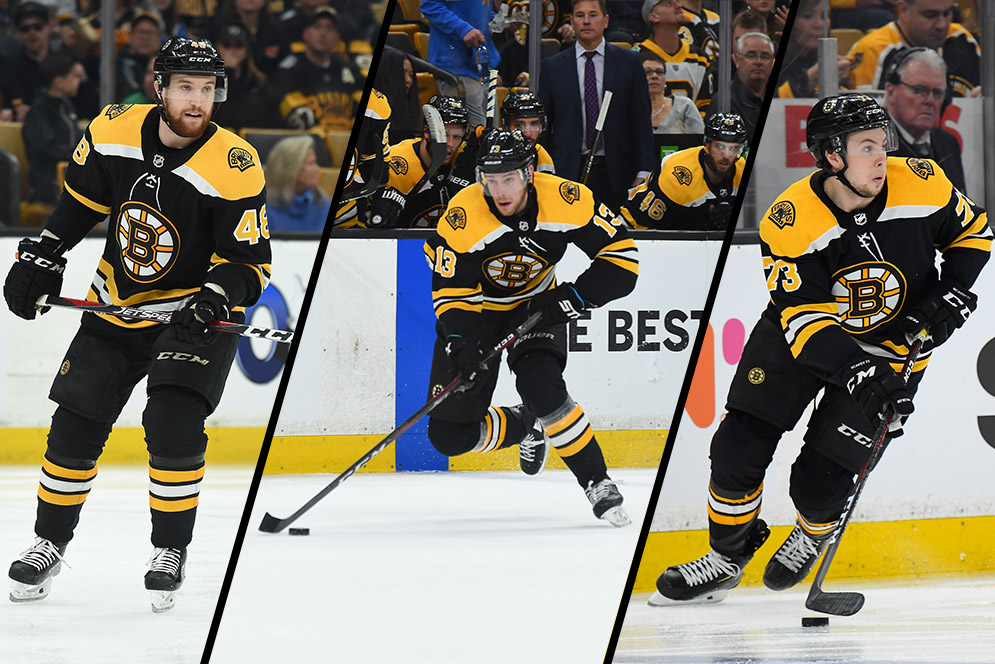 When the NHL's Stanley Cup finals open on Monday, the black-and-gold Boston Bruins will have a heavy tint of Terrier scarlet on and off the ice, thanks to a group of former BU players and coaches who have had a serious impact on the team this year—especially during a thrilling playoff run.
First, a quick recap of how the Bruins landed in the championship series for the first time since 2013 (which they lost): they finished the regular season 49-24-9, good for second in the Atlantic Division behind the Tampa Bay Lightning. But when Tampa Bay was upset in the playoffs, and the Bruins surged past Toronto, Columbus, and Carolina, they became the surprise conference champions.
This will be the Bruins' 20th appearance in the Stanley Cup finals, with their last title coming in 2011, when they ended a 39-year championship drought for the franchise's sixth title.
Now, about those Terriers/Bruins: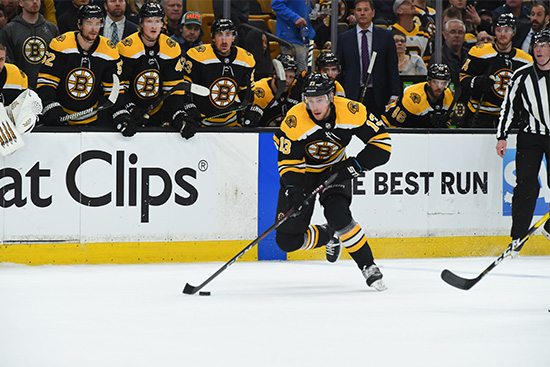 Forward Charlie Coyle, who came to the B's in a midseason trade for Ryan Donato, played at BU, and hails from Weymouth. At BU he was named Hockey East Rookie of the Year. He has had a huge impact on the Bruins' playoff run. After a 6-2 win in game 2 of the Bruins' series against Carolina, Coach Bruce Cassidy said: "The Charlie Coyle line, right now, creates a big problem for the other team." BU stats (2010-2011): 53 GP (games played), 10 G (goals), 30 A (assists), 40 PTS (points)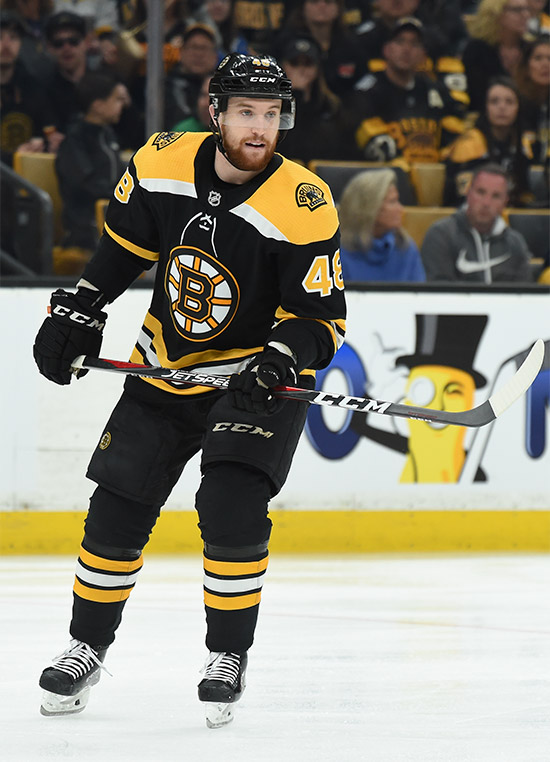 Defenseman Matt Grzelcyk (COM'16), another local Terrier, grew up in Charlestown. As a Terrier, he was named to the Hockey East All-Rookie Team and a Hockey East Honorable Mention All-Star as a freshman. The two-time Terriers captain missed much of his sophomore season to a shoulder injury, but then had back-to-back seasons as a Hockey East First Team All-Star to end his college career. The 2015 Beanpot MVP helped BU claim a Beanpot trophy, a Hockey East title, and a berth in the 2015 NCAA Frozen Four, where the Terriers lost in the final game. BU stats (2012-2016): 125 GP, 26 G, 69 A, 95 PTS
And then there's Charlie McAvoy. He spent two seasons with USA Hockey's National Development Program and helped the U18 team claim gold in the 2015 IIHF Under-18 World Championship. After being named to the Hockey East All-Rookie Team as a BU freshman and the All-Conference First Team as a sophomore, he turned pro. The Bruins got him in the 2016 NHL draft with the 14th pick. He finished fifth in voting for the Calder Memorial Trophy (NHL Rookie of the Year Award). BU stats (2015-2017): 75 GP, 8 G, 43 A, 51 PTS
A fourth former Terrier who played well in 28 games for the Bruins in spots this season, Jakob Forsbacka Karlsson was on standby as a reserve waiting to be called up in case of an injury until deciding to return to Sweden to play. At BU in 2016-2017, he was an alternate captain of the Terriers as a sophomore. BU stats (2015-2017): 78 GP, 24 G, 29 A, 53 PTS
Joe Sacco and Jay Pandolfo (CAS'96), Bruins assistant coaches, are also former Terrier players. Sacco is in his fifth season with the Bruins, after a 13-year NHL playing career. Pandolfo is in his third season with the team, and had a 15-year playing career in the NHL after 4 starring years at BU, from 1992 to 1996.
Here is the schedule for the Stanley Cup:
Game 1: Monday, May 27, at TD Garden, 8 pm (NBC)
Game 2: Wednesday, May 29, at TD Garden, 8 pm (NBCSN)
Game 3: Saturday, June 1, at St. Louis, 8 pm (NBCSN)
Game 4: Monday, June 3, at St. Louis, 8 pm (NBC)
*Game 5: Thursday, June 6, at TD Garden, 8 pm (NBC), if necessary
*Game 6: Sunday, June 9, at St. Louis, 8 pm (NBC), if necessary
*Game 7: Wednesday, June 12, at TD Garden, 8 pm (NBC), if necessary