For Bobo Carpenter, Ice Hockey Is in His DNA
Men's team cocaptain hopes to follow his father into the NHL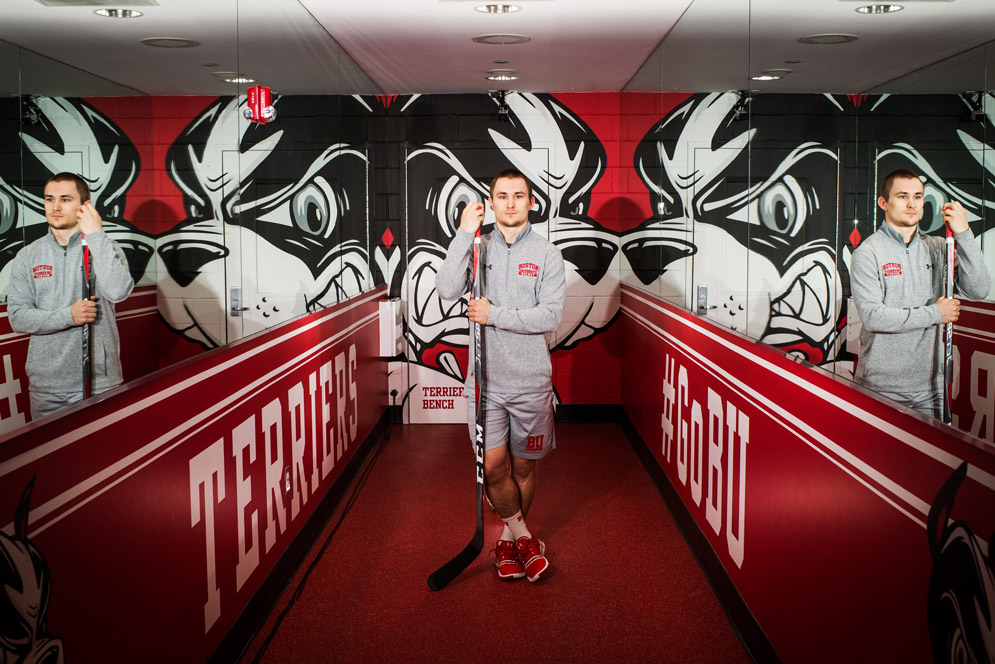 It could be said that men's ice hockey cocaptain Bobo Carpenter was destined for a career on the ice. Hockey is in his DNA. His father, Bobby Carpenter, was dubbed the "Can't-Miss Kid," the first US-born hockey player to grace the cover of Sports Illustrated, in 1981. The third pick overall in the 1981 NHL Draft, the senior Carpenter went on to have a illustrious 18-year playing career that included a four-year stint with the Boston Bruins and three Stanley Cup titles, one as a player and two as a New Jersey Devils assistant coach.
And the BU forward's older sister, Alex, was a member of the 2014 US women's national ice hockey team, and while playing for Boston College in 2015, she earned the Patty Kazmaier Award, given annually to the top female college hockey player. (She's now playing for the Kunlun Red Star in the Canadian Women's Hockey League.)
Recalling that his father first put him on skates at age four, the 5'11", 200-pound Carpenter (College of General Studies'17, College of Communication'19) credits his dad with helping to guide him. "Inevitably," he says, "it was going to happen. Right from the start, my dad had us going."
He says his family has always been supportive. "Words can't describe the things they've done for me. It's tough to describe just the early mornings. I remember waking up in the morning, going to trips, and them taking care of me when I'm injured. I'm lucky enough to have my dad, who was so experienced with all of it and taught me how to take care of myself," Carpenter says. "I was always thankful for that. I wouldn't be here if it wasn't for him."
He says his siblings (younger brother Brendan eventually gravitated to football, not hockey) also drove him to excel.
"One of the best memories I have was me and my brother and sister playing mini sticks in the basement, and those turned out to be some wars," he recalls. "But I definitely think that got us into the game right from the start. When you go on the ice, you don't want to lose, and I didn't want to lose against my brother or sister. To this day, we still push each other."
Aside from those deep family ties to ice hockey, Carpenter sees the sport as a calling. "It's just something I want to do every day," he says. "I wake up, and I'm excited for breakfast and our stretch to get over. I just want to tie my skates and get on the ice."
That dedication and passion for the sport has translated into a standout work ethic, says head coach Albie O'Connell (College of Arts & Sciences'99). "The way he goes about his business—the guys can watch and pick up on how intense he is and how serious he is every day. He's one of the first guys on the ice and one of the last guys on the ice."
"Sometimes it's frustrating because he works so hard, and he definitely can get the better of you," says cocaptain Dante Fabbro (College of General Studies'18, College of Communication'20). "But I think that's what makes him so special: he doesn't take days off, and he's always going to push everyone else on the team to be better."
Getting the big goal, making the big push
That drive has paid off. Carpenter has gotten steadily better each season: as a freshman, with 12 goals, he provided solid contributions. Last year, he led the team in goals (20), tied for the lead in points (35), and was named a Hockey East Second Team All-Star and a New England All-Star.
Teammates say they've come to depend on him to "get the big goal or make the big push for our team," Fabbro says. Whether it's his two goals in the 5-2 win over UMass Lowell on December 8 that marked the start of a BU turnaround or his game-clinching goal against Providence College in the last few minutes of the 2018 Hockey East final, there's more than enough proof of his ability to deliver when the Terriers need it most.
That conference championship game goal nailed the Terriers' 14th Hockey East title, a dramatic turnaround for a team that began the season ranked second in the nation, then fell out of the polls, before bouncing back to finish with a 22-14-4 record.
And it was a highlight for the Reading, Mass., native. "You don't come across those moments very often. Just the pure joy—I'll never forget skating onto the ice and jumping on the pile with everyone. Even now," Carpenter says with a smile, "I wish I could win it again."
On January 25, with assists on two goals by Joel Farabee (College of General Studies'20), Carpenter reached and then passed the 100-point career mark, another milestone.
On Monday, he will be central to the annual Terrier quest for another Beanpot title. They'll face off against Harvard in the second game of the tournament's first round. A win would put them in striking distance of securing their 31st Beanpot title, the most of the four participating teams (BC is second, with 20), during the championship game on February 11.
As he begins to wind down his collegiate career, Carpenter has begun thinking about what's next. Ever since he was a kid, he says, he's dreamed of playing in the NHL. "I remember going to the games and being in the locker rooms," he says of the years his dad played and later coached for the New Jersey Devils. He still can't believe his longtime goal is finally within reach. "It's kind of surreal that it could be in a couple of months," he says, "at the end of the season. It could be next year. But that's the goal, and that's all I've ever wanted."
Carpenter went undrafted in the 2014 NHL Entry Draft, but after a successful career at the collegiate level and with many of his former teammates now in the league, he says, he hopes to compete with them again. "You play with these guys in college one year, and the next year, they're [in the NHL]," he says. "And you're like, why can't I do it? It's a feeling that gives you hope, and hopefully your time comes and you can make the most of it.
"It just comes down to that hockey makes me happy," he says. "They say you should do whatever makes you happy, and I've found what makes me happy. I just find there's no reason to want to focus on anything else until I need to."
The 67th Annual Men's Beanpot Tournament begins Monday, February 4, at TD Garden, 100 Legends Way, Boston. BU plays Northeastern in the second game of the semifinals, at 8 pm, following the BC-Harvard showdown at 5 pm. The games will be broadcast live on NESN, and BU's games will also be broadcast live on WTBU Radio (640 AM and 89.3 FM) and on the web. The second round is Monday, February 11, with the consolation game at 4:30 and the championship game at 7:30 pm. Tickets are available at Ticketmaster.
Jonathan Chang can be reached at jchang19@bu.edu; follow him on Twitter at @jonathanychang.