12 Exciting Campus Summer Construction Projects
Campus & Facilities
12 Exciting Campus Summer Construction Projects 
For many on campus, summer offers a bit of a breather from the hectic and demanding schedule of the academic year. Not so for the folks in Campus Planning & Operations. They've been charged with overseeing more than 35 construction projects on the Charles River and Medical Campuses, ranging from laboratory expansions and more gender-neutral bathrooms to a new wing for the Goldman School of Dental Medicine and a larger home for BU Children's Center. The total cost of the summer projects is estimated at $70 million, according to Gregg Snyder, assistant vice president for informatics & strategic initiatives.

Despite the number of ambitious projects, this summer is a bit easier logistically compared with recent years, says Michael Donovan, vice president for campus planning and operations. The Commonwealth Avenue Bridge Reconstruction Project, which rerouted traffic along Comm Ave for the past two summers, was completed last August, and the Comm Ave Phase II project is now in its final stages and is expected to be finished next month. Despite the breadth of this year's summer construction projects, what unites many of them is a focus on sustainability, says Donovan. A major goal of the BU Climate Action Plan is for the University to be carbon neutral by 2040.

This year's summer construction projects are in addition to the daily upkeep required to maintain BU's more than 300 buildings and grounds, spread over three campuses. Here are a dozen projects that piqued our interest (the full list can be found here):

1.
Solar Feasibility
Campus-wide
A feasibility study of 24 buildings across the three campuses is being conducted over the summer to assess the condition of the roofs and the ability to install photovoltaic (solar) panels.
2.
Lighting Retrofits
Campus-wide
There are 40 buildings on the Charles River Campus that have been earmarked for building-wide lighting retrofits and this summer, CP&O will focus on West Campus. The lighting retrofit project, part of the Climate Action Plan initiative, involves upgrading fluorescent lights to LED lighting. This project will also add daylighting controls (for instance, a dimmer that can reduce artificial light when enough sunlight is present) and is expected to save approximately 12 million kilowatt hours of electricity annually.
3.
All-Gender Bathrooms
Campus-wide
All existing single-occupant bathrooms in nonresidential buildings will be updated to all-gender restrooms. Work will occur on all three campuses throughout the summer to update signage and fixtures. This initiative supports the University's efforts to ensure that all campus facilities are welcoming and accessible. There are currently more than 300 all-gender bathrooms at BU, with more to come.
4.
Undergrad Housing Renovations
Bay State Road
Student digs on Bay State Road—eight, to be exact—are getting an upgrade this summer. The residences will get new kitchen cabinets and counters, Energy Star appliances, bathroom fixtures, electrical upgrades, new sprinkler systems, as well as new paint and flooring. The upgrades will improve living conditions for 152 undergraduate students.
This is the sixth year Campus Planning & Operations has renovated undergraduate apartments and suite-style housing. With this summer's work, over 300 units have been upgraded to serve the housing needs of more than 700 students.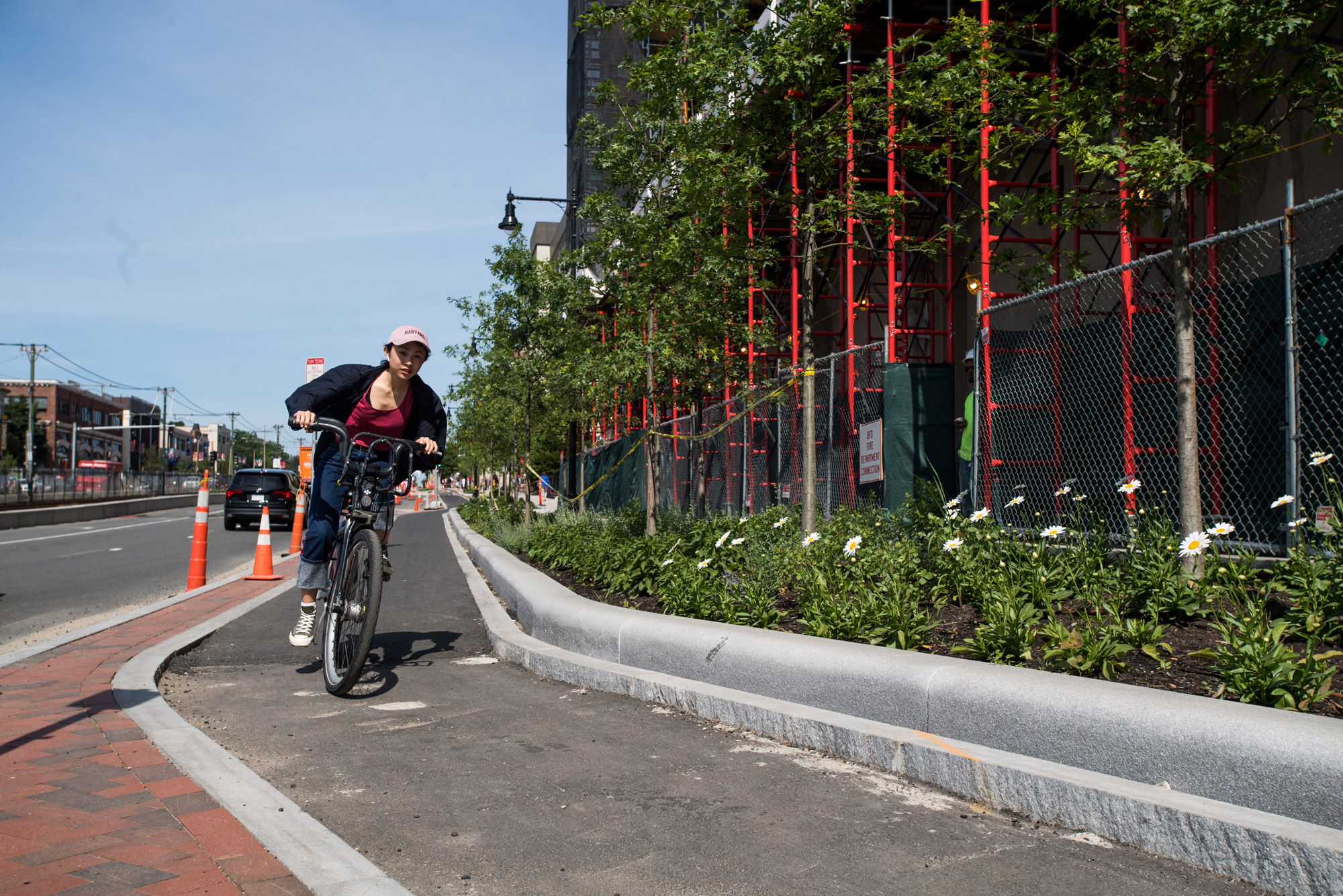 5.
Commonwealth Ave Improvements, Phase II
Campus-wide
This $20.4 million undertaking by the commonwealth of Massachusetts, expected to be completed this summer, will make traveling along Commonwealth Avenue safer for bicyclists, pedestrians, motorists and folks on scooters. Reconstruction from the BU Bridge to Packard's Corner, will improve safety for all travelers by separating bicyclists from traffic on one of Boston's busiest thoroughfares. The new bike lanes between parked cars and sidewalks will be slightly sloped to prevent water pooling. Other improvements include water filtration to prevent pollutants from flowing into the Charles River, more accessible sidewalks, additional landscaping including the planting of trees, and new traffic signals.
6.
College of Communication
640 Commonwealth Avenue
Auditorium 101, with its 240 seats, will be upgraded with new technology and sliding white boards.
7.
Howard Thurman Center for Common Ground
808 Commonwealth Avenue
The Howard Thurman Center for Common Ground will relocate from the basement of the GSU into its new home at 808 Comm Ave. The new center will occupy two-thirds of the existing street-level space formerly occupied by the 808 Gallery, which will continue to operate in the remaining area on the first floor. The project will increase the Center's footprint fivefold.
Donovan says the HTC's enhancements, coupled with the newly built Joan & Edgar Booth Theatre and the 830–846 Comm Ave building (home to BU Real Estate), "significantly activates that part of the campus, in a way that it's never been before," adding that a number of new restaurants, businesses, and retailers are moving into neighboring storefronts.
8.
Photonics Center
8 St. Mary's Street
Classrooms managed by the University Registrar will be reconfigured to increase capacity and house 608 seats. The second-floor rooms include a large auditorium, a small auditorium, three case rooms, and two flat-floor classrooms, all of which will be reconfigured and feature new furniture, technology, finishes, and lighting. Lab space on the second and third floors will be renovated to accommodate the research for new faculty in the electrical and computer engineering department.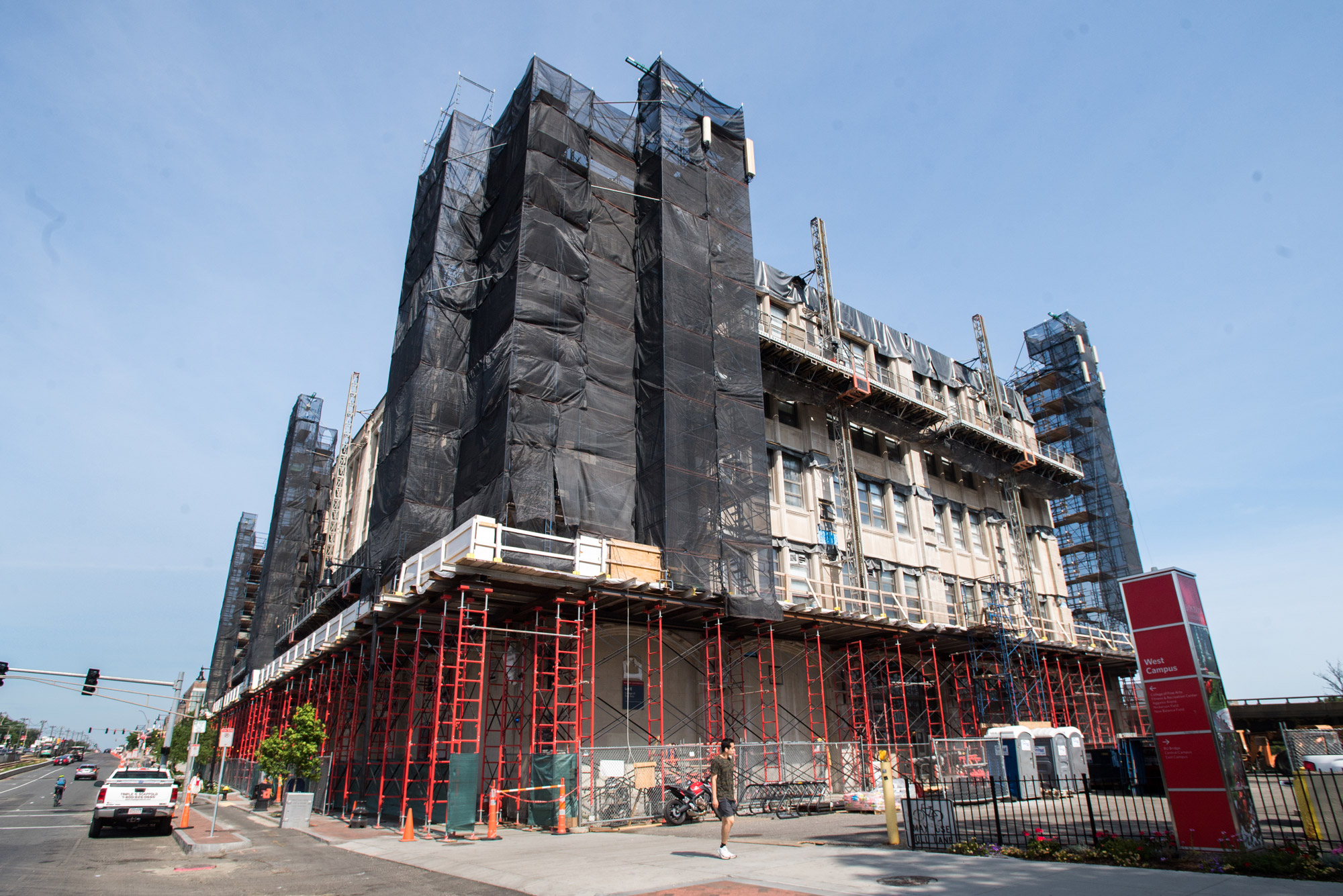 9.
College of Fine Arts
855 Commonwealth Avenue
The College of Fine Arts is getting a major face-lift: First up is replacing the street-level concrete façade with arched floor-to-ceiling windows. Next is the renovation of the Stone Gallery and the movement studio, and transforming the existing theatre studio into a student lounge. The renovations, which are already underway on the exterior, will allow pedestrians to peek in to see students' work and bring more vitality to the street. The project includes the renovation of multiple restrooms, creation of all single-stall all-gender bathrooms, as well as other building-wide improvements designed to enhance accessibility for all.
10.
Case Physical Education Center
285–300 Babcock Street
Enhancements to the Case Center and neighboring athletic offices will improve wayfinding and accessibility. Work will include improving the building's entryway so that it is compliant with the Americans with Disabilities Act (ADA), the creation of ADA-compliant restrooms, and adding BU Athletics branding on the building's exterior and in the lobby and stairwell. In addition, planning efforts will begin for enhanced team-oriented space for the women's lacrosse team.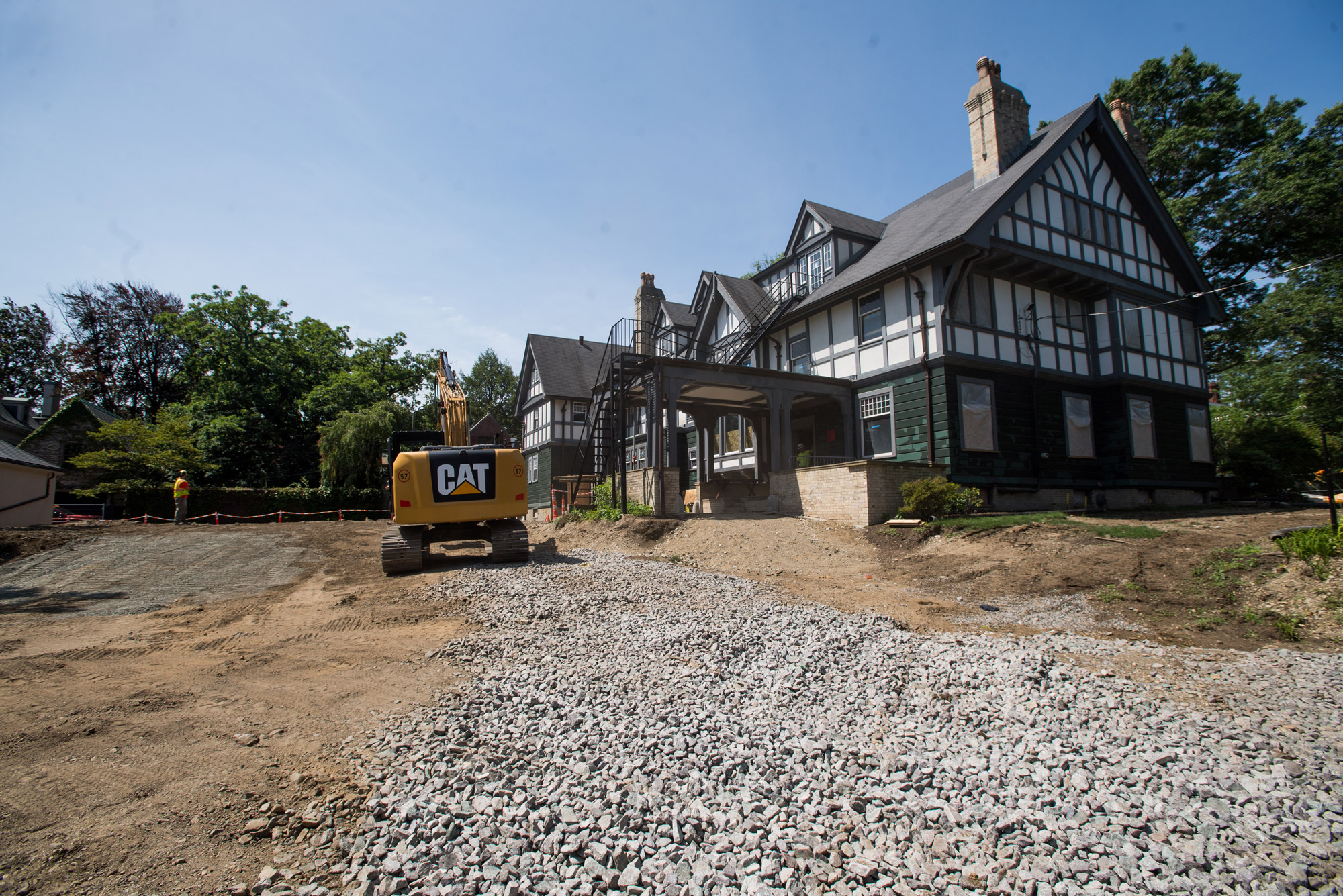 11.
BU Children's Center
10 Lenox Street
The BU Children's Center is moving into a new home at 10 Lenox Street, Brookline, in the Cottage Farm neighborhood. This project involves converting the three-story, 1904 Tudor Revival mansion into a daycare facility serving children of BU faculty, staff, and graduate students. Moving the center from its current home at 32 Harry Agganis Way to this larger site will allow for increased capacity, infant and mixed infant/toddler classrooms, pre-K classroom, indoor gross-motor areas for inclement weather, and ample private outdoor play areas. The project, expected to be completed by spring of 2020, will also consolidate the Children's Center and Family Resources office.
12.
Henry M. Goldman School of Dental Medicine
635 Albany Street
Work continues on the expansion and renovation of the Henry M. Goldman School of Dental Medicine. The 48,000-square-foot addition, dedicated to clinical education and practice, is now weather-tight and fully enclosed, allowing contractors to complete all interior work for occupancy in January 2020. The addition will house a student lounge and study space, two new elevators, new patient treatment spaces, office spaces, the Simulation Learning Center (relocating from 650 Albany Street), and a 140-seat auditorium. Installation of new windows and façade on the existing building are ongoing and will continue through the fall.