Prescription for a Fun-Filled Labor Day Weekend, On Campus and Off
Fireworks, concerts, films, sports—and ice cream
Labor Day weekend may mark the unofficial end of summer, but there's lots to do all over the city, as well as on campus. And best of all, much of it is free. So while you start gearing up for the start of the new school year, take a break from all that unpacking and check out our guide to exciting events. From free fireworks to block parties to an ice cream social and open-air markets, it's your ticket to a great long weekend. 
Thursday, August 30
Labor Day Fireworks
Kick off your Labor Day weekend with the sixth annual Illuminate the Harbor Fireworks Celebration. Hosted by the nonprofit Boston Harbor Now in conjunction with the city of Boston, Friends of Christopher Columbus Park, and the Wharf District Council, the spectacular show can be seen from anywhere along the harbor. But for the best view, head over to Christopher Columbus Park in the North End, Fan Pier in the Seaport District, or Piers Park in East Boston. You can also tune in to MAGIC 106.7 to hear a live broadcast of the fireworks show. 
The fireworks display over Boston Harbor is at 8:30 pm.
Each summer, the Institute of Contemporary Art teams up with the Berklee College of Music for Harborwalk Sounds, a free weekly concert series each Thursday at the ICA. The season's final concert features singer-songwriter and drummer Martin Tamisier, who is from France. His style is heavily influenced by pop, French rock, and African music. The evening will also feature choreography by John Chin.
The ICA Harborwalk Sounds concert featuring Martin Tamisier is at the ICA, 25 Harbor Shore Drive, Boston, at 6 pm and is free and open to the public. Find directions here.
Friday, August 31
Fenway Fridays
As block parties go, it's hard to top Fenway Fridays, the weekly event with special promotions and giveaways by Fenway merchants and restaurants and live music by local artists. Participating businesses include Blackbird Doughnuts, Eventide, Sephora, and Bed Bath & Beyond. Find more about the free giveaways and clues leading you to hidden cash and gift cards on The Fenway's Instagram. Head over to the Fenway neighborhood today—this is the last block party of the summer.
The last Fenway Friday is throughout the Fenway neighborhood starting at 7 am. Find a list of participating vendors here. Take an MBTA Green Line trolley to Kenmore.
Copley Square Farmers Market
Billed as the biggest farmers market in Boston, the Copley Square Farmers Market is open Tuesdays and Fridays from May 11 through November 20. You'll find an excellent selection of fresh fruits and veggies, meat, honey, baked goods, flowers, and more from over two dozen local farmers.
The Copley Square Farmers Market runs from 11 am to 6 pm at the intersection of St. James Street, Dartmouth Street, and Boylston Street. Take an MBTA Green Line trolley to Copley.
Boston Harbor Hotel's popular Summer in the City series, featuring free concerts and Movies by Moonlight, draws to a close tonight with a screening of the Oscar-winning romance Out of Africa, starring Meryl Streep and Robert Redford. Buy dinner before the movie or a drink afterward at the hotel's Rowes Wharf Sea Grill or Harborwalk Terrace.
The Boston Harbor Hotel's Movies by Moonlight screening of Out of Africa starts at dusk at Boston Harbor Hotel, 70 Rowes Wharf, Boston. Find a map and directions here.
Ice Cream Social
To mark the start of the new school year, BU's Student Activities office kicks off its annual Weeks of Welcome with a free ice cream social at BU Central in the George Sherman Union. Stop by and create the perfect ice cream sundae, made with some of JP Licks' most popular flavors. It's a great place to catch up with old friends.
The Weeks of Welcome ice cream social is at BU Central, George Sherman Union basement, 771 Commonwealth Ave., and is free and open to BU students only. RSVP in advance on Eventbrite. Find a full list of Weeks of Welcome activities here. 
Free Concert at the Lawn On D
The Lawn On D, the popular outdoor space next to the Boston Convention and Exhibition Center in South Boston's waterfront district, plays host on Friday night to a free concert by the Wolfpack, which bills itself as "Boston's hottest band." The group will perform a mix of pop, rock, and country covers. Guests can take a ride on the park's famous LED-illuminated swings, play lawn games, and enjoy food and beverages.
The Wolfpack performs at the Lawn On D, 420 D Street, at 7 pm. Find directions here.
Club Passim's campfire.festival
Club Passim, in Cambridge's Harvard Square, has been a mainstay of Boston's music scene since it opened 60 years ago. The intimate venue helped launch the careers of Joan Baez, Judy Collins, Bob Dylan, and Regina Spektor. Today, it's a nonprofit arts organization that supports local musicians, with an emphasis on folk music. This weekend, the club hosts its 20th annual campfire.festival, a rollicking four-day event with performances by more than 70 musicians. It kicks off on Friday at 6 pm with McKain Lakey, Katie Barbato, Jessica Rhaye, and Kara McKee performing, and ends on Monday, September 3.
Club Passim, 47 Palmer St., Cambridge, hosts its 20th annual campfire.festival Friday, August 31, through Monday, September 3. Day passes are $10 each, and a full festival pass is $25. Find the complete schedule here. Take an MBTA Red Line train to Harvard Square.
Saturday, September 1
FitRec and Student Activities Present: Beach Towel Yoga
Join FitRec and Student Activities for some beach towel yoga at the BU Beach (the grassy area behind Marsh Chapel) on Saturday at 10:30 am. The first 45 people to show up receive a free beach towel. All are encouraged to bring their own beach towel. FitRec will supply yoga mats.
Beach Towel Yoga is at the BU Beach at 10:30 am. The event is free and for BU students only. RSVP in advance on Eventbrite.
New England Revolution vs Portland Timbers at Gillette Stadium
Soccer fans new to Boston may want to head to Gillette Stadium on Saturday when the New England Revolution face off against the Portland Timbers. You can snag a ticket for as little as $29, so head to Foxboro and remember to wear your red and navy apparel.
The New England Revolution vs Portland Timbers game begins at 7:30 pm at Gillette Stadium, One Patriot Place, Foxboro. Find tickets here. Find directions here.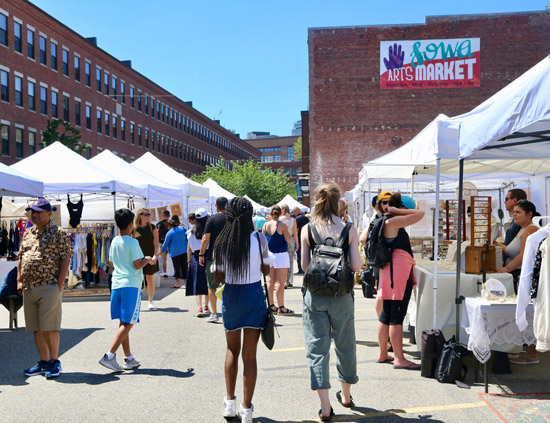 Atlas BU: Night Market
Inspired by the evening street markets of Asia, this event, sponsored by Student Activities and the Howard Thurman Center for Common Ground, will feature Instagram-worthy food from around the world, a pop-up performance, and tunes from a live DJ. The fun begins at 7 pm in the Metcalf Ballroom.
Atlas BU: Night Market is the Metcalf Ballroom, George Sherman Union, second floor, 771 Commonwealth Ave., at 7 pm and is free and open to BU students only. RSVP in advance on Eventbrite.
Sunday, September 2
Women's Soccer and 12th Annual Terrier Tailgate
Get decked out in your BU gear and head over to Nickerson Field for the 12th annual Terrier Tailgate, the official BU Athletics season kickoff. There will be music, games, free food, and lots of giveaways. Then cheer the BU women's soccer players as they face off against the University of Connecticut.
The BU women's soccer team hosts UConn at 4 pm at Nickerson Field, 285 Babcock St. The Terrier Tailgate begins at 3 pm. Both events are free and open to the public. Check Go Terriers for possible weather delays.
SoWa Open Market
A summer favorite, the SoWa Open Market is open to the public this Sunday for all your local and vintage shopping needs. This South End market sells artisan goods, specialty foods, home décor, fresh produce, and more through October. Enjoy the culinary creations from the food truck bazaar, as well as the live music. This Sunday, check out DIY Day: Bath Salts with Urban Kitchen to create your own home spa, from noon to 1 pm.
SoWa Open Market, 530 Harrison Ave., Boston, is open every Sunday, 10 am to 4 pm, through October. Find parking information and directions here. 
Somerville Flea
Looking for some used furniture for your new apartment or vintage clothes for fall? Head over to Somerville Flea, the open-air vintage and artisan market open Sundays from June through October in Somerville's Davis Square. Dozens of vendors sell gently used leather jackets, old typewriters, and much more, all at excellent prices. You can also buy fresh produce from local farms and enjoy live music by some of Boston's best local musicians.
Somerville Flea is open Sundays from June through October, from 10 am to 4 pm, at 52 Holland St., Davis Square. Find directions here.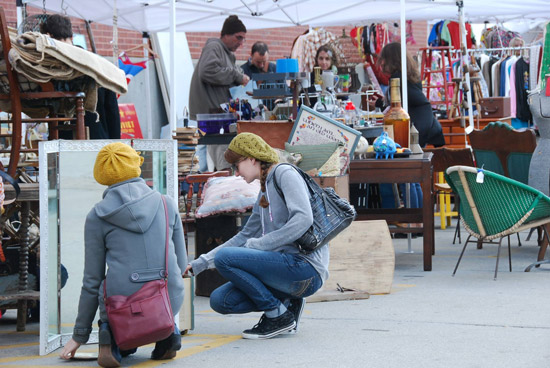 Superhero Bingo
Dig out your cape and mask and head over to the Metcalf Ballroom in the GSU for a game of superhero-themed bingo. Play to win: there are some incredible prizes being offered, including tickets to see Childish Gambino and Bruno Mars, as well as iPads and smart TVs. And rumor has it that a special family of superheroes may be putting in an appearance.
Superhero Bingo is in the GSU Metcalf Ballroom, second floor, 771 Commonwealth Ave., at 8:30 pm and is free and open to BU students only. RSVP in advance on Eventbrite.
Monday, September 3
Screening of Jaws at the Coolidge Corner Theatre
Shark Week has come and gone and beach season is drawing to a close, but in keeping with tradition, the Coolidge Corner Theatre celebrates Labor Day with its annual showing of Jaws, the Oscar-winning 1975 Hollywood blockbuster about a man-eating great white shark. Directed by Steven Spielberg (Hon.'09) and starring Roy Scheider, Robert Shaw, and Richard Dreyfuss, the film broke box office records and emptied beaches when it first opened. And we promise: it's still terrifying. One note of that classic score by John Williams (Hon.'85) and you'll be sitting on the edge of your seat.
Jaws screens at 7 pm at the Coolidge Corner Theatre, 290 Harvard St., Brookline. Purchase tickets at the box office or call 617-734-2501. Find directions here.
Sara Frazier can be reached at smfrazie@bu.edu.