Synch and Swim
BU's synchronized swimming team values friendship—and nose clips
During the summer months, BU Today is revisiting some of the past year's favorite stories. This week, we feature some of BU's many clubs and student organizations.
It's 8 pm on a recent Thursday and a dozen young women are hopping into the diving well of the FitRec pool. Most of them don goggles and swim caps and start swimming laps off to the side, following a circuit that's mapped out on a whiteboard on the pool's deck. They leave most of the diving well for two swimmers who start to dance in the water as music begins playing from underwater speakers. At one point, they flip below the water's surface and their legs emerge, toes pointed and knees bent in parallel.
Meet the Boston University synchronized swimming team.
One of the smallest club sports on campus, the synchronized swimming team is known for its athleticism and for its artistry. It demands the fluid movements of a ballet dancer and the strength of a diver, as well as a kind of fearlessness: name another sport that requires you to dance upside down in the water while holding your breath and having no idea which direction you're facing.
Although synchro (as it's called by aficionados) has roots stretching as far back as ancient Rome, it didn't become popular until it was featured in a series of 1950s Hollywood films starring actor-swimmer Esther Williams. The sport attained Olympic status in 1984, but even then it was a while before it was taken seriously.
The only requirement for joining the BU team is being a strong swimmer. Members are trained in figures and choreography once they join, so there's a wide range of skill levels among the swimmers from year to year. (And despite the current team comprising only women, men are welcome.)
"We have swimmers who have been competing most of their lives and others who just began the sport this season," says nine-year head coach Cari Lubenow (Sargent'08), who joined the synchronized swimming team as a BU freshman because she thought her background in speed swimming and theater was a good fit for the sport. And many on the team cite that marriage of athleticism and performance for drawing them to it.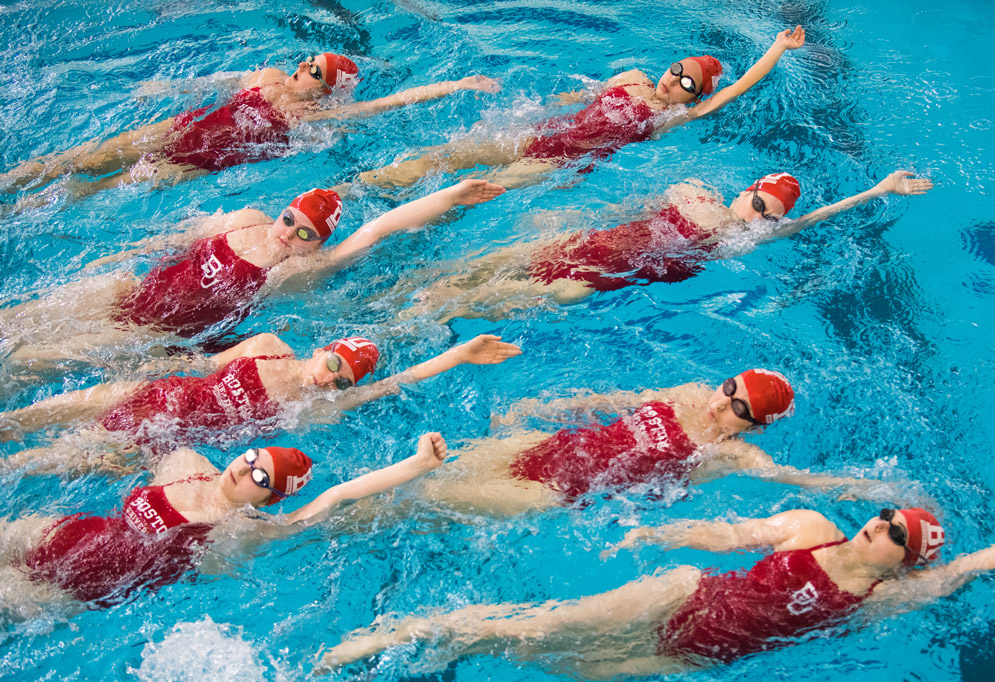 Even the most experienced swimmers face a learning curve when they take up synchro. The sport requires the use of what team treasurer Jessica Bajada Silva (CAS'19) calls nontraditional muscles. "Competitive swimming conditions you to only use certain muscles, but synchro is essentially everything," she says.
A combination of swimming, gymnastics, and dance, synchronized swimming demands flexibility, endurance, gracefulness, and core strength—as well as extraordinary breath control. One of the sport's most basic moves, the hybrid—where athletes keep their head straight down below water and their legs above, bending them into elegant positions called figures—is a good example.
"The most challenging thing is definitely holding your breath," says team president Mary Liesegang (CAS'18). To help swimmers train for extended time underwater, the coaches put them through rigorous endurance sets during practices. And to prevent water from going up their nose while they're upside down, there's the synchro essential: a nose clip. Losing it while performing can throw off a swimmer's entire routine.
Difficulty, execution, artistic impression
BU's synchro team practices three times a week, both in and out of the water. Cardio workouts and strength training are important, and the swimmers also walk through their routines to music, using their arms to mimic the leg positions, a process known as land drilling. In the pool, it's endurance exercises and practicing figures and lifts—where swimmers form a base and propel one, called a flyer, out of the water.
Because synchronized swimming is such a niche sport, the BU team competes against other club teams as well as against varsity teams in the US Collegiate Synchronized Swimming Association in the ECAC conference. BU typically competes in four to five local meets before regionals and nationals. There are usually two components to synchro meets: figures, where individual swimmers go before the judges and perform a single trick without music, and routines, choreographed swims set to music and performed as either solos, duets, trios, or team routines (four to eight swimmers). Swimmers are evaluated in three categories: difficulty, execution, and artistic impression.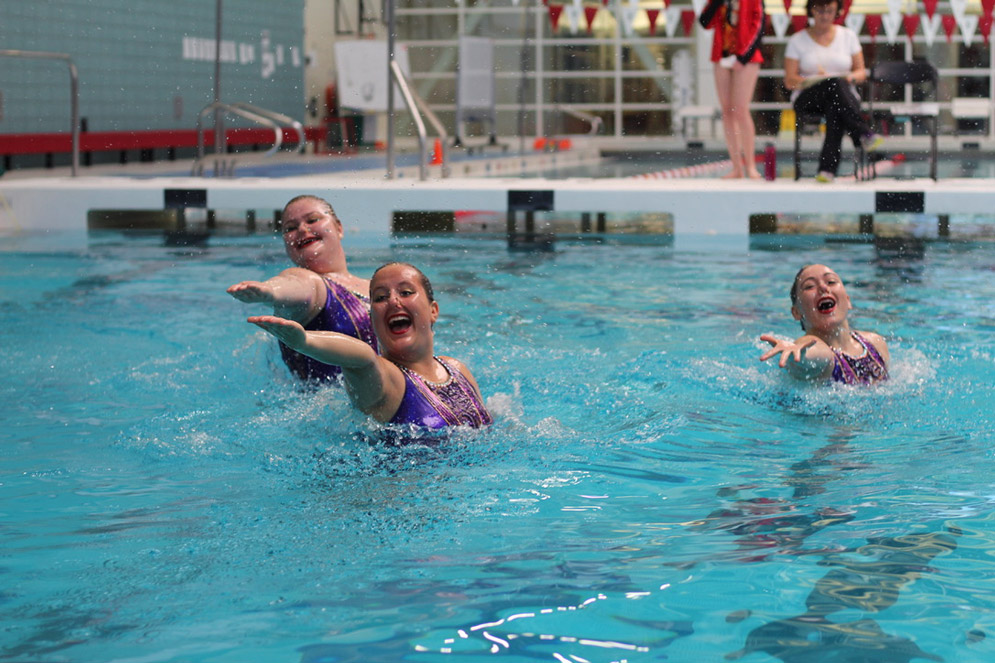 Artistry is a huge part of synchronized swimming, and the BU athletes pay close attention to their costumes (colorful suits the swimmers bedeck with rhinestones and glitter), hair (competition rules require women with long hair to wear it in a bun—it's painted over with Knox, a flavorless gelatin that acts as a swim cap), and even facial expressions. Swimmers are expected to have a smile on their face every time they emerge from the water (unless it doesn't match the music), even though it's likely that they're gasping for breath. Goggles are not allowed during competitions.
In addition to the athletic and artistic challenges, club members prize the friendships they make. "I feel that synchronized swimming is the ultimate team sport," says Lubenow. "In the pool, the athletes must trust and rely on their teammates in order for routines to work, and as a result, the team is very close outside of the water as well."
Club members routinely get together for Sunday brunch, study hall dates, and pasta dinners before meets. "We really are a family," says Liesegang. "My best friends are my teammates."
It's a sentiment echoed by others on the team. "Synchronized swimming is one of the most challenging and mentally exhausting sports out there," says team vice president Laura Best (CAS'19). "Without my team, I know I would not be able to physically get through the rigorous routines we do each year."
Find out more about the BU synchronized swimming team here, on Facebook, Twitter, and Instagram.
Madeleine O'Keefe can be reached at mokeefe@bu.edu.