Questrom School of Business Appoints One of Its Own as New Dean
Susan Fournier will be the first female to lead the school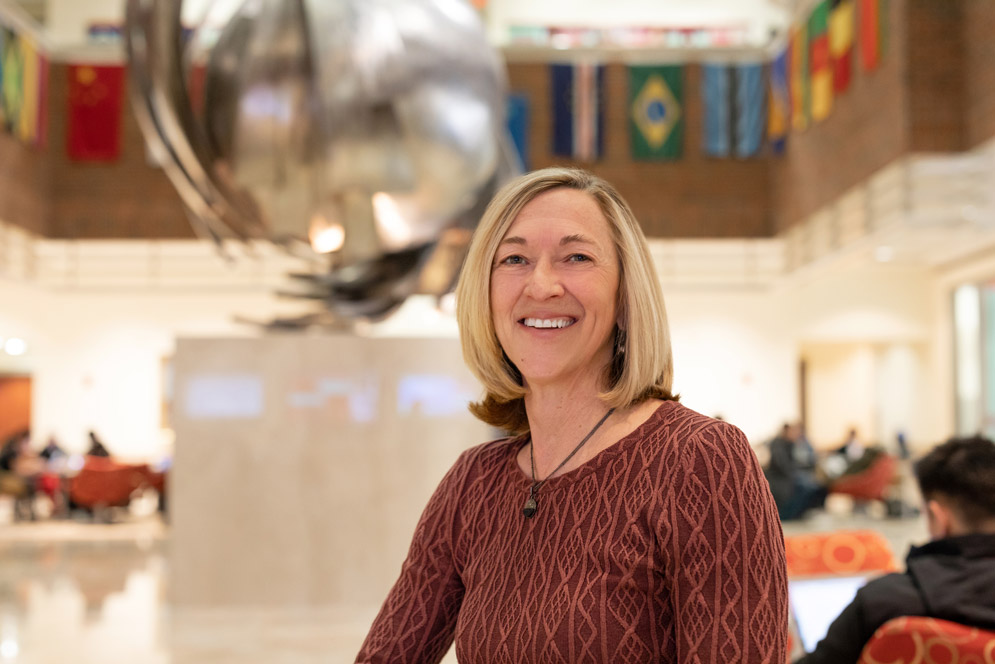 Susan Fournier, a marketing and management professor at BU for 13 years and a leading international expert on brand marketing, will become the next dean of the Questrom School of Business, effective August 27.
The first female dean to lead the school, Fournier is credited with pioneering the brand relationships subfield in marketing, which explores the emotional relationships consumers form with brands and products. She is the author of two acclaimed books and numerous book chapters as well as several best-selling Harvard case studies on branding. The sought-after expert's soon-to-be published research paper examines the pitfalls of celebrity-based branding based on her 14-year analysis of Martha Stewart's career. She has also received several best paper awards, including the JRC Long-Term Contribution Award from the Association for Consumer Research and Emerald Publishing's Citation of Excellence Award for the top 50 articles in management.
Prior to joining the Questrom faculty in 2005, Fournier worked in market research or as a consultant in private industry for companies such as Polaroid Corp., Altria, IBM, Coca-Cola, and Chick-fil-A, and served on the faculty of Harvard Business School and the Dartmouth College Tuck School of Business.
Jean Morrison, BU provost and chief academic officer, says Fournier is a leading scholar, teacher, and innovator who has earned high regard at Questrom for her pioneering work in the classroom and the corporate world.
"She brings a remarkable tool kit of experience and knowledge to this role—and a genuine connection to the students, faculty, and staff, who are the heart of Questrom," Morrison says. "I am excited to welcome her to this role and to follow her success as she guides Questrom to continued excellence as a leading global business school."
Robert A. Brown, University president, says the Questrom Dean Search Advisory Committee, which undertook a national search for the successor to Kenneth Freeman, Allen Questrom Professor and Dean in Management since 2010, gave Fournier its unanimous and enthusiastic support.
"Susan assumes the role of the dean of the Questrom School of Business during an exciting time for the school, for business education, and the University," Brown says. "I look forward to working with her to continue the journey of increasing the quality and impact of the school's education and research programs."
Fournier says she sees a direct correlation between her academic research and her new role at the helm of Questrom. Branding, she notes, is about forging relationships, and so is running a business school.
"I have deep knowledge in the psychology and sociology of relationships, how they develop, how they fall apart, what kind of flavors they come in," she says. "The whole point of what I do is looking at why people connect with things, what role brands, products, organizations have for people in their lives. It's not about selling a product, it's about understanding people's lives…and trying to help them."
As dean, she says, she will work to increase interdisciplinary programming, ensure Questrom's financial security, and offer coursework aligned with both students' and employers' needs.
"I will be the champion of the Questrom School of Business brand," Fournier says. "I will be looking out to make sure all the decisions we make are on brand and are going to build our equity as a preeminent academic institution, from every person we hire to every course we develop to every institute we endow."
She succeeds Freeman, who announced last fall that he would step down as dean. During his tenure, Freeman oversaw a period of remarkable growth during which undergraduate student enrollment increased by nearly 30 percent. He presided over the $50 million gift from BU trustee Allen Questrom (Questrom'64, Hon.'15) and Kelli Questrom (Hon.'15) and their foundation that led to the renaming of the school in 2015. He also helped transform the undergraduate and MBA programs to emphasize ethics and global citizenship and better cater to changing student and employer needs.
In addition to her teaching and administrative roles at BU, Fournier is also a long-standing member of marketing journal editorial boards, including the Journal of Consumer Research, the Journal of Marketing, and the Journal of Relationship Marketing, as well as senior consulting editor for the Journal of Brand Management. She sits on the senior advisory board of the Journal of Product and Brand Management and has worked as vice president and associate research director at Young & Rubicam Advertising in New York.
Fournier earned a PhD in marketing at the University of Florida, a master's degree in marketing from Pennsylvania State University, and an undergraduate degree from the University of Massachusetts, Amherst.
She says Questrom has already begun the work of breaking down barriers between traditional academic disciplines that operate in outmoded silos in favor of interdisciplinary programming. Eliminating those boundaries in hiring, programming, and other interfaces, she says, is the future of business education and perhaps education in general.
It's a real-world approach, she says.
"I'm trying to further establish our reputation as a preeminent research and teaching institution and develop our reputation for research that matters and faculty who care," says Fournier. "We need strong partnerships with industry and organizations both to provide data for research that matters but also to be in partnership with us in the development of courses and projects that students would work on for hands-on learning.
"I have a stakeholder perspective from having worked and lived on the other side."