Deadline Nears for Students to Complete Sexual Misconduct Training
New mandatory online courses also required of faculty, staff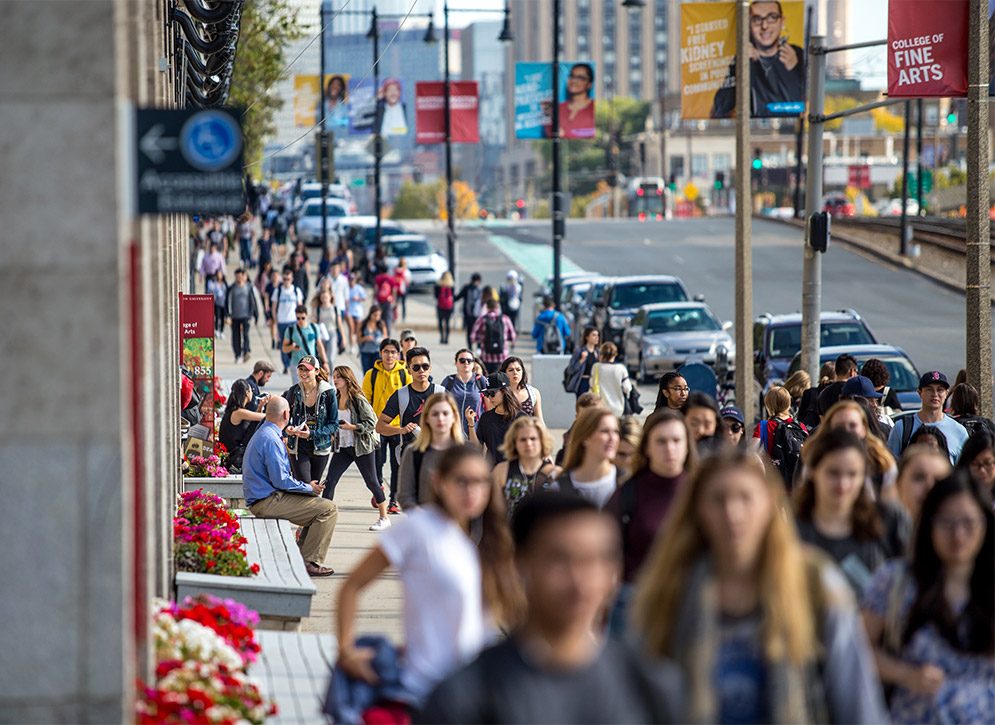 Incoming freshmen and transfer students must complete training before arriving on campus.
Returning undergraduate and graduate students must complete training by September 3.
Faculty and staff deadlines are rolling, but training courses are now available.
---
In an effort to heighten awareness about sexual misconduct and reinforce the message that it will not be tolerated, Boston University officials have rolled out a new and mandatory online sexual assault prevention course that became available to students August 1.
This is the first year that training is mandatory for students, although a training has been required of faculty and staff since 2014, says Jean Morrison, BU provost and chief academic officer, who has called the course a vitally important initiative.
Officials overseeing the training want to remind students that the deadline for completing the course—which takes approximately an hour to complete—is fast approaching. Entering freshmen must take the course before moving on campus. Returning undergraduates and graduate students have until September 3 (Labor Day) to do so. After completing the training, students will be required to take a 15-minute follow-up survey later this fall.
"It is important that all members of our community be well educated and have a thorough understanding of what does and does not constitute sexual misconduct," says Morrison. "These trainings are an essential tool in this process, and we are confident they will go a long way in helping ensure a supportive campus environment that is safe, respectful, and mindful of the resources available to our students, faculty, and staff."
Both the student and faculty and staff courses have been designed by Washington D.C.–based EverFi. The EverFi platform updates content on an ongoing basis in response to changes in law and best practices and focuses on the latest research-based information. The platform sends out reminder emails to those who have not yet completed the training.
Katharine Mooney (SPH'12), director of Student Health Services' Wellness & Prevention, which is overseeing the student training courses, says the aim is to both heighten awareness of the problem as well as offer strategies for prevention. Course content varies depending on whether an individual is an undergraduate or graduate student. But all of the modules touch on themes related to personal values and identity, consent, what constitutes verbal and nonverbal harassment, and the applicable state and federal laws, including Title IX.
Scenarios presented in the course are based on a variety of real-life cases that were litigated by United States courts. And the program is designed to be highly interactive, asking students "what would you do?" in certain situations.
A list of frequently asked questions and answers for completing the student modules is available here.
Mooney says data obtained from the anonymous student responses will be used by the University to better understand students' knowledge of University support systems and reporting resources, and will be used to develop future programming and policies.
"We are pleased that the University leadership has mandated these particular trainings for students because they are engaging and evidence-based, with a focus on prevention," says Nedra Abbruzzese-Werling, associate vice president for compliance services, and Julie Sandell, associate provost for faculty affairs, who are steering the implementation of the University-wide sexual misconduct training. "We hope that by reaching all BU students with consistent messaging and expectations, we will help to create a better community for every student."
Training for faculty and staff must be completed this fall but those wishing to complete the courses now can do so by logging on to the Terrier eDevelopment Learning Management Platform (LMS). Faculty and staff can complete the courses over several sessions: one's progress is saved in the system. All faculty will be required to take two courses: a short course focused on sexual misconduct policies at BU, and either a supervisor course for those who formally supervise others, or a "Bridges" course, which focuses on faculty responsibilities to students. Staff must complete either a supervisor or nonsupervisor course, depending on their responsibilities.
The University-wide training comes against a backdrop of growing recognition of the pervasiveness of sexual misconduct in the workplace and the advent of the #MeToo movement.
In 2017, the Association of American Universities published a report on sexual assault and sexual misconduct on US campuses. It included several specific actions and programs that BU has implemented to prevent and address sexual assault and misconduct on campus.
Mooney says that in addition to completing the sexual misconduct training, it's important for students, faculty, and staff to be aware of the resources that are available across campus for anyone struggling with issues surrounding sexual assault and misconduct. The Sexual Assault Response & Prevention Center provides counseling and rapid, confidential, and free-of-charge advocacy and assistance to students who have experienced a traumatic incident and also offers Step Up Step In BU, a prevention program that teaches in-depth skills necessary to be a pro-social bystander. The College of Arts & Sciences also offers a one-credit FY101 course for first-year students, which includes programming on healthy consent and communication.
"As a community of Terriers, we need to look out for one another," Mooney says. "If someone tells us that they've been sexually assaulted, harassed, stalked, or are concerned about their partner's behavior, our response is important."
Students with questions about completing the sexual misconduct training should contact Wellness & Prevention Services at wellcourses@bu.edu. Those looking for information on the faculty and staff training can find it here.