Plumbing the Public Health Lessons of the AIDS Crisis
Kilachand class uses that tragedy's lessons to address other problems worldwide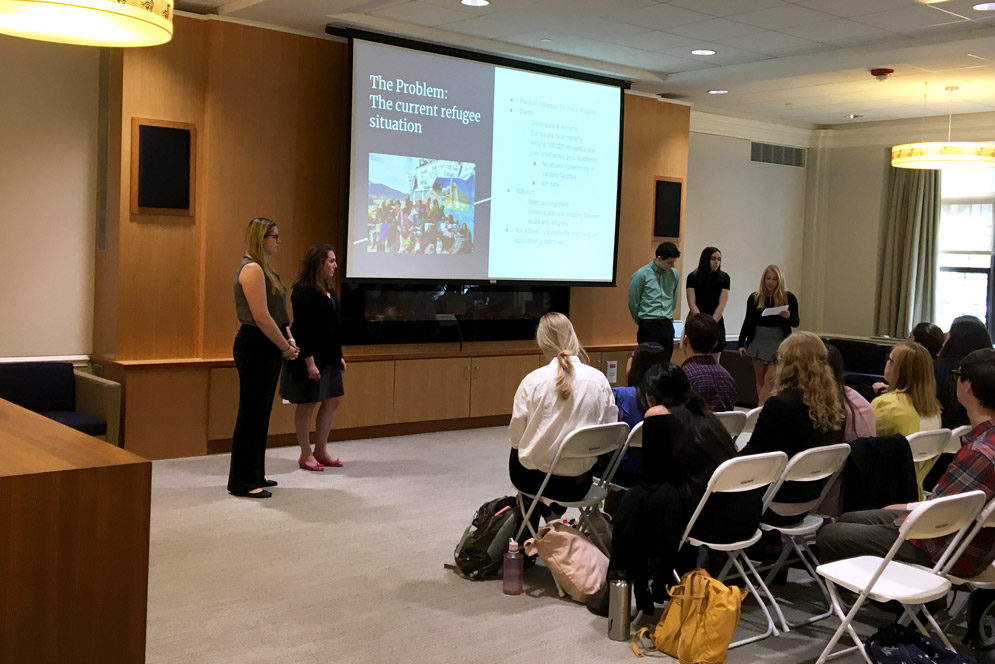 Class by class, lecture by lecture, question asked by question answered, an education is built. This is one of a series of visits to one class, on one day, in search of those building blocks at BU.
Standing before a screen displaying the ominous word "tularemia," a team briefs the audience about a potential bioterrorism attack at Beijing's 2022 Winter Olympics.
"Our goal is to create a prevention strategy," declares the lead speaker, who explains that tularemia, a bacteria-borne disease with pneumonia-like symptoms, is "fatal without proper treatment." From monitoring air systems at the Olympic Games to stockpiling antibiotics, she and her team map out plans for thwarting the terrorists.
The briefers, students from Kilachand Honors College, are presenting their project for a hackathon-style final in Interdisciplinary Perspectives on Global Challenges: Global Health, Kilachand's mandatory sophomore course this spring.
For three-plus hours on the last Sunday in April, 75 students, broken into groups of four or five, offer solutions to real or potentially real health conundrums, including bioterrorism, the refugee flood from Syria's civil war, soaring suicide rates among Canada's Inuit people, and improving Boston's program for training a more diverse workforce in health care.
For most of the semester, the class prepared for this final test by studying the world's response to the HIV-AIDS crisis, leveraging lessons from that tragedy to address other public health problems at the hackathon, says Christopher Gill, a School of Public Health associate professor of global health.
Like many victims in the hackathon's scenarios, from migrants to medically underserved populations, the gay community was stigmatized when AIDS first struck in the 1980s. The then-mysterious killer seemed as insoluble at the time as contemporary refugee crises or terrorism do now.
And all of these problems provoked responses from scientists, public health experts, even artists. The other course instructors are Carrie Preston, a College of Arts & Sciences professor of English and gender studies and Kilachand's director, and Muhammad Zaman, a College of Engineering professor of biomedical engineering.
"I'm a premed student, so it's kind of interesting to see health from different perspectives rather than just the science field," says Francesca Kishkill (Sargent'20),whose hackathon assignment is the Syrian refugee crisis. "We get more of the public health perspective. We also read a play about HIV and AIDS." (That would be Tony Kushner's Pulitzer- and Tony-winning Angels in America.)
Political science major Macella Molenari (CAS'20), another member of the Syrian refugee crisis team, says she is "very familiar with the political workings and social activism" around the crisis, but that before taking the course she "knew very little about the engineering and the public health issues that came along with it."
"We're sort of like the Rashomon class," says Gill, referring to the 1950 Japanese film with multiple characters' perspectives on a murder. With three instructors offering differing takes on HIV-AIDS, he says, he became a student himself, learning from his colleagues.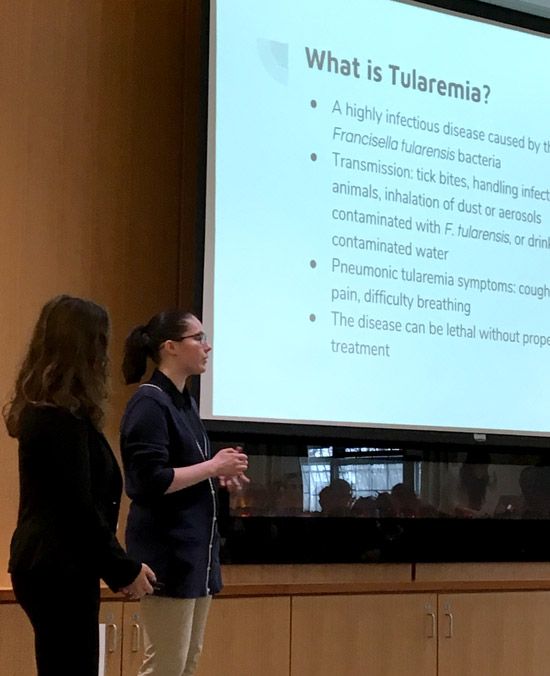 Gill says that while he ponders the illness through social science interventions that distinguish between groups—"you have AIDS or you don't"—Preston, the course's resident humanist, "sees it through the perspective of patients who don't have any specialized training and are just trying to understand this thing that has happened to them using their own vocabulary…in literature and the arts and philosophy, poetry, and music. It's a powerful reminder that at the end of the day, what we're really talking about is them, not us."
Bioengineers like Zaman, meanwhile, address public health problems "through actually building things," Gill says. One of those things—discussed in the class—is Zaman's PharmaChk, a high-tech device that can verify whether a pill placed inside is high-quality or not. It's being field-tested now, says Zaman, whose lab developed it. He found the class "a remarkable experience."
Between his two colleagues and the students themselves, he says, "we have had the pleasure of looking at issues of equity, of social justice, of rights, of fairness that we often don't pay attention to."
Preston says that as the three profs brainstormed topics before the semester, "we all had an interest in HIV-AIDS."
"This disease looks totally different if we, say, take the African context and compare it to the US context," she says. "It's two different things: its impact on certain populations, the way it gets spread, the way it's understood in discourse." In the United States, the disease largely has been controlled by antiretroviral drugs developed to combat the disease, while in African nations, it remains a major killer because of lack of access to those treatments.
"We view HIV-AIDS as a treatable condition, something you live with. In most places in Africa, it is something you die from," Preston says. "As many as 30 percent of South Africans are infected with HIV and are not being treated." And there's another difference: "It's not a largely gay disease in Africa. Inordinately, it affects younger women right in the childbearing ages, who are, of course, then infecting children."
As a humanist, Preston, whose scholarship focuses on literature and the performing arts, in particular queer theory, leads discussions on readings such as Angels in America, which was part of an activist backlash against the US government's halting response to the disease when it first struck.
Part of her lessons on that activism includes screening a news clip that she says is a Wayback Machine revelation to the class. In it, a reporter asks President Reagan's press secretary about the new, mysterious killer of gay men amid laughter and questioning of his sexual orientation. "It's really moving for the students to see that this is not very long ago when this was treated as a joke because it was attached to homosexuality," she says.
This Series
Also in
February 27, 2019

December 17, 2018

November 30, 2018