David Quinn Leaving the Terriers for the NHL
Men's hockey skipper and alum new coach of New York Rangers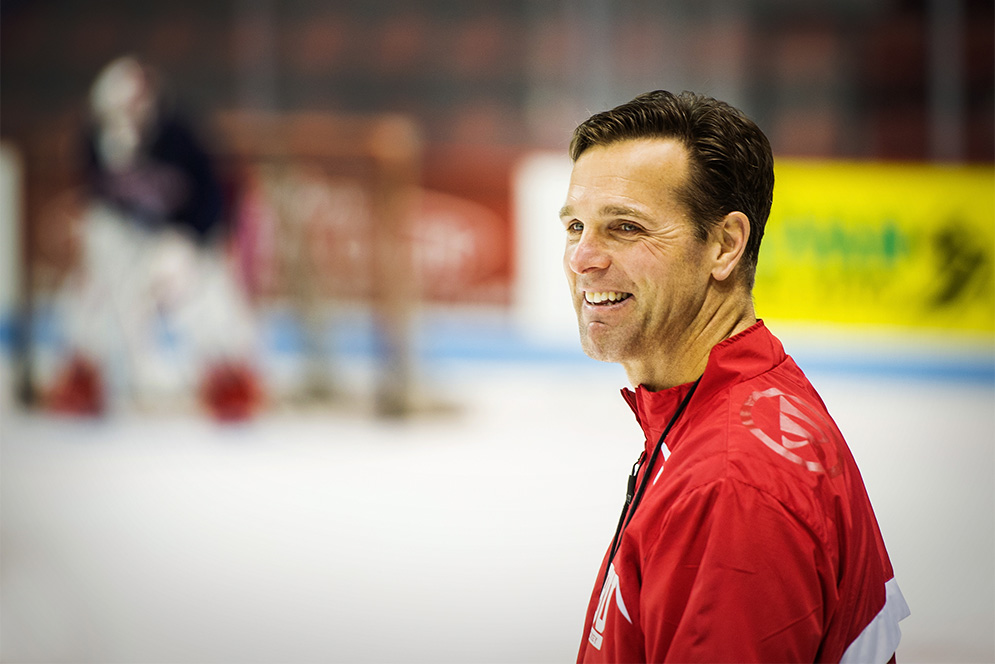 David Quinn (CAS'89) signs contract with New York Rangers
Becomes third Terrier coaching in NHL
National search for a BU replacement begins immediately
---
After five years of leading BU men's hockey to championship competition, head coach David Quinn is leaving to take over as head coach of the NHL's New York Rangers.
Under Quinn (CAS'89), the Terriers won two Hockey East tournaments (2015 and 2018), two regular-season Hockey East titles (2015 and 2017), and the 2015 Beanpot. His leadership brought the Terriers to four straight appearances in the NCAA tournament, reaching the Division I championship game in 2015's Frozen Four before losing to Providence College.
"I'm incredibly excited for this new challenge, but leaving a job like this is very hard to do," says Quinn. "BU is a special place that has given me so much, not only as a player and a student, but also as a coach. The lifelong friendships I've developed here over the years absolutely mean the world to me."
Quinn's 105-68-21 overall coaching record makes him the fourth most winning coach in program history. He was named Hockey East Coach of the Year and New England Coach of the Year in 2015.
"BU hockey has always been bigger than the coach, and they will bring in an outstanding one to continue the winning tradition," Quinn says.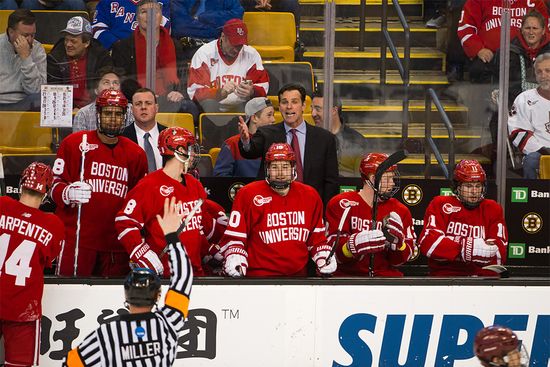 "Coach Quinn deserves to be coaching at the highest level, and the Rangers definitely got the right person for the job," says former Terrier forward Jordan Greenway (CGS'17, CAS'19), now a member of the NHL's Minnesota Wild. "He obviously has done so much for me and has had a tremendous influence on my career. Over the past year, he helped make my transition from college to the Olympics to the NHL much easier than anticipated, and I wish him all the best."
Named the 11th head coach in BU history on March 26, 2013, Quinn replaced 40-year coaching legend Jack Parker (Questrom'68, Hon.'97), who had coached Quinn when he played for BU as a defenseman in the late 1980s. Quinn also was one of Parker's associate head coaches from 2004 to 2009. The 2009 Terrier team won the NCAA national title.
"David skillfully led our men's ice hockey program with pride and distinction over the past five years and we are grateful for his leadership," says Drew Marrochello, BU athletic director. "He helped continue the standard of excellence that BU hockey has enjoyed for decades, and now joins a legion of fellow Terriers in leadership positions at the highest level of professional hockey."
Quinn's appointment was announced in New York Wednesday after weeks of rumors. He replaces Rangers head coach Alain Vigneault, who was fired after five seasons. Quinn's previous NHL experience was as an assistant coach at the Colorado Avalanche (2012–2013).
"In a coaching career that has spanned over two decades at the collegiate, pro, and international level, David has helped his teams achieve success while simultaneously teaching the game and helping his players develop on and off the ice," says Rangers general manager Jeff Gorton. "He is the ideal choice to bring our loyal and passionate fans the winning hockey they deserve."
Two other Terriers are currently NHL head coaches: Mike Sullivan (Questrom'90), who has led the Pittsburgh Penguins to back-to-back Stanley Cups, in 2016 and 2017, and John Hynes (SED'97), who this year brought the New Jersey Devils to their first playoff appearance since 2012.
One of the original six NHL teams, the Rangers last won the Stanley Cup in 1994, and finished last in their division this year with a 34-39-9 record. Quinn will have a couple of other Terriers on his side as he tries to turn it around: former Terrier Kevin Shattenkirk (CAS'11) signed with the Rangers as a free agent last summer, and Chris Drury (CAS'98), BU's first Hobey Baker Award winner and a member of the Terriers' 1995 NCAA Division 1 national championship team, is the Rangers assistant general manager.
After BU, Rhode Island native Quinn played briefly for the Binghamton Rangers of the American Hockey League—a Rangers affiliate—and the Cleveland Lumberjacks of the International Hockey League. He then began a coaching career that included stops at Northeastern University, USA Hockey, and the Lake Erie Monsters of the American Hockey League. In 2012, he joined the Avalanche before returning to BU a year later to become head coach when Parker retired.
A national search for his replacement as Terrier coach will begin immediately.
"We are very proud of our unparalleled representation on and off the ice in the NHL and wish David all the best as head coach of one of the original six franchises," Marrochello says. "We look forward to finding another premier coach to mentor our student-athletes."