Outward Bound for BU Student Filmmakers
Through Looking China, undergrads visit Mongolia to hone their craft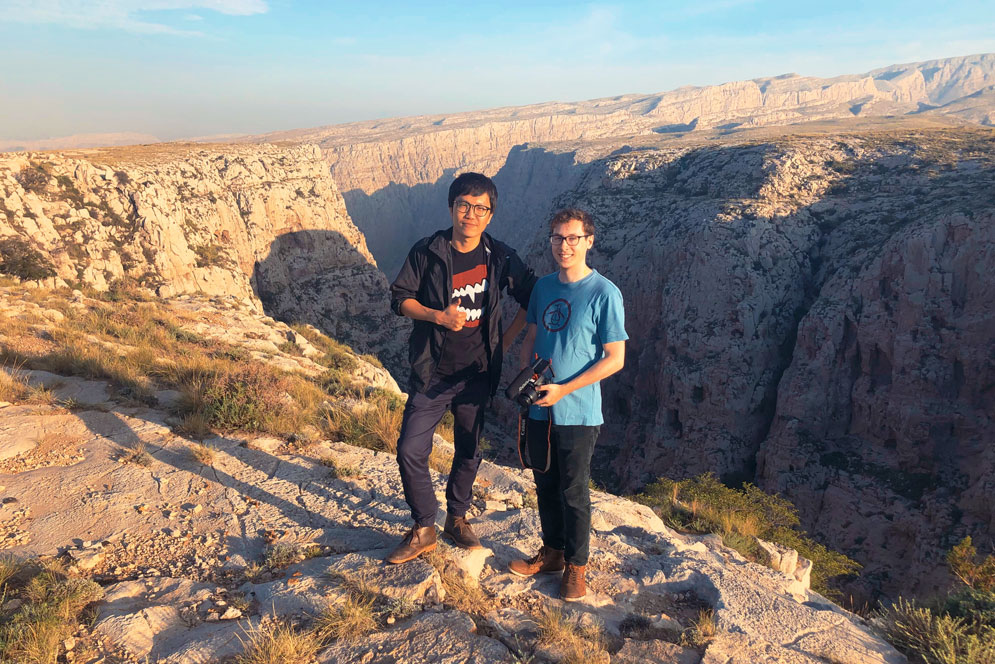 Victoria Oliveira Dacunha flew to remote Inner Mongolia this summer, an 18-hour plane ride that was not only her first trip by air, but her first time leaving the United States.
And that was just the start of the adventure for the 20-year-old film student from working-class New Jersey.
In the remote desert of western China, Oliveira Dacunha (COM'19, CAS'19) struggled to get used to foreign food, took a 100-mph sled ride down a dune, and discovered what it's like to make a film in a country where the media is controlled by the government.
"It was definitely a wild experience," she says. "I feel prepared for anything now."
Oliveira Dacunha was one of 100 international students, 5 of them from BU, who were part of Looking China, a three-week program sponsored by the Academy for International Communication of Chinese Culture (AICCC), which is affiliated with Beijing Normal University. The program invites film students from universities around the world to visit China and create a short documentary, under strict deadline pressure, about an aspect of the culture.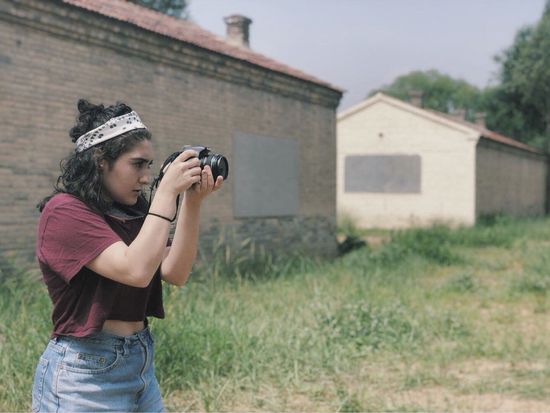 Oliveira Dacunha's film, Jia's Happy Life, is the story of a tree planter in Kangbashi, a picturesque city full of parks and public art that was built by the Chinese government and remains largely uninhabited because it is so remote.
Experiencing censorship firsthand
Students interviewed their subjects, constructed narratives, and edited their footage in just 10 days, learning how to create a film on the fly in a wholly unfamiliar place. The experience also exposed them to how censorship works in Communist China, a foreign concept to American students raised with a free and open press.
Geoffrey Poister, a College of Communication associate professor of film and television, calls the experience "Outward Bound for film students," and says it's one of his best teaching opportunities, because students take in so much. But, he adds, they cannot go expecting to do investigative journalism.
"You can't do whatever you want—this is part of what you learn," Poister says. "When you go to different countries, they have different regulations, government systems. What you learn is you have to work around those terms."
Although he says there was no direct government censorship on students' projects, to avoid controversy their stories were preselected by the program. And the students' rough cuts were reviewed by the region's public relations and tourism division, he says, as well as experts on Mongolian culture.
"The AICCC, which is an independent academic organization, practices self-censorship to stay under the government radar," Poister says. "They stick to things that are nice and portray the culture in a way that nobody will get into trouble."
The program also offered another big incentive for students: it was an all-expense-paid trip. Looking China covered nearly all the costs associated with the visit, from the hotel to food and travel within China to payment of visas for the students. And the airfare was covered through a gift from BU trustee Hugo X. Shong (COM'87, GRS'90), founding general partner of IDG Capital in Beijing. Shong created the program seven years ago, calling it Looking Beijing. After a few years, Beijing Normal University took it over and expanded it to include 20 universities worldwide, among them the National Institute of Design in India and Tel Aviv University in Israel.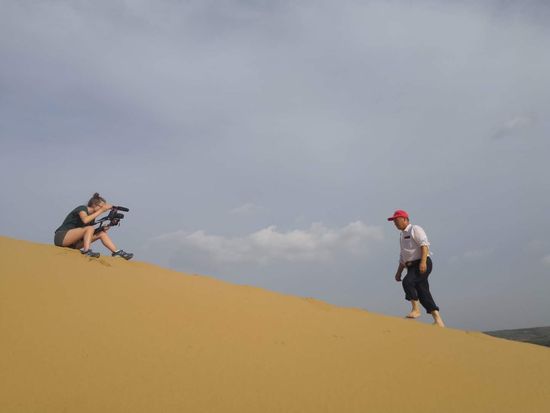 "It's very intense and demands a lot from students," Poister says of the program. "But it's one of those situations where you don't get tired until you get home because it's so interesting."
This year's BU contingent stayed in Ordos, a wealthy coal- and oil-producing region bordering Mongolia and Russia. Students were paired with one or more Chinese producers, who arranged interviews, translated, and generally helped them navigate the landscape.
Blue sheep and green forests
Filmmaker Zachary Flint (CGS'17, COM'19) compared the experience to playing Pokémon, with surprises around every corner.
His film, Blue Sheep, is about a retired businessman named Aribing, who has a passion for photographing the elusive blue sheep that inhabit the region's ancient weathered plateaus. Flint visited Aribing in his home and was delighted to see that his subject's enthusiasm had led him to decorate his living room with photos of the blue sheep. He also trekked into the mountains with Aribing, descending into steep crags using a thin rope ladder to get his footage. "It was a pretty terrifying route at times," he says.
He and his subject bonded during the two days of filming, Flint says, despite the language barrier and a later request from his producer, a Chinese program volunteer named Han, to remove a particular shot from the project. Aribing and his wife traveled three hours to watch a screening of the film, and Flint says that although there was no translator to interpret Aribing's reaction, the filmmaker and subject shook hands afterward.
The Lexington, Mass., native says what Han asked him to delete was a sweeping landscape shot showing a coal mining operation in the background. He agreed, because the change didn't affect the story he wanted to tell.
"I made the film I wanted to make for the most part, so I'm pretty happy," he says. "I'd like to spend more time improving it, but this is just another thing under my belt that I've learned a lot from. It's made me a better storyteller."
Brianna Burns (CGS'17, COM'19) produced Ranger Jia, a film about a government employee who has worked for decades on a project to reforest portions of the desert with spruce trees. Nearing retirement, Jia had come to view the trees as children, and Burns followed him as he patrolled mature forests he planted decades ago.
"On camera, he was very serious, but he would smile off camera," she says. "He would also cry off camera because he had to stop working soon."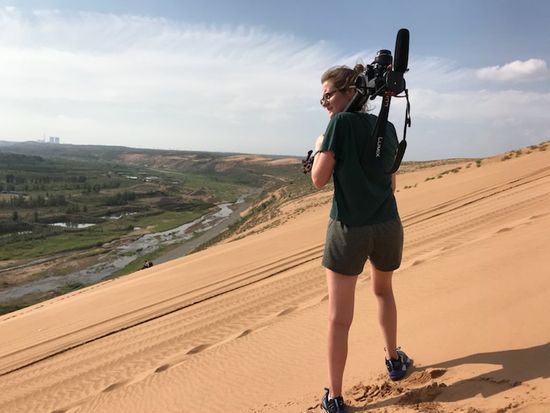 Burns says she was not a fan of the mutton dishes that were frequently offered to the students, but was proud of the film she made and grateful for the platform she was given to make it, despite some frustrations about restrictions on what she could include. She disliked being asked to exclude footage of the coal mines surrounding Jia's forest in the distance and of the Chinese women in straw hats who swept the seemingly endless black soot off the roadways.
"What a privilege it is to be in America at a university where you can say what you want to say," she says. "No one talks about freedom of speech there because it's not really a concept."
Oliveira Dacunha says she deeply appreciated the chance to explore Chinese culture firsthand, especially at a time when foreign cultures are increasingly demonized in the United States.
A first-generation American raised by a single mother from the Dominican Republic, she learned about the ancient art of Mongolian throat singing, which supplied the soundtrack to her film, she says, as well as the lushness of Kangbashi, a city she describes as "huge and kind of empty, but full of trees and green."
Western media have described it as a "ghost town," and Oliveira Dacunha says she understands why, with its sprawling but empty high rises. But she says she also came to appreciate the people there who work to make it verdant and postcard-perfect.
She says she wanted her film to show Americans that China is not just a nation of crowded, smog-choked cities.
"They're working to make a greener city in Ordos, and that's something a lot of cities in the United States could benefit from."
Megan Woolhouse can be reached at megwj@bu.edu.