BU Dance Team: The Road to Nationals
Part I: Practice, injuries, and fundraising, captured in photos
There are moves in the BU Dance Team's routines where they flip on their heads, perform fouetté turns, and do straddle jumps. These take more than a decade of serious dance training to master, but the women not only manage to land the moves, but do so in unison. It's anything but easy.
"Imagine sprinting for two minutes with maximum speed with all your energy, but you're also flipping on your head and remembering your spacing and not bumping into your friends," says Nina Maroudas (Questrom'19).
Best known for performing at all BU basketball games (men's and women's), the 23-member squad also has rigorous early morning strength and conditioning practices and late-night rehearsals, all of it leading up to the annual National Dance Alliance Collegiate Cheer and Dance Championship, held this year from April 5 to 7 in Daytona Beach, Fla.
The team has finished in the top 10 every year since 2007 and won national titles in 2014 (hip-hop) and 2016 (team performance). Last year they brought home second place in hip-hop and fourth in team dance.
BU Today photographer Cydney Scott has been following the team since October, chronicling their road to the nationals. She photographed them practicing, performing at basketball games, studying, fundraising, and just being normal college students.
Team members practice up to six times a week under the direction of paid head coach Kaitlyn Barba and two assistant coaches (outside choreographers are also hired). Dancers must try out and each has a strong dance background, most in a studio competition program. But cocaptain Jacqueline McAninch (Questrom'18) says that the team has a unique style, so everyone who comes on board needs to get accustomed to it and therefore starts at about the same level. "You learn to stop moving the way that feels natural and start moving as a unit," she says. "We design the movement to be very visual and to look good as a group. It's a different way of performing."
Every Tuesday and Thursday at 6:40 am, team members go to FitRec for an hourlong strength and conditioning practice. This year they hired a certified strength and conditioning coach to help them become physically stronger. Part of the regimen is lifting weights to help ward off possible injuries. The coach "looks at the tricks we do and designs exercises to develop those muscles," McAninch says. Nevertheless, the frequent practices and performances take a toll. Injuries like sprained ankles and knees and pulled muscles are common.
Founded almost 30 years ago as a club sport, the BU Dance Team officially became part of the athletics department in 2009, under the banner of the BU Spirit Squads, along with the BU Cheer Team and the Pep Band. In exchange for being BU ambassadors at athletic, charitable, and University events, the Dance Team receives $10,000 a year in funding, which can be used only for school events. The squad has to raise money for coaching, choreography, equipment, and the trip to Nationals.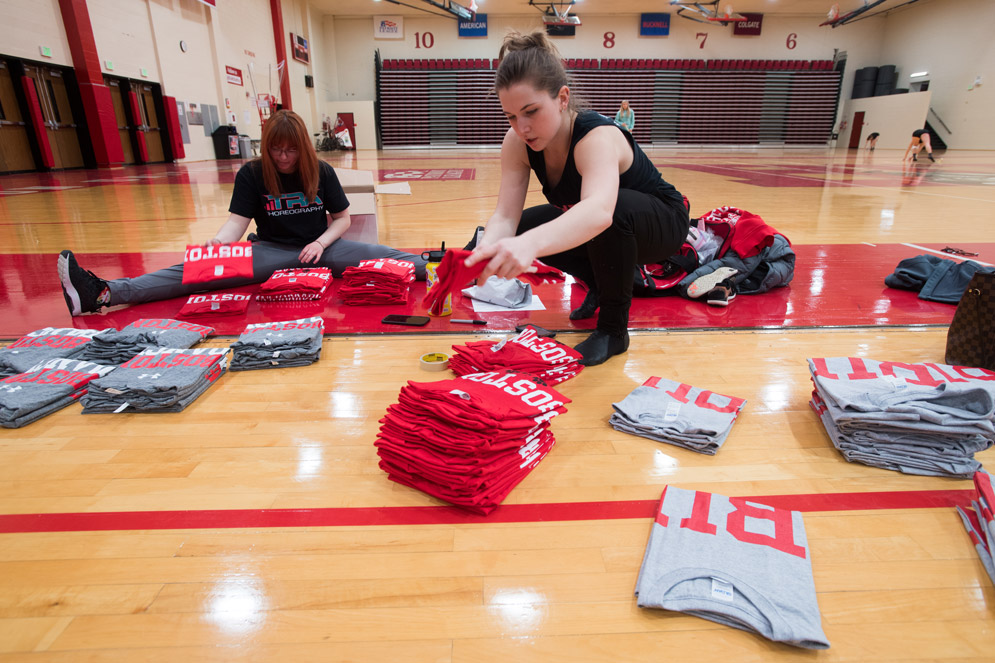 Dues help fill in some of the gaps ($200 for rookies, $300 for returning members), but the road to nationals is an expensive one: costs include flights, hotels, and meals for 23 team members and 3 coaches, as well as entry fees and hair and makeup. The team raised an impressive $19,000 on BU's Crowdfunding site, but to make up the difference, they got creative, selling team calendars and apparel, petitioning local businesses to be team sponsors, and being paid for cleaning up Agganis Arena after games. "We go in right after a hockey game and spend about three hours picking up trash, sweeping, and mopping all of the seats in the arena," says cocaptain Kristiina Lugus (SAR'18). "We try to make it somewhat of a team bonding activity by listening to music and dancing. It's a great way for us to not only earn money, but also appreciate the work that goes into cleaning the arena—none of us leaves trash when we go to a movie or an event."
Dancers have to balance the demands of practice, performing, attending events, and fundraising with their schoolwork. They must remain in good academic standing to be on the team.
With just 10 days to go before Nationals, tension was high as the team was getting ready to host a dance showcase and fundraiser at the Case Gym on March 24. During a grueling three-hour practice, Barba didn't pull any punches, calling the routine a mess. McAninch took it in stride. "We have a really good dance this year," she says. "Around this time it always gets really intense."
Team members do their own hair and makeup (including applying false eyelashes) for every dress rehearsal and performance. They wear black costumes (shown below) for the team dance, which must include elements of jazz, hip-hip, and pom-pom styles. According to National Dance Alliance Collegiate Cheer and Dance Championship rules, costumes cannot be risqué or sexually provocative.
The dance showcase and fundraiser was a success, drawing a packed crowd and dance teams from area high schools and colleges, among them the University of Connecticut, Boston College, and the University of Southern Maine.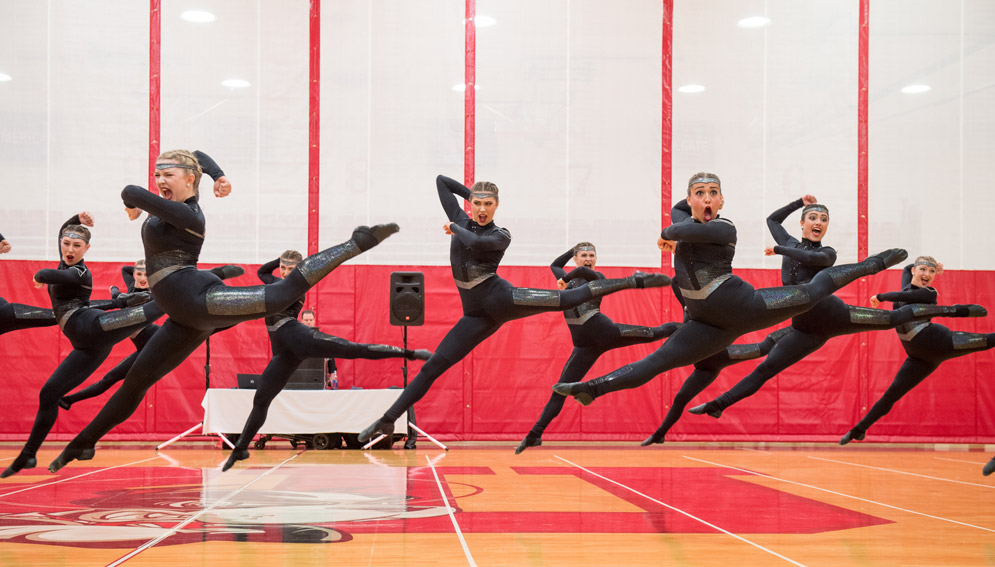 McAninch says that while the team was happy with their overall showcase performance, there were still tweaks to be made, including improving the timing of their fouetté turns in team dance and coordinating their hip-hop tricks. They have 10 days until they leave for Daytona Beach.