Work to Continue on Comm Ave Bridge in the Wee Hours
Westbound lane will close some nights for finishing touches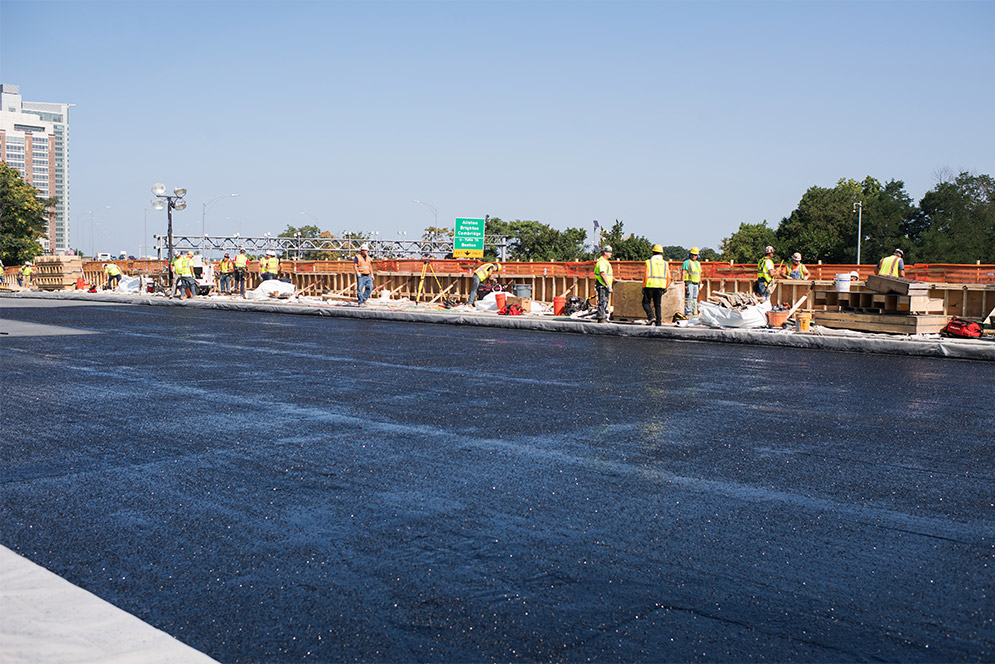 Lingering mop-up work following the Commonwealth Avenue bridge replacement could take several weeks, but only the graveyard shift and insomniacs should notice.
The bridge's just-replaced westbound lane likely will close in the wee hours between 1 and 5 am, allowing workers to finish the parapet wall along the outside sidewalk area, according to the Massachusetts Department of Transportation (MassDOT). Also on the to-do list: replacing the current asphalt sidewalk on the westbound deck with a concrete one, from the BU Academy onto the BU Bridge.
"A lane may be taken on the westbound deck adjacent to this sidewalk area to help position logistics, such as a cement truck, to get this concrete sidewalk installed," MassDOT spokesperson Jacquelyn Goddard says.
"Because most work going forward will be done in off-peak times, like after midnight, most pedestrians and cyclists won't be impacted," she adds, and nocturnal travelers will find signs, jersey barriers, orange construction barrels, and other guideposts to help them navigate the area.
"The work is going to be fluid," she says, so it's impossible to say "what day and what time of day cyclists and pedestrians would experience any possible sidewalk detours or sidewalk narrowing."
It is certain that the inconvenience level won't rise to the 15 days-plus that the bridge and environs were closed to traffic while workers replaced the westbound side. (They replaced the bridge's eastbound side last summer.) That work concluded August 11, when the bridge, adjacent streets, and the MBTA Green B Line trolley service along Comm Ave were fully reopened and travel restrictions were lifted.
The Massachusetts Turnpike (I-90), which had half its lanes closed during part of the project to accommodate the work, was fully reopened the previous weekend, one day ahead of schedule.
The coming finishing touches on the westbound lane will cap the $110 million bridge replacement, itself part of a long-range upgrade of Comm Ave and the surrounding area that began 15 years ago. The entire upgrade has a targeted completion in 2019.
BU and MassDOT have partnered on the almost two decades of work. It began with improvements to Kenmore Square in 2003, continuing with improvements to Comm Ave from Deerfield Street to University Road and the BU Bridge.
In the last year, the work included the resetting of sidewalk bricks from Agganis Way to Buick Street and the installation of curbs and upgraded drainage and utilities in the area. Workers also began installing bicycle lanes, which will protect cyclists from traffic as well as from parked cars, and built islands between the BU Bridge and Acorn Street.
There are also improved traffic lights for both motorists and bicyclists, as well as enhanced accessibility for people with disabilities.