Checking Your (White) Privilege at the Door
STH class seeks to tear down race-based assumptions, power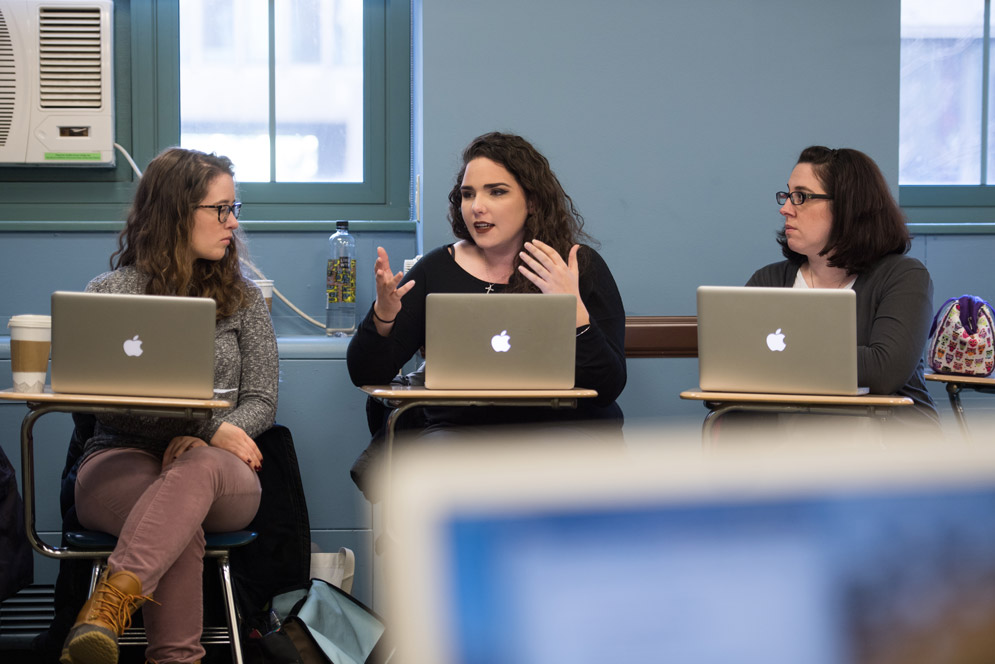 Class by class, lecture by lecture, question asked by question answered, an education is built. This is one of a series of visits to one class, on one day, in search of those building blocks at BU.
A psychic earthquake rocked the Reverend Elisabeth Smith about five years ago, when her father told her something no relative had ever confided: their family had owned slaves during the Civil War.
"I had to go back and almost rethink my whole identity," the gray-haired Methodist cleric from Rhode Island shares with fellow students in her Dismantling White Privilege, Power, and Supremacy class. "To find out that my own family owned other people—this guilt. Of course, I'm not the one that even did it, but it's like, why didn't anybody ever tell me that before I was 50 years old?"
Recognizing one's own race-based privilege—past or present—is a key theme of this School of Theology class, most of whose students are younger than Smith (she's enrolled through STH's Pastor Scholar Program of continuing clergy education). But they are not so young that they haven't been exposed to denial of identity-rooted sin against other people.
Amie McCarthy (STH'19) recalls a high school discussion of the Holocaust: a German exchange student "stood up in class, slammed his book down, and said, 'None of this ever happened. You're lying,' and left. He was told all of it was a lie, his whole life."
On this particular day the class has broken into three discussion groups after watching excerpts from the 2003 PBS series Race—The Power of an Illusion. Geneticists interviewed for the show explain that visually obvious differences between people, such as skin color, have been extrapolated by many whites over the centuries to reflect assumed biological differences—such as blacks' alleged mental inferiority—that have no basis in genetics or biology.
"If we believe that God created all of us equal, there can be no looking down on, discriminating against, exercising power against persons of other backgrounds," says the Rev. Susan Hassinger, an STH lecturer and Methodist bishop-in-residence.
Hassinger coteaches the class with the Rev. Karen Montagno, an STH adjunct instructor and an Episcopal priest. Montagno is the only African American in the room (although among the 15 students are several of Asian ancestry).
"Underlying this course," Montagno says, "is the assumption that white people in America experience a privilege that they may or may not be aware of. It can be as simple as the fact that their skin is white, and it can be as complex as privileges that come from economic status." (The PBS series notes, for example, that federal housing benefits for returning World War II soldiers were often denied to black soldiers).
Teaching their course at this fraught moment in American race relations, from the influence of white nationalist Richard Spencer in the Trump administration to the Black Lives Matter movement, Montagno says white privilege today isn't "being dismantled; it's being confronted."
The "dismantling" in the course title, she says, refers to tools the teachers hope to give students to "know privilege when they see it, and ways in which they can resist," a key takeaway of the class.
The syllabus includes scholarly works on topics from the history of slavery to the psychology of racial identity and the roles of black people in the Bible, but Smith isn't the only student whose personal experience with privilege, or its absence, complements the textbooks.
In his Tennessee drawl, Tory Shane-Dillard (STH'20) explains how his rural hometown is one of the state's poorest, and the class divide "amplifies and perpetuates racism," with poor whites thinking, well, it's better to be poor than black, since even disadvantaged whites have better access to jobs than their black neighbors.
He took the class to learn how to teach about white privilege to such people—"How do we develop a language to a white family who can barely feed their children, and talk to them about systemic racism?…I remember when I was younger, there were times when we probably worried if we would even pay the electric bill. And if someone were to come to me and go, 'You have privilege,' I would have completely rejected them, even if I did."
Meanwhile, Hassinger's own life is a tonic against anyone who despairs of ever eroding privilege. The first woman Methodist minister from her neck of central Pennsylvania at her 1968 ordination says, "When I first became a pastor, people had a hard time accepting.
"But eventually, the system changes."
This Series
Also in
February 27, 2019

December 17, 2018

November 30, 2018