BU Skaters on Olympic Ice
Current students and alums play for Team USA, Team Canada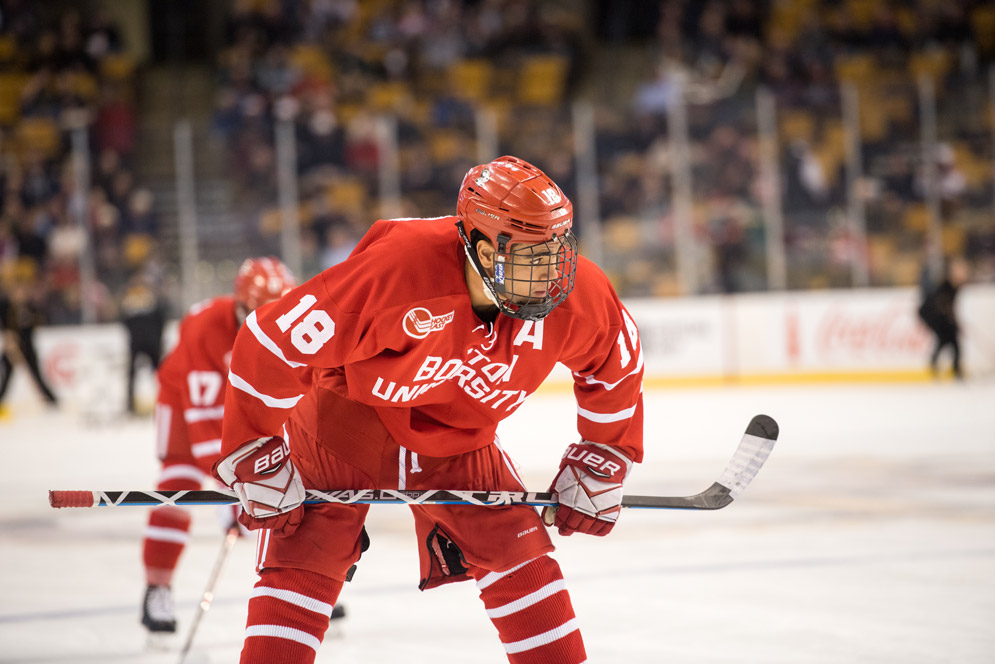 Last Monday night, BU hockey forward Jordan Greenway's pivotal assist helped the Terriers win a 3-2 double overtime victory against Harvard in the first-round of the 2018 Beanpot Tournament. But the 6-foot-5 Greenway (CGS'17, CAS'19) won't be skating for BU in the Beanpot final next Monday against Northeastern. He will be in PyeongChang, South Korea, playing for Team USA in the 2018 Winter Olympics, along with three former Terriers.
"I couldn't be more excited," says Greenway, the first African American to skate for USA Hockey in the Olympics. "I hope I'm the first of many. And I hope I can inspire other kids to do the same thing.
"These are memories that I'll have forever," he says. "Being able to play for Team USA—it's not a feeling that gets old, you know?"
Greenway knew last April that the National Hockey League would not be sending its players to the Olympics this time around, and that meant that Team USA would be choosing players from the American Hockey League, European leagues, and the college ranks. As one of the top college players, he had a good chance of making the team.
"I've been fortunate enough to play for USA Hockey a number of times," says Greenway, who scored three goals and had five assists in seven games for the team that won gold last year at the World Junior Championship. "That was a great feeling, so to do it on the Olympic stage would be out of this world."
Playing on an Olympic team is something every kid with a stick and skates dreams about, Greenway says, and he thought it might be possible for him—in a few years. He thinks the experience will help his development as a player and his visibility among NHL prospects. One of those he's talked to about the experience is BU Athletics director of development Mike Eruzione (SED'77), captain of the 1980 US Olympic gold medal–winning "Miracle on Ice" squad, who told him to savor the whole process and the excitement around the event.
As for how his BU teammates will fare in the Beanpot championship game next Monday: "I believe in these guys," Greenway says. "We've got a really good team, and I think they'll be able to pull it off."
On the Team USA roster announced January 1, Greenway joins Chris Bourque, who studied at the College of Arts & Sciences, John McCarthy (CAS'09), and Matt Gilroy (MET'09). Bourque has played for three NHL teams, including the Boston Bruins, and now plays for the Hershey Bears of the American Hockey League. McCarthy, now skating for the San Jose Barracudas of the AHL, and Gilroy, who has played with several NHL teams and in the AHL and is now with Jokerit in the Russia-based Kontinental Hockey League, were cocaptains of the 2008–2009 Terrier team that won BU's last NCAA championship. Gilroy won that year's Hobey Baker Award, given to the top player in college hockey.
"When I got that phone call saying I made the team, it was an unbelievable feeling," McCarthy says, "something I dreamed about when I was a kid."
Team USA has been helping players and their families with travel logistics, and the players have online courses and a smartphone app to help them get acclimated to Korea and the layout of the Olympic venue. Getting acclimated to their teammates is perhaps more important, but that will have to happen quickly.
"They've been emailing us video clips of system stuff that the team is going to play, just to kind of familiarize ourselves with it," says McCarthy. "We're going to have a couple of practices before the games start, and this will allow us to hit the ground running a little bit."
BU alums will be representing another country too: women's hockey standouts Jennifer Wakefield (CAS'12) and Marie-Philip Poulin (CAS'15) will skate for Team Canada. Poulin was a member of two gold medal–winning Canadian teams, the 2010 Winter Olympics in Vancouver and the 2014 Winter Olympics in Sochi. She scored the medal-winning goal both times. Wakefield joined her in playing for their country at the Sochi Winter Olympics.
Being on the Olympic team "means everything," says Wakefield. "It's the pinnacle of women's ice hockey, and being able to rep your country, where you grew up, your family and friends, and every Canadian—it's very, very humbling to be a part of this team."
PyeongChang has so far been a "very cool place, with a really fun atmosphere," she says.
BU will also be represented off the ice in PyeongChang. Former BU player and assistant coach Scott Young (CAS'87, MET'18), a member of the US Hockey Hall of Fame, will be an assistant on the Team USA coaching staff, and BU assistant athletic director Brian Kelley will be a media officer. Young played on the US team in the 2002 XIX Olympic Winter Games. 
The 2018 Winter Olympics opening ceremony will be broadcast tonight, Friday, February 9, starting at 8 pm. Team USA's games begin with a preliminary match against Slovenia on Wednesday, February 14, at 7:10 am ET, shown on NBCSN and streamed on nbcolympics.com. Other games will be televised on NBC and CNBC. Find the schedule here.