BU Love Stories
Meet couples whose romance started on campus in our Valentine's Day photo essay
If it's Valentine' Day, it must be time for BU Today's popular annual feature about couples whose path to the altar began at BU. This year we hear from people who began dating as students and others who connected only after graduation. And then there were some who met when they were both working on campus.
Our first Valentine's photo essay two years ago was an immediate hit. Ditto for last year's. So knowing a good thing when we see it, we bring you more episodes in our ongoing saga, Love on Comm Ave. Happy Valentine's Day.
Ruthie Beane Jean (CAS'95, SED'98) and Reggie Jean (CAS'95, SED'04) met in 1993 as BU summer orientation student advisors, but didn't start dating until 2000, after Reggie returned to Boston from New York, where he'd been teaching in elementary and middle school. Their first date told Ruthie a lot: Reggie, a passionate Yankees fan, took her to a Red Sox game. "He made me laugh so much that night that I was hoarse the next day," she recalls. "I figured if he could cross the team divide and we could have so much fun together, it was worth exploring this further." The couple married in 2005 and are the parents of five-year-old twin daughters, Cecilia and Jacqueline. And BU continues to play a big role in their lives—Ruthie is director of undergraduate programs at the College of Engineering, and Reggie is the director of the School of Education's Upward Bound college preparatory program.
Sometimes love starts with the simplest of requests. One day in their  Criminal Law 101 class, Ryan Dreyer (CAS'09) asked Cynthia Cano (CAS'10) for a pen. At the time, Cynthia says, she "honestly never expected to see the pen again." The two became friends and began dating the following year. Fast-forward eight years: Ryan proposed to Cynthia in the classroom where they'd met. "We came full circle, literally, and without BU, we'd never have found each other," says Cynthia, now a litigation attorney in Boston. The couple married this past October and plan to open a pet resort business this summer called Unfurrgettable Pet Resort & Spa. We never did find out if Cynthia got her pen back.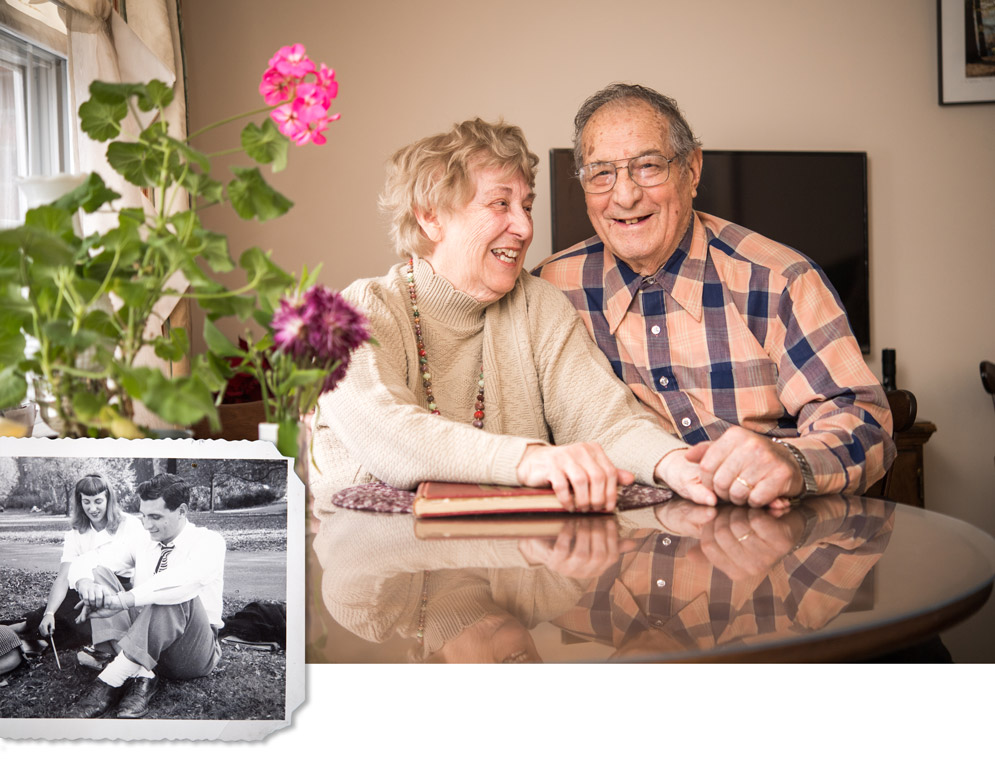 Marilyn Langmaid Seminerio (CAS'49) and Rev. Steve Seminerio (CAS'49, STH'51) met in the Marsh Chapel Choir when they were sophomores. Steve had just returned to BU after joining the Marines at the end of freshman year. Luckily for both of them, Marilyn was listening closely that day during choir practice. "I heard a gorgeous tenor voice that wasn't there the year before," she recalls. A year passed before they began to date. "She was a vivacious person, and I just really liked her," Steve says. They married at Marsh Chapel in 1949, just six days after graduation. Their ties to the chapel include being acquainted with its namesake, Daniel L. Marsh (STH'08, Hon.'53), BU's fourth president. Steve says the secret to a happy marriage is "mutuality," which he defines as helping "each other as much as you can." Following his ordination, Steve served as a Methodist minister at churches throughout New England. The Seminerios have four children, four grandchildren, and a great-grandchild. And yes, they still sing together in the chapel at Newbury Court in Concord, Mass., where they now live.
Jackie Egan Cometz (Questrom'84) and David Cometz (CAS'84) met after Jackie and her roommate posted a flyer at Warren Towers freshman year looking for a date. "David was the only guy to apply for the job and he got it," Jackie says. After they started dating, they would frequently meet in a nearby stairwell so they wouldn't bother their roommates. They now live in Mount Laurel, N.J., and own and operate General Floor, a wholesale flooring company in Bellmawr, N.J. Their daughter Jillian (Questrom'19) followed in their BU footsteps. Jackie and David were photographed in the stairwell of General Floor, a nod to their days at Warren Towers.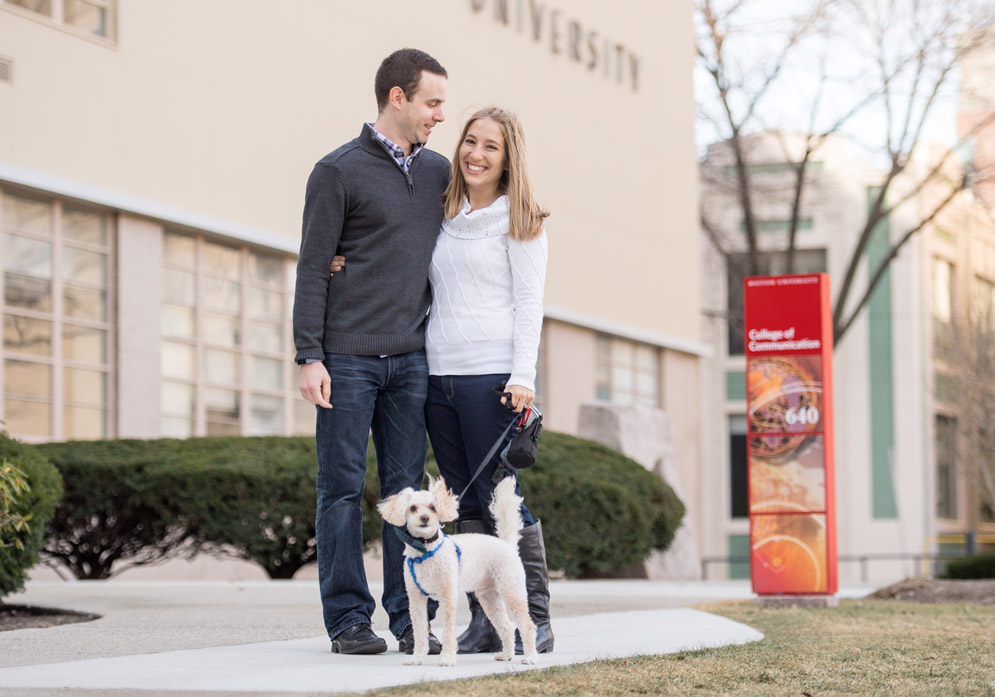 Rachel Sprung Leist (COM'11, Questrom'11) and Eric Leist (COM'10) met in 2007 at the College of Communication orientation and later became friends as members of the Public Relations Student Society of America. Rachel was president of the society and Eric was vice president. They started dating in 2010. When he proposed in May 2015, Eric surprised Rachel with not only a ring, but with Milo, an adorable maltipoo puppy. The couple, who live in Boston, were married in June 2017. They were photographed—along with Milo—on the COM lawn, near where Eric asked Rachel to marry him.
Laughter, pumpkin bread, and Dungeons and Dragons. That's what drew Rebecca Kinraide (CAS'94) and Tobias Drewry together. They met at BU in 2006 when Rebecca began teaching in the College of Arts & Sciences Writing Program and Tobias was working as an analyst consultant for BU's academic computing program. Tobias was passing by a colleague's office one day, and he heard Rebecca laughing. "I was completely compelled to investigate because the laughter was fantastic," he says. After being introduced, Rebecca mentioned that she was looking to connect with a Dungeons and Dragons playing group. Coincidentally, Tobias was a member of one at the time. Rebecca first won the group over with her pumpkin bread, then solidified her standing with her playing skills. As for what drew her to Tobias: "He had a great laugh. He was handsome and fun. He was a gamer and he was geeky." Rebecca is now a Writing Program master lecturer, and Tobias is a computer programmer. They own Mesa Mundi, a full-service hardware and software solution provider with expertise in multiformat displays, augmented and virtual reality, and videoconferencing displays in Sharon, Mass, where they live with their children, nine-year-old Adric and six-year-old Eowyn.
Call it a fateful fork in the road: Zenda Thomas Sims (COM'99) and Obie Sims (Questrom'98) met at the utensil counter in the GSU Food Court when Zenda's roommate bumped (literally) into Obie's roommate while grabbing forks. According to Obie, the moment "immediately led to a lot of jokes and a lot of laughs." Laughter, in fact, has been a defining part of their relationship for nearly two decades. "I love Obie's sense of humor," says Zenda. "When other couples socialize individually at parties, I always want to be at the table with Obie, because he can lighten up a serious conversation like no other." For his part, Obie has this to say: "Zenda is a ball of love. She just has so much sincerity and caring in her eyes." Zenda, Obie, and their daughters, six-year-old Zoe and four-year-old Chloe, live in Bethesda, Md.
Are you one of a couple who met at BU and would like to share your story in a future Valentine's Day photo essay? Do you know of a couple you think we should profile? Email John O'Rourke at orourkej@bu.edu.
This Series
Also in
February 13, 2020

February 13, 2019

February 11, 2016