A Steep Learning Curve for BU's Baby Falcons
Mama and papa build nest atop StuVi II for fifth year
If birds of prey fear for their young, this is an anxious time for Mick and Latitia, a pair of peregrine falcons that have nested high atop 26-floor StuVi II for the past five years.
Their three remaining chicks, nearly six weeks old, want to fly, a risky proposition for inexperienced birds high above the ground, even if they will someday become one of the fastest animals on the planet.
One chick recently fell nearly 20 stories from the nest, crashing into an awning. Another collided with a building, then bounced off a startled BU alum who was sitting on a bench.
"It's a dangerous time for the birds," says Ursula Goodine, a volunteer with the Massachusetts Division of Fisheries and Wildlife (MassWildlife), who monitors the BU falcon nest. "It's the not knowing. Are the chicks going to make it?"
These student drivers of the sky live in a nest on top of StuVi II at 33 Harry Agganis Way in a box designed to mimic the falcon eyries in the wild. Provided by MassWildlife, the three-sided wooden box is lined with pea stone. Mick and Latitia appear to like it—they have raised their chicks there each year since 2013.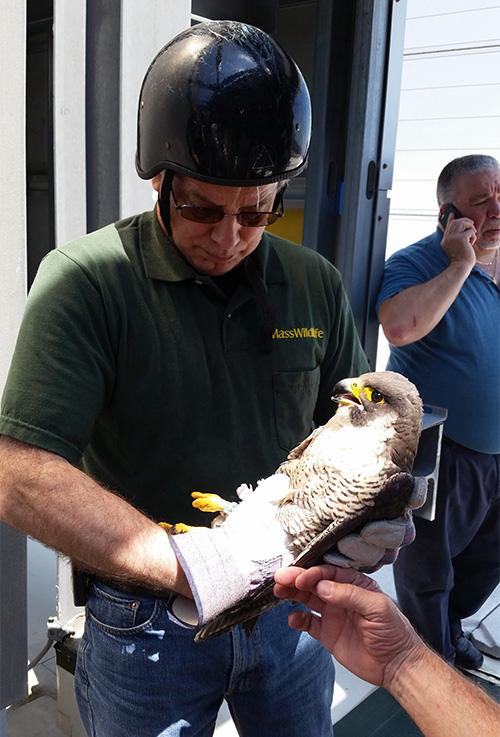 That itself is a victory for conservationists. In the 1960s, DDT had all but wiped out peregrine falcons east of the Mississippi. When the insecticide was banned in the '70s, the US Environmental Protection Agency and various state and federal agencies began efforts to restore the bird. MassWildlife assistant director Tom French says commonwealth wildlife officials first introduced a group of tufted baby falcons in the wilds of western Massachusetts, but the effort failed when great horned owls ate the chicks.
"So we released chicks in downtown Boston, mainly because we don't have great horned owls there," French says.
Today, the number of falcon couples in Massachusetts has grown to 46. That includes BU's, who often soar above the tallest buildings on West Campus. Although smaller than hawks, falcons have wings that are proportionately longer and thinner, allowing them to dive at speeds of more than 200 mph and catch prey, like pigeons, in mid-flight.
Downtown Boston, however, has its own hazards and before the chicks can become fierce lords of the sky, they leave the nest in steps, a risky process known as "fledging."
Mishaps abound.
That was the case several days ago, when one of the chicks, a female still sporting downy white feathers, fell and landed on a glass awning far below. Students reported seeing the bird struggle, and volunteers Goodine and her husband, Dave, alongside BU facilities workers, began a six-hour rescue effort.
Facilities assistant area manager Jorge Ascensio fashioned a 36-foot pole by duct-taping window-washing equipment together to reach the chick, whose talons were slipping on the glass.
"I was determined," Ascensio says. "I fell in love with the bird right away."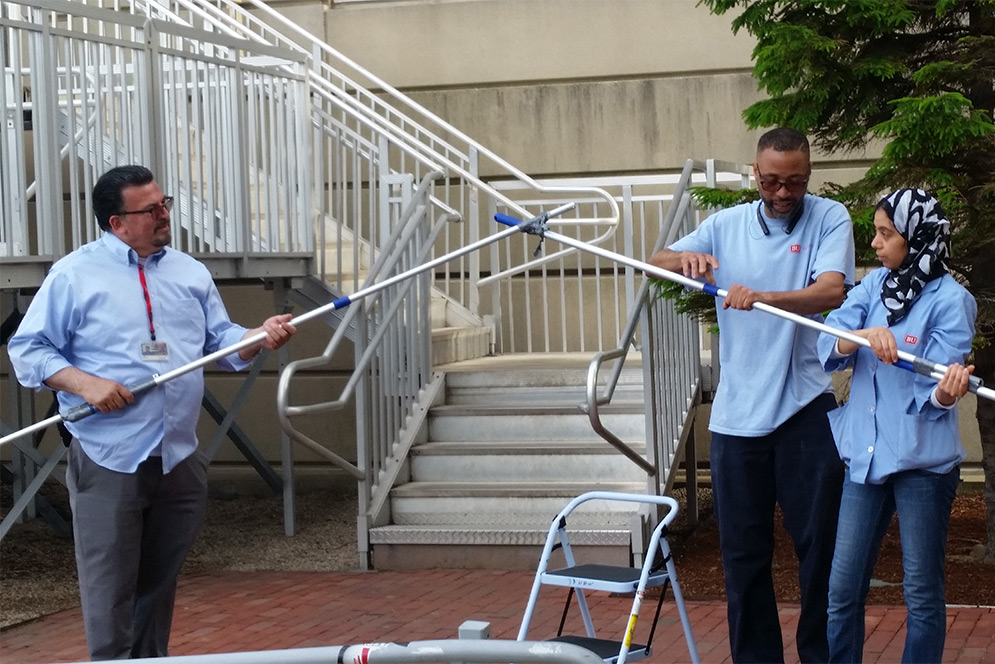 The rescuers got the bird down, but it died from its injuries later at the Tufts Wildlife Clinic in Grafton, Mass.
Another chick from the same nest had a brush with disaster four days later. While learning to fly, it smashed into a glass window at FitRec and careened into the shoulder of William C. Banfield (STH'88), a Berklee College of Music professor, who was sitting on a bench.
Neither party was hurt and the frightened bird hopped into an alcove until animal control officer Anthony Fabiano brought it to the Animal Rescue League.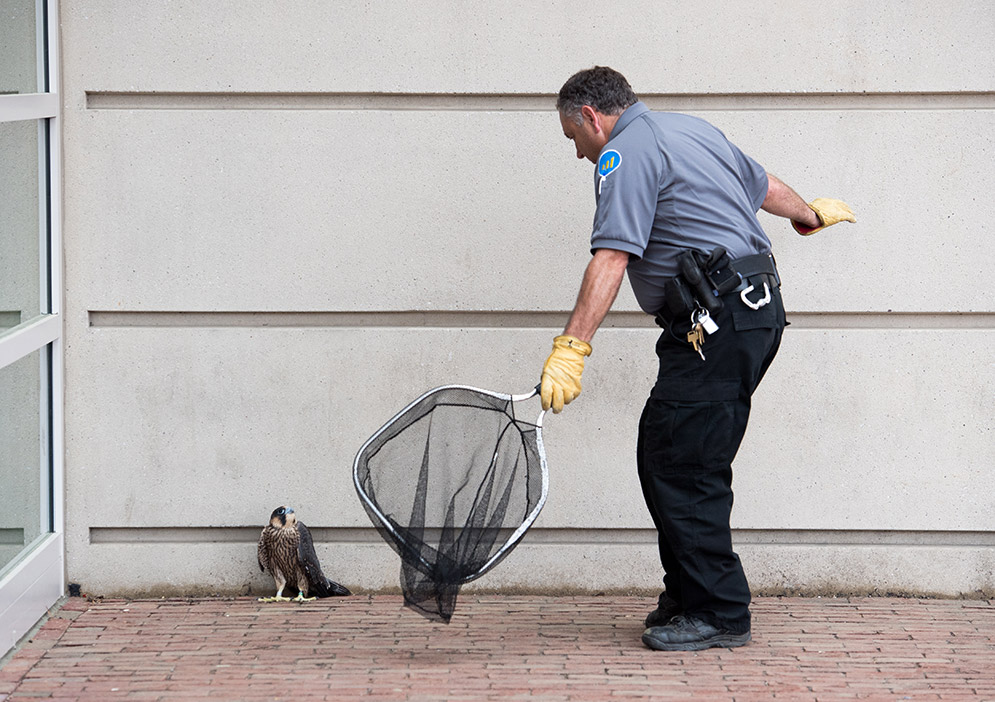 The Goodines, passionate birders who often warn people to be on the lookout for the young birds this time of year, picked up the juvenile bird, which they nicknamed "Westie," and returned it to its BU nest. The couple say they spend a lot of time in June helping stranded young falcons get back to their nest. Ursula Goodine says that if you listen carefully at this time of year, it's possible to hear the young birds screaming, "Kak! Kak! Kak!" as they whiz through the air learning how to use their brakes.
"This is life in the wild," the retired nurse says. "It's the city, but it can be very, very wild."
Megan Woolhouse can be reached at megwj@bu.edu.