Majestic Tall Ships Return to Boston Harbor
Tomorrow's Grand Parade of Sail the highlight of a week of events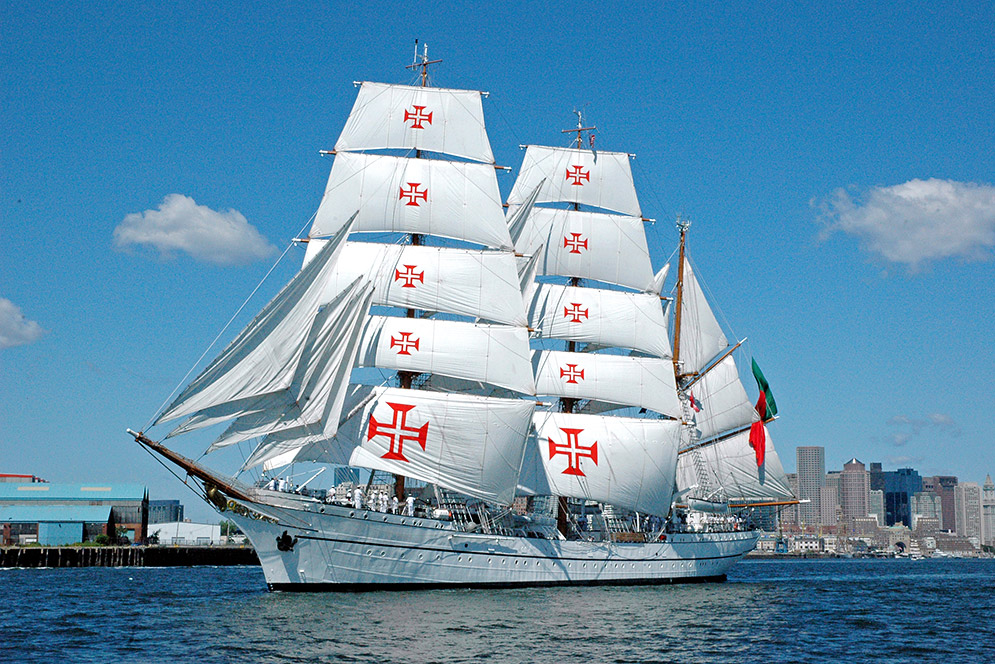 This weekend, more than 50 majestic tall ships from 14 countries will glide into Boston Harbor for Sail Boston, a stop on the Rendez-Vous 2017 Tall Ships Regatta course. The regatta, which launched from Greenwich, England, on April 13 and continued to Sines, Portugal, and Bermuda, is a trans-Atlantic race of 7,000 nautical miles lasting more than five months, with stopovers in six countries. The ships will remain in Boston Harbor until Thursday, June 22, when most of them will set sail for Quebec City. They will complete their journey in Le Havre, France, in late August or early September.
This is the first time in 17 years that Boston will host the tall ships, and the city eagerly awaits their arrival. Up to one million spectators from the New England region and beyond are expected to visit the city's waterfront Saturday to watch the tall ships enter the harbor and partake in related festivities throughout the week. The Sail Boston ships—ranging in length from 379 feet (the Unión, a barque hailing from El Callao, Peru) to 30 feet (Tupelo Honey, a Friendship sloop from Boston) and dating as far back as 1893 (the Lettie G. Howard, a schooner from New York City)—are from ports around the world, including several in New England. Landlubbers and old salts alike are in for a treat.
In addition to watching the historic vessels arrive, guests will be able to board many of the ships once they dock at their assigned berths. Other events, including a parade and sunset salute with musical and military entertainment are on tap as well. And the good news is that most of the events are free. We've included some of the highlights below.
Opening Ceremony
While the ships don't arrive until Saturday, the Boston Harbor Hotel Rotunda will host an opening ceremony at noon today, Friday, June 16, to kick off Sail Boston. With Boston Harbor and water-spraying Boston fireboats as the backdrop, press and officials will gather to bless sails and present the flags from each country participating in the regatta. Please note that public access to this event is limited; visit Sail Boston's website for more information.
The Opening Ceremony is today, Friday, June 16, at noon at the Boston Harbor Hotel Rotunda, 70 Rowes Wharf. Find directions here.
Grand Parade of Sail
The indisputable highlight of this week's events, the Grand Parade of Sail, will feature the arrival of the fleet of 55 ships. They will parade from Broad Sound into Boston Harbor, sailing along the Boston Waterfront, before turning at Charlestown and berthing at their assigned locations. The Grand Parade will be led by "America's Tall Ship," the USCGC Eagle, the largest tall ship flying the American flag and the only sailing vessel actively commissioned for American military service.
The best landside viewing locations for the parade include Castle Island, where an estimated crowd of 50,000 is expected to gather, the Charlestown Navy Yard, the Seaport District, South Boston's Harborwalk, Christopher Columbus Park in the North End, and the downtown and East Boston Waterfronts.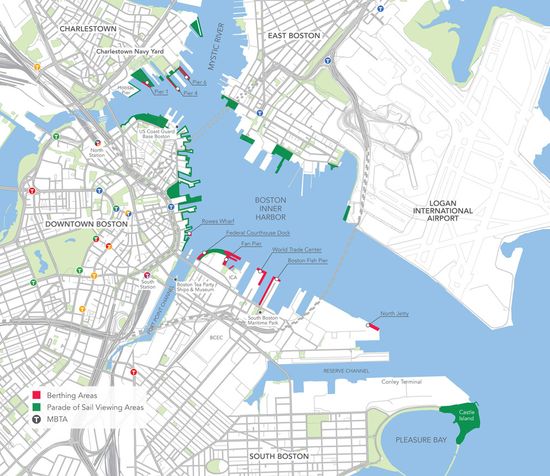 The Grand Parade of Sail takes place Saturday, June 17, from 9 a.m. to 3 p.m. in Boston Harbor. Limited bleacher seating on the Seaport waterfront is available for $100 per person and can be purchased online.
Public Boarding of Ships and Sail Boston Festival
After watching the parade, visitors will have a rare opportunity to view the berthed vessels up close. From Saturday to Wednesday, visitors are invited to board the tall ships, talk to sailors and captains, and learn more about the history and operation of each vessel. Musical performances, food vendors, and other forms of entertainment will also be available at select piers.
Visitors can board ships at the discretion of each vessel's captain on Saturday, June 17, through Wednesday, June 21, at locations including the Boston Fish Pier, the World Trade Center, and Charlestown Navy Yard Piers 1 and 4.  Ships may be boarded from 3 p.m. to 10 p.m. on Saturday and from 10 a.m. to 10 p.m. Sunday through Wednesday. Additional festivities will take place Saturday, June 17, through Wednesday, June 21, from 10 a.m. to 10 p.m. at the Boston Fish Pier and Charlestown Navy Yard.
A Parade, Soccer Match, Music, and More
Sail Boston will host a variety of other events and activities throughout the city to celebrate the ships' arrival. On Monday, June 19, from noon to 1 p.m., marching bands and cadets from the visiting ships will proceed along Seaport Boulevard to Downtown Crossing for the Downtown Crossing Parade. On Tuesday, June 20, from 8 a.m. to 2 p.m., the public is invited to Joe Moakley Park in South Boston to watch crews and cadets from the various ships face off in a friendly soccer competition. A Sunset Salute featuring fife, drum, and bagpipe music will take place Tuesday, June 20, from 7 p.m. to 9 p.m. at Fan Pier. A complete list of activities can be found here.
Tall Ships Depart
The tall ships will set sail for Quebec City Thursday morning. Visitors are welcome to bid the ships bon voyage as they leave the harbor.
The tall ships will depart from Boston Harbor Tuesday, June 22, from 8 a.m. to 11 a.m.
The tall ships will enter the harbor this Friday, June 16, and depart next Thursday morning, June 22. Events and festivities will take place throughout the week; find a complete schedule of events, including times and locations, here. All events are rain or shine. Find a list of prohibited and allowed items here. Pets are not allowed and there will be no bag storage. Find directions here. Visit Sail Boston's website for more information.
Liz Vanderau can be reached at vanderau@bu.edu.