Round One of Men's 65th Beanpot Tonight
Terriers take on rival Boston College at TD Garden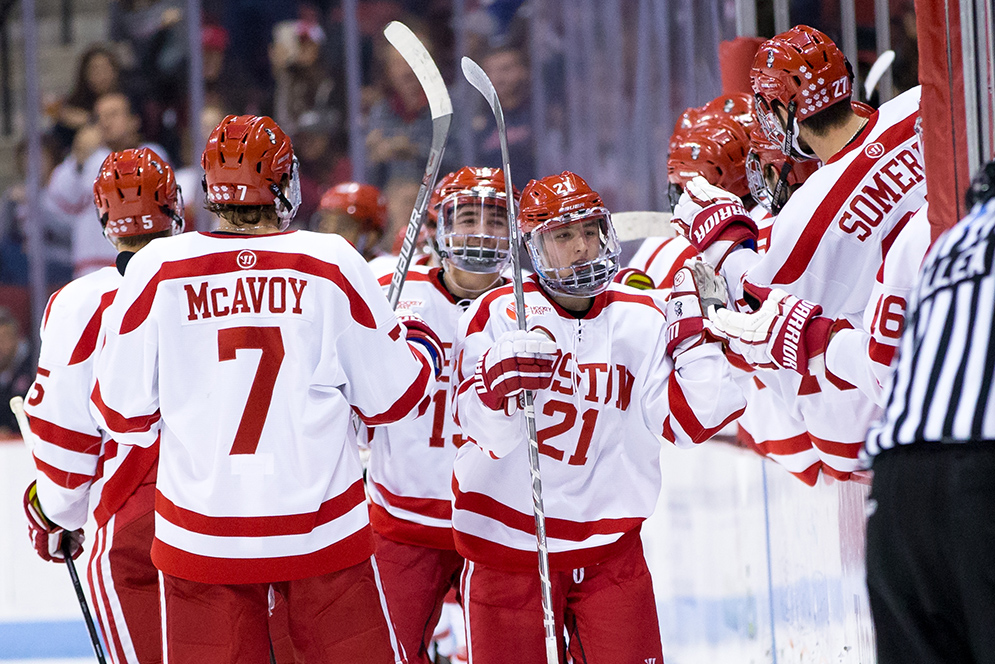 The BU men's hockey Terriers last brought home the Beanpot championship trophy two seasons ago, taking down Northeastern 4-3 in overtime. It was their 30th win in the annual 65-year-old competition pitting BU, BC, Northeastern, and Harvard against one another.
The Terriers' thirst for the Beanpot trophy has not in any way diminished. The 2016 1-0 overtime loss to Boston College in last year's tournament title game rankles, and captain Doyle Somerby (CGS'15, COM'17) knows his team can expect another grueling contest going up against their perennial archrival in tonight's tournament opening round.
"You've got to leave it all out there. Winning a Beanpot my sophomore year was one of the best feelings in the world, but when you don't win it, you realize how good you had it," Somerby says. "It doesn't matter how well you're playing going in. It's about bragging rights, and there's a lot of passion. It's always going to be a…tight game."
So far this season, the Terriers have bested the Eagles twice, taking a 2-1 victory at home in the first matchup on January 13 and turning around to earn a 3-0 shutout of their Commonwealth Avenue counterparts three days later at the Heights. But the players know that being 2-0 against BC is no guarantee for success in tonight's tilt.
"Beating a team three times in one year is extremely hard," says forward Nick Roberto (CGS'15, COM'17). "Hopefully we focus up and come out and work hard like we did in the first two games."
This year's Beanpot comes on the heels of a tumultuous stretch for the program. The Terriers went from being ranked number one in the country in the January 23 USCHO.com poll after an eight-game winning streak to dropping two straight games to Merrimack, currently ranked ninth in the Hockey East standings. Since, the Terriers have rebounded with victories over UMass Lowell January 28 and UMass Amherst February 3.
The sweep at the hands of the Merrimack Warriors may have cost the Terriers (18-7-2, 11-4-2 HE) their number-one spot, but it gave the team valuable insight into handling the ups and downs of a long season.
"We weren't as focused as we should have been," Somerby acknowledges. "It had to do a little bit with the ranking. It was definitely humbling, and it made us go back to square one. Hopefully we'll start another streak."
This year's team is youth-heavy, sporting just three seniors: Somerby, Roberto, and Tommy Kelley (Questrom'17). For the trio, who entered BU in a class of nine and all hail from Massachusetts, this last go-round inside TD Garden carries extra meaning.
"It's something that you never take for granted," Somerby says. "I'll cherish it forever."
At a press conference at the annual Beanpot luncheon at TD Garden in January, head coach David Quinn (CAS'89) highlighted the depth of his club, which has gotten contributions from up and down the lineup.
"Our role players make us truly a team," he said. "That's the only way you're going to have success. You need everybody contributing at some point in time. Some guys don't get the opportunity others get, but when you get your chance, you better take advantage of it. We've had that."
Quinn pointed specifically to the team's 5-4 overtime victory over Union January 5 as an example of that depth, a game played without seven of his Terriers, who were in Canada participating in the 2017 International Ice Hockey Federation's World Junior Championship.
Roberto says the experience the Terriers gained in the international tournament, coupled with their earlier trips to Denver and Michigan, has prepared the younger players for the atmosphere they'll face inside TD Garden tonight.
"For the first five minutes, the crowd will really be into it and the atmosphere will be good," Roberto says. "But we've played in some hostile environments, like out in Denver and Michigan and at BC, so I think they'll be all set. A lot of them played in the World Juniors, as well—especially for the USA and Canada in the gold-medal game. That was a loud game for them."
So far this season, the much-hyped Terrier freshman class has lived up to its reputation. Clayton Keller (CGS'18) leads the team in goals, with 13, and Patrick Harper (CGS'18) paces the club in assists, with 17.
In net, goaltender Jake Oettinger (CGS'18) has taken the starting nod and run, skating in 23 games and compiling a 1.79 goals against average. That number is far and away the best in Hockey East, with the next closest netminder coming in at 2.11. The Terrier backstop also leads the conference in save percentage with a .936 mark in that category. Perhaps that's why, when asked about his team's "secret weapon," Roberto immediately cited Oettinger.
When the Beanpot is over, the Terriers will have just four games remaining in their Hockey East regular season schedule. Quinn regards the tournament as the unofficial beginning of the end of the season, and says it can only help his team prepare for what lies ahead.
"It's our first opportunity to win a championship and play in a tournament. That's important heading into the end of the season and the playoffs, because it gives you some experience in tournament play," he says. "We're a month away from the end of the regular season, and it goes fast."
The 65th annual Men's Beanpot Tournament: BU plays Boston College in the second game of the semifinals tonight, February 6, at 8 p.m., preceded by the semifinal between Harvard and Northeastern University at 5 p.m., both at TD Garden, 100 Legends Way, Boston. Purchase tickets on Ticketmaster or Stubhub. Beanpot second round: the consolation game is at 4:30 p.m. Monday, February 13, the championship game at 7:30 p.m., both at TD Garden. The games will be televised live on NESN and broadcast live on WTBU Radio (640 AM and 89.3 FM) and the Terrier Sports Radio Network.
Taylor Raglin can be reached at traglin@bu.edu.