Following the Mediterranean Diet, in Italy
New summer SAR study abroad program teaches nutrition, lifestyle changes
It was the third day of classes for a new, four-week Study Abroad course in Padua, Italy, and a group of BU students was on a scavenger hunt in the city's outdoor market, the Piazza della Frutta. They were in search of examples of foods that could be included in the popular Mediterranean diet, which emphasizes fresh produce, whole grains, nuts, legumes, and olive oil, as well as the consumption of fewer proteins and animal fats. Wine is even allowed, in moderation. The students used their smartphones to snap pictures of beans, plump raspberries, and purple and gold cauliflower, and brought their pictures back to class to illustrate how readily available these healthy foods were in the region.
"Padua has beautiful markets, nothing compares in the United States," says Dana Steinmetz (SAR'18), one of the 11 students who signed up for the class, called Mediterranean Diet: Food, Culture and Health. "Unlike the United States, in Italy, organic is the norm; they don't use pesticides. Everything was so fresh."
The four-credit class immerses students in the food, agriculture, culture, cuisine, and lifestyle of the region while teaching the Mediterranean diet's evidence-based research and its effect on culture, health, and disease prevention.
The course was the brainchild of Paula Quatromoni (SPH'01), a Sargent College associate professor and chair of health sciences.
A registered dietitian, public health activist, and epidemiologist, she says those three distinct but complementary roles helped her dream up a class that would be attractive to students across the University, including schools as diverse as Sargent and College of Communication. Sargent students, she says, were especially excited about the class since it was previously difficult for them to study abroad due to their programs' rigid requirements and the order in which they are required to take classes.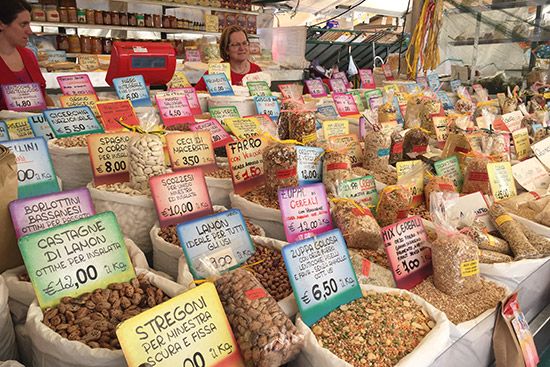 Quatromoni, who hails from an Italian family, says the most recent US government dietary guidelines, published in 2015, made a real paradigm shift. "It's not about any one food group, but rather a total pattern of eating," she says. "The diet from the Mediterranean region of the world results in fewer chronic health conditions, including cardiovascular risk reduction, lower rates of diabetes, lower rates of cancer, a delay in cognitive decline, and lower mortality rates, overall." The course is important, she says, because it teaches future nutritionists and dietitians how to guide patients as they follow the Mediterranean diet.
The class took advantage of its location in northern Italy by incorporating plenty of field trips to local vineyards and farms, a cheese-making class, a botanical garden, and lectures by local experts, including an agriculture professor, an elementary school dietitian, and an expert on Italy's struggle with obesity.
That last one may surprise some. Although its traditional cuisine follows the standards of the Mediterranean diet, Italy, like many western nations, finds itself in the midst of an increasing obesity epidemic. The European Association for the Study of Obesity reports that while the country's obesity problem might be mild compared to elsewhere in Europe, its childhood obesity rates are the highest of any European nation—about 35 percent of Italian children are overweight.
This fact startled Franki Toto (SAR'18). "Although much of their diet consists of pasta, fresh fruits and veggies, and lean meats and fish, I was surprised to see numerous fast food restaurants, or meal deals at restaurants sponsored by Coca-Cola," she says.
One theme the class returned to again and again during their month in Padua was the idea of conviviality in Italian life. "Italians find it so important to share their culture," Quatromoni says. "Every lunch and dinner is a chance to come together over the meal." The Mediterranean diet stresses that experiencing a meal is as important as the food itself.
A cooking class in the town of Abano Terme underscored that point. The chef prepared a four-course meal of roast pork, vegetables, a vegetable flan, and a strawberry kiwi mousse for dessert. Red and white wines were served, and the students sat down with the chef to enjoy the results.
During a visit from a local agriculture professor, the class discussed how the ways animals are produced and raised can lower a farm's carbon footprint. "The Mediterranean diet talks about eating foods that are in season and local foods, instead of using preservatives," Quatromoni says. "It's looking at how food is produced and respected. It's the idea of slow food, the antithesis to fast and processed food. It's returning to the traditional way of living."
Steinmetz says she hopes to incorporate much of what she's learned in the class after she graduates: she plans to become a dietitian working with children. She says the Mediterranean diet is so much easier compared with popular eating fads, like cleanses, that are hard to sustain in the long run. "The Mediterranean diet is sustainable," she says. "It's simple things and small changes that you can make in your diet that can cumulate to big benefits."