Making History Come Alive at American Girl
BU doctoral student ensures accuracy of dolls' stories, products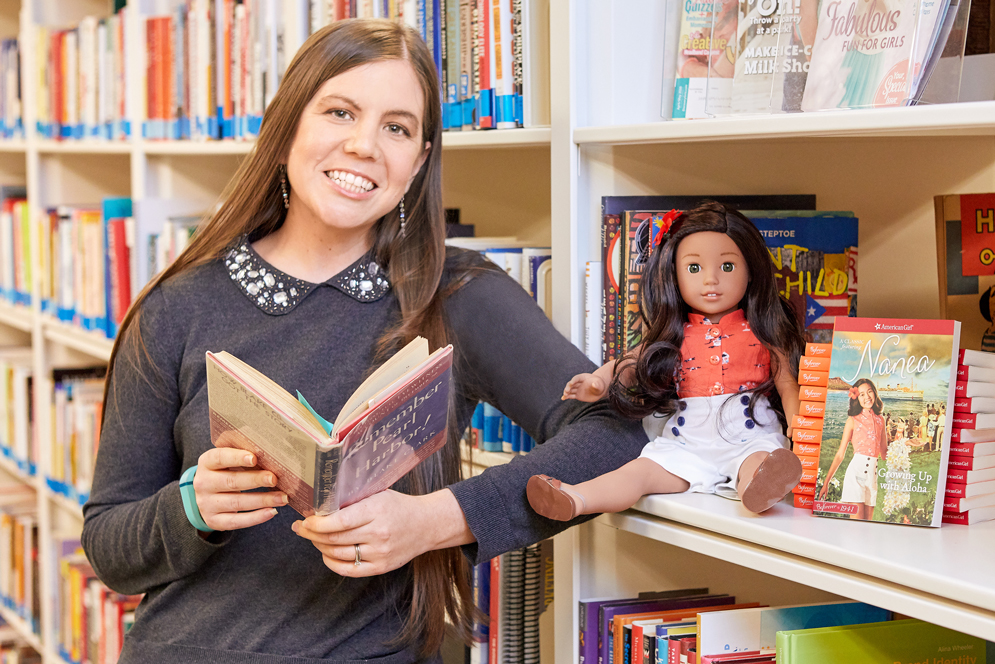 Growing up in England, Tessa Croker had never heard of, much less owned, an American Girl doll, but today her world is full of them.
She recently joined the company as an in-house historian, reviewing its line of historical dolls, books, and other products to ensure they accurately reflect the era they're set in.
A doctoral candidate in BU's American and New England Studies Program, with a focus on American cultural history, Croker (GRS'18) says her job involves researching the Civil Rights Movement one day, the Great Depression another, mining the historical landscape for facts and details that will help bring American Girl stories to life.
"The level of research that goes into creating a character's world is remarkable," she says. "So much work goes on behind the scenes to ensure that every detail about a character rings true."
American Girl, founded in 1986, sells 18-inch historical dolls living in different moments of American history, as well as books that tell their stories. The dolls' fictional stories in historic settings are meant to inspire girls and convey lessons about American history. Now owned by Mattel, the brand is a touchstone for many young women who had the dolls as girls, even as the company continues to attract a new generation of young followers with new doll themes, accessories, movies, web-based specials, a fan magazine, and its ever-popular in-store tea parties. To date, more than 30 million American Girl dolls and 155 million books have been sold.
"I love that I can apply my knowledge of pop culture and help girls approach history in fun ways." — Tessa Croker
After graduating from the University of Sussex and earning a master's at the University of New Hampshire, Croker enrolled in the College of Arts & Sciences American and New England Studies Program. Before joining American Girl, she was a lecturer in the CAS Writing Program, teaching courses on the American Dream, Bruce Springsteen, and the Wonderful World of Disney. She is currently living in Middleton, Wisc., near American Girl headquarters, and writing her dissertation on the Walt Disney Company and its brand legacy.
The 32-year-old says her fascination with history and storytelling began when she was a girl. "I was surrounded by dolls and I loved historical fiction, particularly about World War II, so my younger self would have loved an American Girl," she says. "There is nothing comparable in England."
Croker's PhD advisor Brooke Blower, a CAS history professor, says Croker's deep interest in popular culture and the relationships between entertainment figures, companies, and their audiences, makes her a good fit for her new role.
"I cannot think of a better job for Tessa," Blower says. "She has a keen eye for analyzing material culture, an enduring respect for girls and the history of girlhood, and the ability to make sense of both in the context of American history."
Alerted by Google
Croker, who attended girls' schools in the U.K., says she first learned about American Girl dolls during a visit to Chicago in 2009 when a friend who loved the brand brought her to the American Girl flagship store. She began buying dolls for her nieces in England and following the brand's rollouts. She learned about the in-house historian job a few years later watching promotional material about one of its product launches that featured the company's former historian. Although the job was not open, she set up a Google alert so she would be notified whenever a research job became available at the company.
In March, one did. More than 400 people applied for it.
American Girl's executive editor Jennifer Hirsch, who hired Croker, says nearly all the job applicants had master's degrees and about a third had or were working toward a doctorate. Croker stood out because of her ability to articulate what the brand meant to her, and she cinched it after submitting a six-page written assignment given to finalists for the position on short notice.
"The quality of Tessa's insights, analysis, and writing was outstanding and exactly what the company was seeking," Hirsch says.
American Girl typically releases one historical and several contemporary characters every year, and its editorial, research, and design teams are steadily working on several new characters, outfits, books, and products for existing dolls and characters at the same time.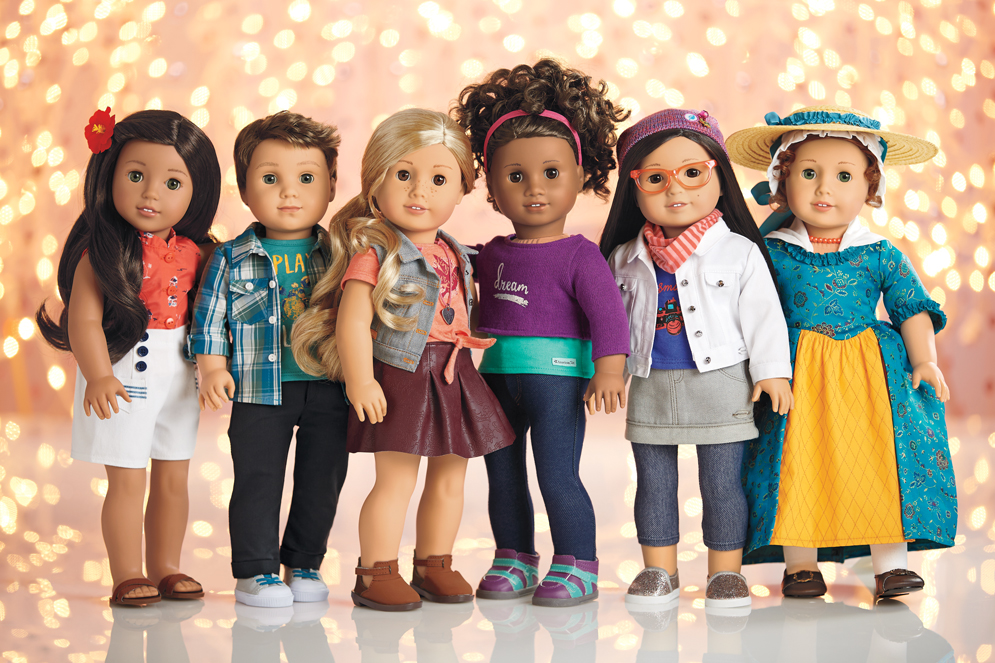 The company has introduced 16 historical characters dolls since 1986. The characters are fictional, but the events in their stories and associated products are informed by actual historical events. In addition to fact-checking manuscripts, updating social media, and checking to make sure store displays are accurate, Croker researches characters' names to ensure that they are true to their period.
Melody Ellison, for example, has a narrative related to the Civil Rights Movement in the North in the 1960s. Croker says her story echoes Thomas Sugrue's Sweet Land of Liberty: The Forgotten Struggle for Civil Rights in the North, which she had read in graduate school and recognized right away. (Sugrue served on the company's advisory board for the doll.)
Croker has been fact-checking merchandise associated with Nanea Mitchell, a doll launched in August whose story is set in Hawaii during the 1941 attack on Pearl Harbor.
She says her work is like an academic project. She draws on monographs, archival records, newspapers, even eBay for her research and the detail nuggets that can make a character come to life. That translates into narratives that don't hide from the hard truths of history, while relaying them in an engaging and age-appropriate way.
"While American Girl caters to young children, they are teaching complex ideas and sophisticated historical narratives through play," she says. "I love that I can apply my knowledge of pop culture and help girls approach history in fun ways."
Megan Woolhouse can be reached at megwj@bu.edu