Inside November Project
Caleb Daniloff's book on free grassroots workout community phenomenon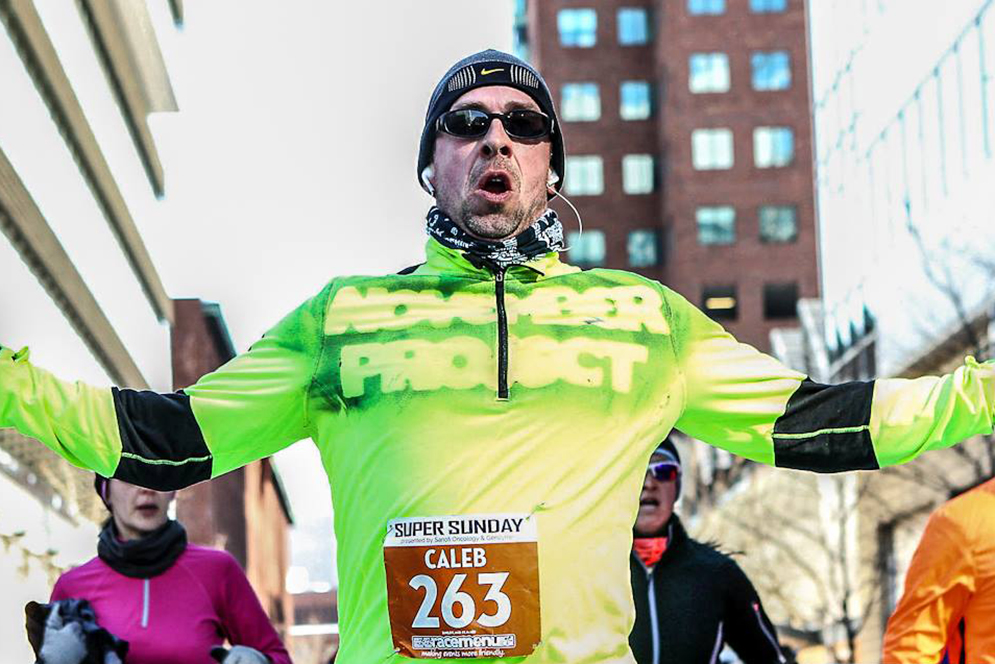 When Caleb Daniloff was assigned to cover November Project for Runner's World magazine in 2013, he was skeptical. He regarded the neon-clad early-morning workout group, known for its free public sweat sessions, as "such a millennial thing." He knew that tribe members, as its athletes are called, traipse to different parts of the city, and he knew that every session started and ended with hugs.
For BU Interactive Design web writer Daniloff, a former alcoholic who found redemption in the routine of running and wrote about it in his memoir, Running Ransom Road (Houghton Mifflin Harcourt, 2012), lacing up and hitting the pavement was like a religion. "I would wear all black, by myself, headphones in," he says. "With November Project, I didn't even see the real running story."
It wasn't until he started working out with the group for his story that he became hooked. Daniloff's 4,000-word piece made the cover of Runner's World, and publisher Rodale soon contacted him to see if he was interested in doing something a bit larger.
November Project: The Book, cowritten with project cofounders Brogan Graham and Bojan Mandaric, was published April 12. Daniloff refers to it as a "Franken-book" for the way it combines the men's personal stories, illustrated workouts, social media posts, and tribe members' testimonials on how their outlook on life has changed since joining.
Former Northeastern University rowing teammates Graham and Mandaric began November Project in 2011 as a way to stay fit through harsh Boston winters. They based the workouts, like running the stairs at Harvard Stadium, on their old team regimens. Six months after they started, they sent out a tweet asking if anyone wanted to join them. One woman showed up that first day and soon there were others, like former Boston Bruin Andrew Ference, who found out about the group at Landry's Bicycles in Boston. Now an alternate captain of the Edmonton Oilers, Ference helped to start a new tribe in that city.
There are now November Project tribes in 30 cities in North America and Europe, and they have thousands of members. In Boston, Wednesday's workout, which starts at 5:30 and 6:30 in the morning (yes, rain or shine), is the Harvard Stadium stairs. On Fridays, the tribe runs Brookline's steep Summit Avenue (more than one workout has seen members shoveling out neighbors during a snowstorm). Mondays vary, but workouts have involved kayaking on the Charles, calisthenics inside Fenway Park, and taking over a Red Line subway car, with a workout on the ride and the platforms, then a trek up and down Porter Square station's formidable stairs. One Monday, November Project took to the College of Engineering plaza, where hundreds of plastic Easter eggs (it wasn't Easter), with instructions for doing different—and decidedly offbeat—exercises inside, were scattered.
"It really is more than this fitness group," says Daniloff, who previously worked as a BU Today senior writer. "People sometimes come who are super-cynical or depressed or alienated, and then you see them join and evolve over time. They become happier, more positive, limitless human beings. To a large extent, that happened to me too. As you get older, it's easier to become more set in your ways. It's easier to settle. The majority of people there are probably 20- and 30-somethings, and it's important, as you get older, not to lose touch with that younger energy and vibe."
He says writing the book with Graham and Mandaric was an organizational challenge. "I was the coxswain," he says, "and I would send them a report every month telling them where we're at, what's coming up, what we needed to do." Tribe members were asked to contribute their own stories about what November Project has meant to them—these are scattered throughout the book. One man relates joining November Project after his 11-year marriage ended and he was shut off from his children and friends, and a woman tells of coming to a workout the day after her apartment burned down and having to sleep on friends' couches for a while.
"It's been said many times before—there's something truly special about November Project," she writes. "I could drop all the shit I was dealing with, give some hugs, challenge myself, and walk away feeling like my character was a little stronger because of the people I shared that all with."
Daniloff's wife, Chris, even contributes to the book, recounting her husband's transformation from socially anxious outsider to meticulously laying out his costume for the next day's session (workouts sometimes have themes and tribe members are encouraged to dress for the occasion). "Something softened in you at NP," Chris says in the book. "I see photos of you on their Facebook page and there's a lightness about you that didn't used to come out very often."
"Everybody's kind of weird in their own way," says Daniloff. "November Project allows you to embrace your weirdness, to change and evolve, and get a kick-ass workout at the same time… As I got involved, I liked the people and the vibe, because it is super-inclusive, with a high degree of irreverence and fun.
"But it did take a little while to get down with the hugging."