BU's New Episcopal Chaplain Seeks Postelection Healing
Rev. Karen Coleman says un-friending is not the path forward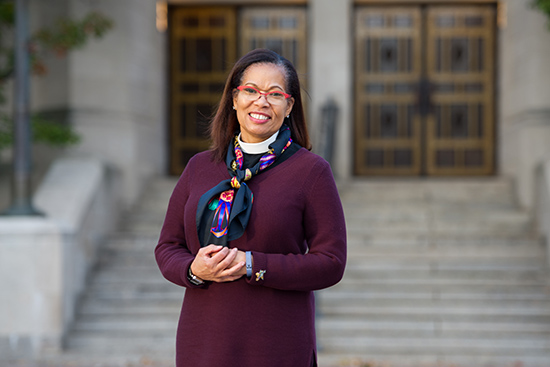 "The child of God in me sees the child of God in you. And that goes across whoever you voted for."
In the wake of the most divisive presidential election in memory, perhaps only a person of the cloth could spot the divine. But the Rev. Karen Coleman, BU's newly appointed Episcopal chaplain, starts her new post with hopes of helping the campus deal with any lingering fallout from the radioactive political season.
"How do we heal after what we just went through in the election year?" asks Coleman, who took the half-time chaplaincy last month, succeeding the Rev. Cameron Partridge. The question arose for her, she says, when she noticed people unfriending their Trump-supporting Facebook friends.
"I didn't unfriend all my Republican friends.…I stayed friends with them, because I really wanted to know what they were thinking," Coleman says. "I really wanted to hear from other people who didn't think, for a variety of reasons, the way I did." She did unfriend one person, she says, who "posted something that was LGBTQI bashing.…I'm an African American. I am well aware of people in my community who are not LGBTQI-friendly. But respectful—that's all I ask.
"How do people come back to the table and have civil discourse with each other and honor and respect our differences?…That goes across whoever you voted for. You are still a child of God."
Coleman is mulling concrete initiatives to promote that discourse after an election result neither she nor most people had predicted. For now, she pledges "an open door for all students, faculty, and staff. It was clear after the election that more conversation is needed; we need to support and be an ally for people on the margins: immigrants, women, LGBTQI, the poor and disaffected.…I was shaken up as I thought that the struggles that my parents made in the '60s were not a guarantee."
She says that for her, "many hands, known and unknown, were held out for me and continue to be held out to me. This is what my parents instilled in me and is my calling and ministry as a person of color, as a woman, as a clergyperson and all the other places that I occupy in the world."
The Detroit native (yes, she is a Tigers fan) came to Massachusetts to attend seminary at Episcopal Divinity School in Cambridge. When she graduated in 2002, she says, she had no intention of staying in the area.
What changed her mind? "I met my husband," says Coleman, who is also a graduate of the University of Michigan. Her stepdaughter is a College of Arts & Sciences junior.
Coleman was appointed to the half-time BU chaplaincy by Bishop Alan M. Gates, head of the Episcopal Diocese of Massachusetts. Officially, her title is acting chaplain; the expectation, she says, is that after the diocese completes work on its strategic plan in the coming months, it will drop the "acting" from her title. She serves on the diocesan leadership council and will continue as half-time rector at Somerville's St. James Church.
The diocesan plan won't affect her BU chaplaincy, she says: "We'll still be here."
The University's small Episcopalian flock—she says active worshippers and attendees at weekly dinners are no more than 25—brought her back to higher education after a five-year stint as an alumni relations and development officer at East Stroudsburg University in Pennsylvania before she entered the seminary.
Partridge, BU's first openly transgendered chaplain, left BU after five years as a chaplain to become rector of St. Aidan's Church in San Francisco.