Women's Soccer Staying the Course despite Rocky Start
Taking on Huskies today, opening Patriot League play Sunday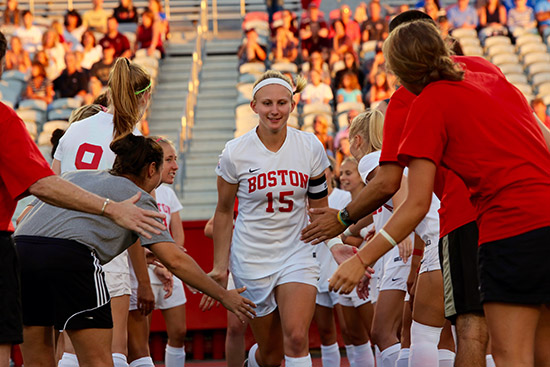 The BU women's soccer team, fresh off a season that saw it record its third Patriot League title in as many years, was chosen overwhelmingly as the favorite to repeat as champions this season in the Patriot League preseason poll. The Terriers racked up a total of 160 points, an all-time best for BU, and garnered 16 first-place votes from the league's head coaches and sports information directors.
But since they opened this year's campaign, they've also been handed eight consecutive losses.
Defeats at the hands of Arizona State, number 15 Connecticut, Hofstra, Boston College, Providence, Cincinnati, James Madison, and number 18 Virginia Tech have mired the Terriers in an early-season rut, but head coach Nancy Feldman is not hitting the panic button.
"If you look over the history of the program, it's kind of been this typical tough start. Maybe not quite this tough, as far as our record goes, but we've experienced this," says Feldman, marking her 22nd season as head coach. "What we communicate as a staff and what the older players know and pass on to the younger players is that we know we are putting ourselves up against some really good competition. That's purposeful. We want to test ourselves and know what we're good at and what we need to improve on."
One of those veteran players is cocaptain Rachel Bloznalis (SAR'17), who was chosen as this year's Patriot League Preseason Defender of the Year. The team leader shares Feldman's outlook.
"Despite our record, I don't feel like we've had a slow start. Every time we step onto the field, we're improving, and we're learning from each other and from each game," Bloznalis says. "We have a young team, so a lot of girls are starting to feel more comfortable stepping up to fill important roles. Instead of focusing on getting our first win, we're focusing on growing as a team, which will lead us to the win."
In an early schedule marred not only by an extended losing streak, but offensive woes as well, Feldman, usually reluctant to single out an individual athlete in a sport dependent on team play, commends the work of goalkeeper Hannah Ciolek (SAR'18).
"One player who's been asked to do a little more early on this year is Hannah Ciolek," Feldman says. When starting goalkeeper Bridget Conway (CGS'15, COM'17) was injured and missed a couple of games, "Hannah stepped in and has done a marvelous job in goal. I'm not surprised, but it has been nice to see a young player in a really critical position come in, hold her own, and give us a chance to compete."
With Conway returning from injury, the Terriers should benefit from having two healthy goalkeepers who can be a strong presence in net.
BU also hopes for a repeat performance from reigning Patriot League Rookie of the Year McKenna Doyle (Questrom'19), who led the Terriers with six goals and four assists last season. Doyle, along with Bloznalis, cocaptain Rachel Blauner (COM'17), and Julianna Chen (CAS'19), was named to the Preseason All-Patriot League Team.
For her part, Bloznalis will continue to remind her teammates to focus on the goals they set for themselves at the beginning of the season. "Believing in the process and believing in our ability is important to model as a leader when things get tough," she says. "It's easy to be positive when things are going well, but if you start getting negative when things aren't going as planned, it's contagious. As a leader, I try to focus on the things we can control and remind everyone that we're all here for the same reason and that we want the same things."
As the team moves into its final nonconference game today, against Northeastern, before the league-opening matchup with last year's runner-up Bucknell (the Bison got the other four points in the league's preseason poll) on Sunday in Pennsylvania, Feldman says she's optimistic about the remainder of the season.
After today's nonconference game, "we get to kind of hit the reset button and start the second half of our season Sunday against Bucknell," Feldman says. "We're really looking forward to entering league play and putting ourselves in a position to get to the Patriot League Tournament."
The BU women's soccer team takes on Northeastern University today, September 15, at 7 p.m., at Nickerson Field, 285 Babcock St. Tickets are free for students with a sports pass, $2 for faculty, staff, and students without a sports pass, and $5 for the general public. The Terriers begin their conference play on Sunday, September 18, against the Bucknell Bisons at 1 p.m. at Emmitt Field at Holmes Stadium in Lewisburg, Pa. The Patriot League Network will broadcast the game live.
Taylor Raglin can be reached at traglin@bu.edu.