Terriers Host Inaugural Tournament Honoring Hoops Alum
It's BU vs Northeastern tonight in men's basketball home opener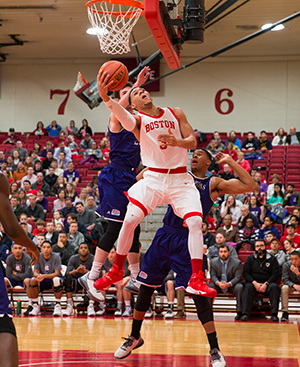 Tonight the BU men's basketball team goes up against Northeastern in the opening game of the inaugural Steve Wright Classic, the first regular-season tournament the Terriers have hosted in four decades. The game is also this year's home opener, and the Terriers are looking to avenge a season-opening 87-77 loss to the Huskies.
The four-day round-robin tournament was created to honor Wright (Questrom'80), whose number 33 jersey was retired by BU following his senior year in 1980. The program's first three-time MVP and a 1988 inductee into the BU Athletic Hall of Fame, Wright died in 2003 of leukemia.
Head coach Joe Jones, now in his sixth season at the program's helm, says the tournament and the accompanying BU men's basketball alumni weekend offer an opportunity for his current Terriers to play for something greater than themselves.
"It's a huge weekend for us," Jones says. "We talked to our guys about representing the guys that came before you. It will be an awesome experience to have the alums here for the weekend and for our players to have a chance to get to know them."
The coach says the team is excited about the opportunity to defend its home court and correct the mistakes in last week's loss. "You want to go out and compete and you want to win all of your home games. We think it's a great opportunity for us to play a very good team and see where we stand," he says. "My hope is that we can clean up some of the things we didn't do well in the first game and put ourselves in a better position to have success in this rematch."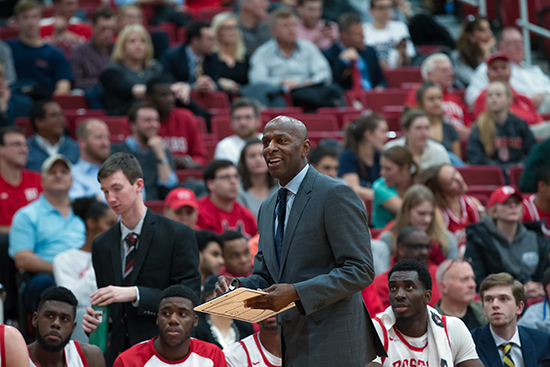 Guard Eric Fanning (CAS'17) says that after a season that saw BU bow out of the Patriot League Tournament in the quarterfinal round, this year's team is itching to earn the program's first automatic NCAA berth since 2011.
"The NCAA Tournament is our main goal," Fanning says. "We have to focus on what we have to do to win each game and build the right habits so that by the time we get into our conference tournament, all our habits have been built in and we know what we have to do to win."
The Terriers, selected in the Patriot League preseason poll to finish second to Lehigh, will lean heavily on upperclassmen like Fanning, who led BU in scoring last year, with 15.2 points per game, and was named to this season's Patriot League Preseason All-League Team. "I just try to do the right things both on and off the court," he says. "I'm trying to put all my strength into making sure we're competing hard and making sure I'm leading by example. Hopefully, if the other guys see me doing my part, they'll follow."
Justin Alston (CGS'14, SHA'16, MET'17), who received a medical redshirt last season when he broke his foot in an early season game, says he hopes to use what he learned during the missed season to have an impact in all facets of the Terriers' game.
"Last year was a struggle for me in the beginning to get used to my new role as a vocal leader," he says. "Coming back, I'm really appreciative of this fifth year and having the chance to have had that year off to study and learn the game. Now, I'm incorporating all the things that helped me become a vocal leader off the court."
Jones has already seen a difference in the 6-foot, 8-inch Alston. "He worked very hard in the off-season getting himself back," he says, "and he's playing with great energy right now."
He's also looking for the 2015-16 Patriot League All-Rookie Team honoree Kyle Foreman (CAS'19) to build upon a strong freshman campaign by learning how to lead. "He's a pretty hungry kid. He wants to get better. With him, it's just becoming a better leader vocally," Jones says. "With all the guys we have that can score the ball, we need some guys that can facilitate. I think that teammates respect him as a player and as a person, so he's got to take that next step and become a more assertive leader."
After the Terriers' three games in the six-game Steve Wright Classic, which features Maine and Long Island University Brooklyn as well as Northeastern, they will play another eight nonconference games before beginning their Patriot League slate on December 30, when they'll host Holy Cross. Highlights of the preconference schedule include matchups with Connecticut, North Carolina State, and Syracuse, which Jones says should help his team prepare for a Patriot League gauntlet he thinks has several outstanding basketball teams.
Looking at the league teams' scores, he says, "there are some very good teams that we're going to be playing outside of Syracuse, Connecticut, and NC State. I feel like the nonconference season is going to help us prepare for the conference season."
Jones hopes the preseason can also help the team come together, after battling injuries leading up to the start of this year's schedule.
"You look at other great teams, whether in the NBA or in college, and initially you say, whoa, we've got a lot of talent. But that's not what always wins," he says. "We need some time to get playing. I like the potential of this group, I just think we've got to keep trying to improve."
The Terrier men's basketball team takes on Northeastern today, November 18, at 6 p.m. at Case Gym, 285 Babcock St., in the first game of the Steve Wright Classic. The Classic continues Saturday, November 19, pitting BU and Maine at 4 p.m. and LIU Brooklyn and Northeastern at 6:30 p.m.; on Sunday, November 20, it's Northeastern vs Maine at 2 p.m. and BU and LIU Brooklyn at 4:30 p.m. The final game of the tournament, LIU Brooklyn vs Maine, is Monday, November 21, at 3 p.m. Tickets are $12 for the general public, $7 for BU faculty and staff, $5 for BU students, and free for students with a BU sports pass. Tickets can be purchased here or by visiting the Agganis Arena ticket office, 925 Comm. Ave.
Taylor Raglin can be reached at traglin@bu.edu.