WBUR Show Serves Up Science, with a Side of Comedy
Comedians guess what scientists do for a living on You're the Expert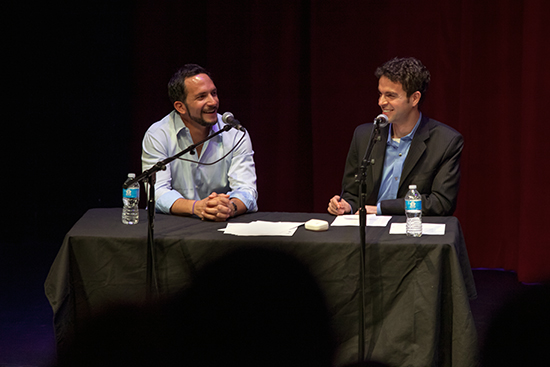 A common first question when meeting someone new is, "What do you do for a living?" Typically, the answer is something like, "I'm a teacher—doctor—painter—lawyer."
But on WBUR's new science and comedy show, the jobs are more likely to be, "Neanderthal DNA analyzer" or "subway bacteria researcher." Airing each Wednesday and Saturday night, the program, titled You're the Expert, mixes learning and humor as a panel of comedians attempts to guess what a guest scientist does for a living. During the hour-long show, which is recorded in front of a live studio audience at various venues, the comedians use questions, sketches, and games to figure out what the expert does. At the end of the show, host and creator Chris Duffy interviews guests about their research and its importance.
The show, which began airing earlier this month, is a product of WBUR iLab, a new project at the station that develops innovative programs and platforms with support from station producers.
Duffy, who previously worked as a fifth grade teacher and nightly performer at ImprovBoston, came up with the idea for You're the Expert while riding an MBTA bus past the Harvard and MIT campuses. It occurred to him that the bus was filled with brilliant scientists he was not likely ever to meet or talk to in person.
An English major in college, Duffy believes that many people avoid science because they feel intimidated by the subject matter. "There is a tendency to want to avoid the dumb question," he says. He launched You're the Expert as a live show in 2012 and later distributed it as a podcast. "But the beauty of comedians is that they are not afraid of being laughed at—that's what they want," he says, "so they can ask the questions that others would be embarrassed to ask."
You're the Expert's panel of jokesters have included Daily Show correspondents Wyatt Cenac and John Hodgman, Eugene Mirman from Flight of the Conchords, and Myq Kaplan (GRS'09), who appeared on NBC's Last Comic Standing.
Duffy says he looks for experts who are passionate about their work and "can explain it to a 10-year-old." Moreover, he says, the show attempts to demonstrate a scientist's human side, and convey how their work is driven by their passions, interests, and curiosities. "To me," Duffy says, "the show is a profile of a person as well as a profile of their research."
During a recent episode, comedians interviewed Julie A. Shah, an MIT assistant professor, Twenty Questions–style, about her work.
Three questions into the game (and after assuring the audience that he hadn't googled her beforehand), Cenac asked Shah, "Do you work in robotics?" When she answered yes, the next question, posed simultaneously by both Hodgman and Irish comedian Maeve Higgins, was, "Are you a robot?" At the end of the game, it was revealed that Shah studies robot-human teamwork at MIT, working on projects like building cars and defusing bombs.
"Our goal is to do for science what the Daily Show and the Colbert Report have done for news," Duffy says. "So we take something that's important but maybe a little bit dry and make it interesting and exciting and make people seek it out because it is funny and fun, and then they are also being presented with real information."
He also hopes that You're the Expert will inspire civic involvement. "The bigger picture thing is that most science in this country is funded by taxpayers," he says. "In a very real sense, we own research, it's ours, we paid for it. It's important that we feel like that and we learn what it is and we feel ownership over it. We should ask about it."
You're the Expert airs on WBUR 90.9 FM, Boston's NPR station, Wednesdays at 9 p.m. and Saturdays at 6 p.m.