Triumph over Traumatic Brain Injury
Project CAREER prepares students for rigors of school, work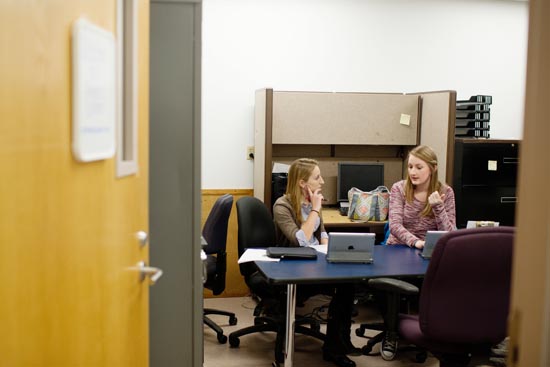 Anna Saucier's life changed in an instant during her sophomore year of high school. She remembers zipping across a soccer field to head off a boy on the opposing team who was fast-breaking toward the goal. The center defender of her coed team, Saucier executed a perfect slide tackle (the first in her career) to prevent the point, but her opponent flipped and landed knee-first on her temple.
She immediately knew something was wrong, but continued to play the remaining minute left in the game before collapsing off the field, suffering from the worst of several concussions she'd had during her career as a four-sport athlete. An ambulance rushed her to the nearest hospital, where they suspected she was bleeding internally, and transported her to Maine Medical Center in Portland. The hospital confirmed that Saucier had no internal bleeding, but at that point Saucier couldn't walk, and she had no energy and no memory of the days following the incident. She was placed on morphine for three days to control her throbbing headaches.
Plagued by fatigue, an inability to concentrate, and persistent headaches, Saucier was unable to return to school full-time for several months. It was enough to drive the straight-A student and class president crazy. "I got really good at coloring," she says. The walls of her house quickly filled with artwork—a daily reminder of her slow but steady progress. Chiropractors, Reiki, massage, and aroma therapies offered limited support.
Instead of giving up, Saucier says she got mad: "I forced myself to get better." She underwent neurological rehabilitation, got a tutor, and enrolled in honors and AP courses her junior year. "People get injuries and they think that's it," she says. "That was never an option for me. I know what I'm capable of, and that's what I had to get back to." She graduated among the top students in her class, applied to BU, and started her freshman year this past fall. While her condition has improved, she still suffers crippling headaches and has trouble with organization, time management, and memory.
Just after she arrived on campus in September, Saucier (CAS'18) visited the Office of Disability Services. Staff there recommended she enroll in Project CAREER, a program that uses assistive technology and vocational rehabilitation to improve the academic and employment success of college undergraduates with traumatic brain injury (TBI). She is now among 40 part- and full-time students enrolled in the program, which is a partnership among Kent State University, West Virginia University, and JBS International, Inc. The program is being funded by a five-year, $2.5 million grant from the National Institute on Disability and Rehabilitation Research (NIDRR).
"There is a real void in services for students with TBI in helping them transition from being in a student role, graduating from school, and then obtaining a job," says grant co–principal investigator Karen Jacobs (SAR'79), a Sargent College clinical professor of occupational therapy. "There are limited resources helping them with that transition period. Every single one of these students could benefit from the intense mentoring and advising that Project Career offers."
Every year roughly 1.7 million Americans sustain a TBI, often from a car or sports accident or a violent assault. This group also includes soldiers who have been injured by explosive devices. Symptoms vary, but people living with a TBI often experience trouble with memory, concentration, and organization, may be more irritable, tired, or depressed, and endure crippling headaches. They may find it hard to navigate and understand complex systems and initiate new tasks, often fail to connect with support services effectively, or have difficulty establishing and maintaining relationships. Ongoing cognitive impairments have historically made it more difficult for people suffering from TBIs to find—and maintain—a job.
Students develop a number of strategies to manage their TBI. They may listen to audiobooks if reading is challenging, request note-takers or extra time for tests if their concentration lags, and post sticky notes everywhere to remind themselves of appointments, exams, or medication they could otherwise forget. While these strategies might help them get into a school like BU, Jacobs says, "to be able to be successful as a college student, they need additional support."
Students enrolled in Project CAREER are fitted with an individualized plan designed to address their specific needs. Amanda Nardone (SAR'13), a BU technology and employment coordinator, sits down with students to discuss their injury, academic difficulties, employment history, and comfort level with technology. The matching person and technology assessments are the most important, because they help Nardone understand where the student wants more support and which iPad applications might help them better succeed academically. (Every Project CAREER student receives a free iPad and $25 for apps.) If they have issues with organization or memory, Nardone uses calendar and planner apps such as iOS calendar, PlannerPlus, Week Cal, or iStudiez. For time management, she recommends 30/30, an app that creates a list of tasks and specifies a time limit for each item. For recording lectures and note-taking that syncs with the recording, she uploads an app, Notability or Evernote. For students experiencing anxiety, she recommends an app called Breathe2Relax or YogaStudio. And that's just the beginning of what's available.
"I do my best to really individualize this program and meet students where they're at every single time they come into this office," says Nardone, who sees each student for a couple of hours every other week or on an as-needed basis.
For Saucier, the note-taking and organization apps have been lifesavers. She says that Notability has given her a "confidence boost" in lecture-style chemistry and calculus courses. And a yoga app is helping her readjust her alignment to deal with still-regular headaches.
One of the stated goals of the project is to improve employment outcomes for students suffering from a TBI. Nardone matches students with mentors in their desired field so that they can better transition from their academic to professional careers. Relying heavily on BU's Career Advisory Network, she pulls up bios of alumni and presents them to students, who then pick a person who seems ideal. Once matched, the student and mentor keep in touch via email, phone, or Skype or they meet in person to discuss things from course selection to internship opportunities.
Nardone also helps students find internships, research and apply to graduate school programs, and polish their résumés and cover letters. She also follows students for up to a year after graduation to see if they need further assistance landing a job, or if they have one, finding useful iPad apps to make tasks easier to perform.
Jacobs recognizes that while Project CAREER is key to undergraduates' success, graduate and certificate program students would also benefit from the services, and she hopes the next round of funding will allow her and her colleagues to address that gap.
She says that since the project launched, it became apparent that there are few support groups in the area for those with a TBI. She and Nardone are working on creating a support group on or near the BU campus to provide additional support for individuals with TBI and their family members. Anyone interested in joining is asked to contact Project CAREER at 617-353-7521 or email to projectcareerBU@gmail.com.
As for Saucier, she's embarked on an ambitious premed curriculum, designing a degree that combines neurology, psychology, sociology, and medical anthropology. She wants to encourage more students to enroll in the program. "The reason I'm doing so well in my classes," she says, "is because of Project CAREER."
Students interested in more information about how to participate in Project CAREER are invited to attend an open house on Tuesday, March 3, from 5:30 to 7:30 p.m. in Room 554, Sargent College, 635 Comm Ave. They can also call 617-353-7521.