The Nile Project Comes to BU
Nile River ecosystem sustainability musician-activists in campus residency
Forget about the Charles River. This week, everyone's going to be buzzing about the Nile River.
The Nile Project, a collaborative enterprise that combines music, education, and leadership and innovation programs to promote sustainability of the Nile River's ecosystem, begins a five-day residency on campus today. The BU Arts Initiative, in conjunction with the African Studies Center (ASC), the College of Fine Arts School of Music, and World Music/CRASHarts is sponsoring the visit, which will include panel discussions, educational workshops, and musical performances.
Founded in 2011 by Egyptian ethnomusicologist Mina Girgis and Ethiopian-American singer Meklit Hadero, the Nile Project is a collective of 27 musicians from 7 of the 11 countries in the Nile basin, a region that has been marred by political and ecological conflicts over water resources along the Nile River. Through music and educational programs aimed at university students, the project uses music to create an interdisciplinary dialogue about the future of the Nile ecosystem, a goal that aligns with BU Arts Initiative objectives. "Art is a mechanism for communication," says Ty Furman, Arts Initiative managing director. "This is just a very exciting example of how someone or a group of someones is using art to change lives in Africa."
Nile Project members toured Africa in 2014, performing concerts and hosting workshops in universities and museums in Uganda, Tanzania, Kenya, Ethiopia, and Egypt. The 2015 tour, which includes visits to dozens of universities across America, marks their North American debut.
The collective's music has been covered by the New York Times, which called the group a "committed, euphoric international coalition," and National Public Radio, which said the project's debut recording, Aswan, was one of the five must-hear international albums of 2013.
But the project's music is meant to be more than just entertaining. Cofounder Girgis describes it as an "engine of cultural curiosity" to inspire a sense of Nile citizenship and a desire to unite to maintain a sustainable ecosystem within the Nile region. "If you see musicians from all these different countries on stage playing together, you can't help but ask which musician is coming from which country and why do they play this instrument, and you start situating these countries vis-à-vis each other, seeing the geography of the region to make sense of this music," he explains. "So there's this level of seeing the musicians on stage, no matter what they're singing about and no matter what language you understand, that helps you imagine that region. There's the musical curiosity that drives cultural curiosity that drives cultural understanding that drives cultural empathy."
The diverse region of the Nile basin is home to many different musical styles, and most band members were unfamiliar with the musical traditions of one another's home countries prior to joining. They learned the different approaches to melody, rhythm, and sound in an intensive workshop. Girgis likens it to learning a new language, and says the process helped the multicultural musicians become a unified group. Hailing from Sudan, Burundi, Egypt, Ethiopia, Kenya, Uganda, and Rwanda, the musicians play a wide array of instruments, from the masenqo, oud, kebero, ney, and simsimiyya to bass guitar and percussion.
The music—a blend of styles from the various countries—is the product of a collaboration of all the musicians. "This structure is itself a metaphor for the way we would like to organize ourselves around our watershed," Girgis says. "It's in response to the history…some countries in the Nile basin have monopolized the conversation…more than others. So, we're stepping into this conversation…by providing…an alternative solution of having a conversation that would allow everyone's voice to be heard while coming up with pragmatic and sustainable arrangements. The way we're playing this music speaks to the way we would like to see this conversation happening in other sectors of society in the Nile basin."
Timothy Longman, a College of Arts & Sciences associate professor and director of the African Studies Center, hopes the Nile Project's visit to campus will teach members of the BU community about the incredible diversity of the Nile region in an interdisciplinary manner that will appeal to scholars from multiple fields. "One of the nice things about this project is that it's good music, but it's also an educational tool," Longman says. "It helps people learn about Africa and African cultures, and to think about the Nile and the ecological issues that are related to it. It's this interesting combination of culture and politics and education and science and all these areas being brought together."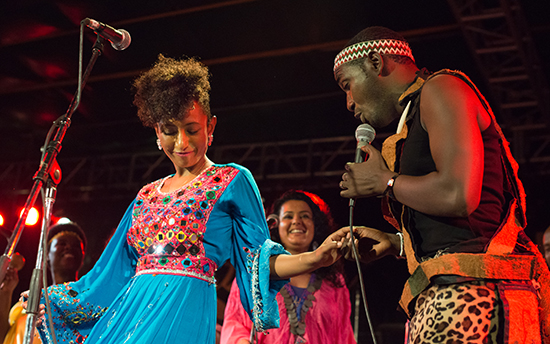 As part of their residency, project members will take part in several events open to the public. Tomorrow, Tuesday, March 24, they'll lead a lecture-demonstration titled Musics of the Nile, a hands-on workshop where they'll demonstrate their respective countries' various musical instruments, styles, and rhythmic and modal systems. Next is Arts and Social Engagement, a panel discussion around the question of how the arts relate to major social issues. They'll perform a free concert for members of the BU community on Thursday and conclude their residency with a discussion about water politics in the Nile Basin and a concert on Friday at the Tsai Performance Center presented by World Music/CRASHarts; at $28 a ticket, this concert is the only event that is not free.
Project members will also visit various classes focused on such subjects as ecology, ethnomusicology, photography, music, social activism, and civic engagement. They will hold a special music education workshop for teachers and give a private performance for more than 200 students of Boston area schools, two outreach initiatives that ASC outreach director Barbara Brown (GRS'71,'79) says offer an invaluable, enjoyable, and fulfilling opportunity to enrich public education about the Nile region. "Broadening people's understanding of that huge section of Northeast Africa and its connections within that region is a new way of looking at the world," Brown says. "And what a way to do it. Music is such a great vehicle. It's like learning through ice cream. It pulls people in."
Girgis has high hopes for the project's visit to BU. "I think this meeting of minds, this conversation that happens when we visit campuses and we share what we bring, but also learn from other experts, can be incredibly informative and inspiring to every one of us," he says. "And that's what we hope we can find at BU."
The Nile Project's five-day residency begins today, Monday March 23, and runs through Friday, March 27. Find a complete list of events, most free, all open to the BU community and most open to the public, with times and places, here.