Experienced Terrier Basketball Teams Ready for Action
Men and women start season today at home vs. Northeastern
Terrier basketball season officially launches today as the men's and women's teams  host home openers against crosstown rival Northeastern at Case Gym. Both begin their 2015–2016 campaign with lots of familiar faces, determined to improve on last season's finish, which saw both teams knocked out of the Patriot League playoffs in the quarterfinal round.
Men's Basketball
"From top to bottom, it's going to be a very good league," predicts Joe Jones, entering his fifth season as men's basketball head coach with a team ranked third in the league's preseason coaches poll.
The Terrier men, who went 9-9 in Patriot League play and 13-17 overall last season, fell to Lafayette 89-64 in the league quarterfinals with a young roster. But for the second time in three years, the men's team returns all the players from last year's squad.
"Everyone is catching on quickly because it's basically the same things we learned last year, and the three freshmen have been listening and are ready to go," says forward Justin Alston (CGS'14, SHA'16).
John Papale (CGS'14, CAS'15, MET'17), Nathan Dieudonne (CGS'14, SAR'16), and Alston lead the seasoned starting five after assuming leadership roles as veterans last year. Although Jones has high expectations of his senior trio this year, they include more than winning. "They're trying to lead this group in the right way," he says. "Obviously, everyone's dream is to make the NCAA Tournament, but I think the big picture is to leave the program better than it was when you came in. And I think we're all trying to do that."
The team is also excited about what 2015 All-Patriot League Second Team guard Cedric Hankerson (Questrom'17) will bring to the hardwood. Hankerson led the team in scoring last year, with 15.9 points per game, and was one of five Patriot League players selected to the preseason All-Conference team heading into this season.
As well as 13 returning Terriers, the roster includes 3 freshmen, all guards. They are 5'11" Kamali Chambers (CGS'17), whose older brother Siyani is a three-time All-Ivy League guard at Harvard, 6'1'' Kyle Foreman (CAS'19), and 6'4'' Brandon Johnson (CAS'19).
The Terrier men will play a tough schedule from start to finish, but the way they look at it is that they will be battle-tested when the postseason arrives. The first five teams on the schedule averaged 23 wins last year, headlined by a rematch with 2015 Final Four participant and perennial powerhouse University of Kentucky on November 24 in Lexington, Ky. BU lost to the Wildcats 89-65 last season.
"I was proud of how our guys competed last year and the way they approached the Kentucky game, and I'm hoping we can do that this year," says Jones. "Anytime you go into that kind of venue, you just want to compete."
Women's Basketball
The women Terriers also start the season with a strong veteran lineup, comprising all but one player from last season. After losing a tough 58-48 Patriot League quarterfinal game to Colgate to cap a 5-24 season, they are returning last year's top scorer, Meghan Green (CGS'15, COM'17), who averaged 11.5 points per game and also led in rebounding (6.5 per game). The team boasts an impressive recruiting class as well.
"It's nice to have the familiarity with the older kids and the returners," says second year head coach Katy Steding. "And our freshmen are coming in with a lot of athletic punch."
Heading into the season, the Terrier women are shifting to an offensive scheme that prioritizes attacking the basket and an overall game plan of commitment on the defensive end.
"I really want to see us play with an aggressive mindset on both sides of the ball, but especially defensively," says Steding. "We've got to make our defense be our offense."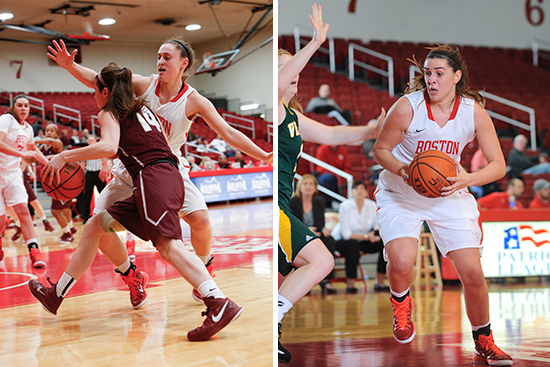 In addition to Green, Steding is relying on sharpshooter Sarah Hope (CAS'17, COM'17), who led the team in three-pointers, managing to drain 41 in limited action, an impressive accomplishment given that an injury derailed her for the last half of the season.
"My whole career I've been a three-point shooter, so being a good driver will open up my game a lot more," says Hope.
Missing this year is last season's second-leading scorer Mollie McKendrick (CGS'13, CAS'15), who graduated in May. So the team will be depending on Troi Melton (CGS'13, COM'15, MET'17) and Clodagh Scannell (CGS'14, SAR'16) for their leadership and experience.
"Troi Melton coming back has been a really nice boost for us," says Steding. "Day in and day out, she demonstrates a great work ethic and desire to be out there."
Joining the Terriers this year are four freshmen, Payton Hauck (CGS'17), Lauren Spearman (CGS'17), Naiyah Thompson (CAS'19), and Milla Ekstrom (CGS'17). Sophie Beaudry (CAS'17), a 6'5'' transfer from Monmouth, will sit out this season because of NCAA transfer rules.
"We have depth and talent at every position. The competitive level has been raised considerably," Steding says.
The women's basketball team launches its season at Case Gym today, Friday, November 13, at noon, against the Northeastern Huskies. Tickets are $7 for the general public, $5 for BU students, faculty, and staff, and free for students with a BU sports pass. Women's basketball season tickets are $65 for the general public, $50 for faculty and staff, and $40 for young alumni. Purchase tickets here or at the Walter Brown Arena ticket office.
The men's basketball Terriers kick off their season at Case Gym tonight, Friday, November 13,  at 7 p.m., against Northeastern. Tickets are $12 for the general public, $7 for BU students, faculty, and staff, and free for students with a BU sports pass. Men's basketball season tickets are $99 for the general public, $78 for faculty and staff, and $52 for young alumni. Purchase tickets here or at the Agganis Arena ticket office.
Josh Gutchess can be reached at jgutch12@bu.edu.