Mission to Mars
BU physicist John Clarke looks to the red planet for clues about Earth's future
At this moment, a NASA satellite called MAVEN is circling Mars, and it's covered with Boston University fingerprints. (Not literally, of course. That would be tacky.) MAVEN stands for Mars Atmosphere and Volatile EvolutioN mission, and it's the first satellite dedicated to studying Mars' upper atmosphere. Understanding the thinning Martian atmosphere might explain how the planet went from warm and wet—as many scientists believe it once was—to cold and dry, and what that might mean for climate change on Earth.
Back to those fingerprints. The director of BU's Center for Space Physics John T. Clarke was part of the team that proposed MAVEN in 2006; he is now a scientific co-investigator on the mission. Professors Paul Withers and Michael Mendillo are participating scientists, and postdoctoral fellow Majd Matta is analyzing data and helping plan MAVEN's observation program. The satellite began orbiting Mars on September 21, 2014, and the first preliminary scientific data was announced three months later, on December 16, 2014, at the fall meeting of the American Geophysical Union. There, MAVEN scientists told the world about the satellite's close encounter with a comet called Siding Spring, and what it's already learned about charged particles and solar wind in the Martian atmosphere.
BU Research spoke with Clarke about MAVEN and its historic mission to Mars.
BU Research: Why are you studying Mars' atmosphere? It hardly has any atmosphere to study!
Clarke: Mars probably started out with an atmosphere like the Earth's, and then early on, because of its weaker gravitational pull, lost much of it. But we don't really know how much of the atmosphere escaped into space and how much may have frozen into the ground. There's a lot of evidence on the ground for flowing water, maybe 3.5 billion years ago. There's a lot of erosion, a lot of places that look like dry riverbeds.
Will understanding Mars' atmosphere tell us about Earth's history, or what might happen to Earth in the future?
Absolutely. MAVEN is a global climate change mission for Mars. We'd like to understand what happened to Mars and how it got to its present state. We'd like to know how much water is still there—both as surface ice and underground—and how much is gone. And this relates directly to climate change on the Earth. It's a different case, a smaller planet, a little farther from the sun, but still relevant. So the purpose of MAVEN is to orbit around Mars and measure the physics of the escape of the atmosphere into space. Once we understand those basic principles, then we can extrapolate back in time and understand what Mars may have been like in the past.
Why do you think the atmosphere is escaping?
The gravity of Mars is about 40 percent of the gravity on the Earth. So a gas at a certain temperature will travel much higher than it would on Earth, and it's just easier for the molecules to escape. We understand the basic principles. What we don't know is exactly what's going on at Mars. MAVEN has to go there and measure it.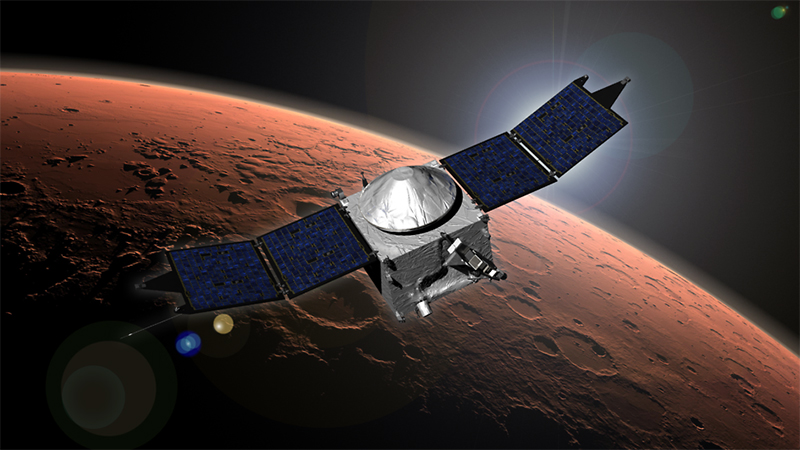 MAVEN arrived at Mars in September?
In September, correct.
What has been the most nerve-wracking part so far?
The two most dangerous moments are the launch, and then the engines firing at Mars, when MAVEN settles into orbit. People argue which is riskier for the satellite. They both have a pretty good chance of success, but there've been enough failures in the past that you worry.
Really?
Well, if you go back 20 or 30 years, it's been about a 50/50 chance of success when a spacecraft gets to Mars. The odds are better than that in recent years, and the company that built this spacecraft—Lockheed Martin—has a pretty good track record, but it still makes you nervous.
What happened to the 50 percent that didn't get there—did they get lost in space or did they blow up?
Nothing "blew up" but a couple of spacecraft never left Earth's orbit, and many failed to stop at Mars and enter orbit. They are now lost in space, in the sense that they cannot study Mars.
What is MAVEN doing now?
Right now, we're testing the instruments, sending different commands to the spacecraft, making sure they're working correctly. When you first turn something on, there are always surprises. So far, we haven't found any real problems, but we have to understand how things are working. And once we've done that, we'll be in a mode where we repeat the same measurements, every orbit around Mars, which is about four and a half hours, and we'll do that for a year. And once we start seeing trends over time, that's when the science results will come out.
Do you have a favorite instrument on the spacecraft?
My favorite instrument is the one that I work on! It's called the Imaging Ultraviolet Spectrograph—IUVS—which includes an echelle channel based on a BU design.
A what?
Every element emits certain wavelengths of light—that's called the emission spectrum. Scientists use an optical element called a diffraction grating to separate the wavelengths, and an echelle spectrograph is an instrument with a specially shaped diffraction grating (that's the echelle) that gives you a very high resolution of the spectra. So we are able to separate out emission spectra of hydrogen and oxygen, and study them in greater detail than has been possible in the past, because this is the first time that this type of spectrograph has ever flown to another planet. It's directly based on a similar instrument that I designed, which was developed by grad students and is now in the basement of the CAS building. So an instrument developed by BU grad students was the prototype for the one now at Mars! And it's working well, and it's very exciting to see these data come down.
Hydrogen and oxygen are particularly interesting because they make water?
Right, and that's really what we want to learn about, the history of water on Mars.
There's been big news from Mars recently—it sounds like the Curiosity Rover found some methane, a gas that some scientists regard as a sign of life. What do you think? Will MAVEN be able to help explain these findings?
This is exciting, but it's way too soon to say that anyone has discovered life on Mars. MAVEN is not expected to measure methane, partly because it's unlikely to make it to the upper atmosphere.
"An instrument developed by BU grad students was the prototype for the one now at Mars. It's working well, and it's very exciting to see these data come down."
Are the Mars satellites and rovers all working together?
Yes. There are several spacecraft still orbiting around Mars, and the Curiosity and Opportunity Rovers are still sending back data. We scientists compare notes after we get our results. For example, MAVEN is measuring the escape of hydrogen and oxygen from water at the top of the atmosphere. We'd like to know what's going on with the water down near the surface, because all the water comes from the ground at some point. And there are other spacecraft that are able to measure that.
Do all the spacecraft send data back to Earth, and you scientists share it? Or do the satellites talk to each other?
They don't really talk to each other so much, except in the case of the rovers, which have enough power to communicate with an orbiter but not with the Earth. That's likely to be the future of MAVEN: after the prime science mission is done, it will become a telecommunications relay for the rovers to the Earth.
Aw, that's nice! It gives the rovers a lifeline.
It gives them a longer lifetime. That's right.
I also heard that MAVEN recently encountered a comet?
Yes. Comet Siding Spring flew by, very close by Mars, on the 19th and 20th of October, and MAVEN was taking measurements at that time.
Did you discover anything interesting?
Yes, very interesting. The comet was not as active as we had thought it might be—active in terms of sending out gas and dust. It was quieter, so it wasn't as big a disturbance of the Martian atmosphere as it might have been. Nonetheless, we clearly saw the signature of the comet flying by.
Were you worried that it would get too close to your satellite?
Well, we knew where it would be. The orbit of MAVEN was timed so that at the closest approach, and when the cloud of dust from the comet went by, the satellite was hiding behind the planet. We didn't really think that there would be a problem, but why take a chance? Other spacecraft did the same thing. And there was no damage, as far as we can tell, to any of the spacecraft.
I think one of the most exciting things in science is to finally have fresh data come in and maybe discover something completely new.
It's very exciting, yes. I was looking at some Hubble data yesterday and I had an experience like that. After all these years that I've been working in this field, I thought I knew what I was looking for, and then I analyzed the data and realized, oh, no, I can't see that, but here's this other thing that's just as important, and I didn't think of it. It's a new result and not published yet, but it has to do with the hydrogen and oxygen and how they are changing in the atmosphere of Mars with a seasonal effect much stronger than had been expected.
And you thought, "This is why I do science!"
Exactly.