Lunch, Anyone? Stephanie's on Newbury
Good choice for upscale comfort food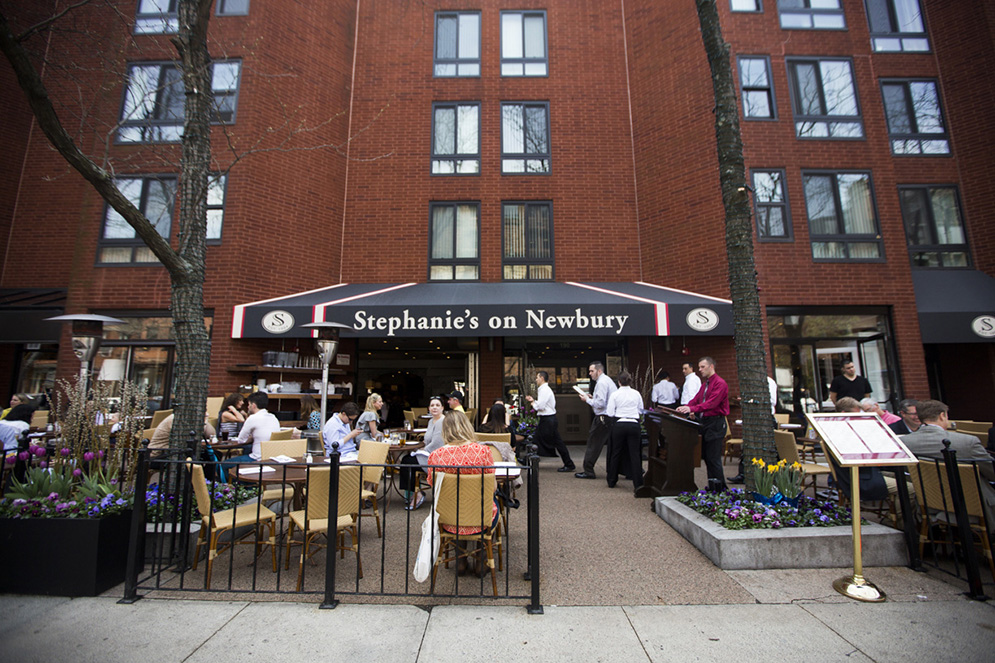 Upscale dining at reasonable prices has made Stephanie's on Newbury a Back Bay institution for over 20 years. The intimate bar and cozy interior are a destination in winter, but with the arrival of warm weather, it's the restaurant's sidewalk café that draws big crowds. We stopped by for a midweek lunch during one of the season's first summerlike days.
Alfresco seating is on a first-come, first-served basis. We were lucky to snatch up an outdoor table without a long wait. Given the constant mob of shoppers, businesspeople, and tourists streaming by, it's a prime spot for people-watching.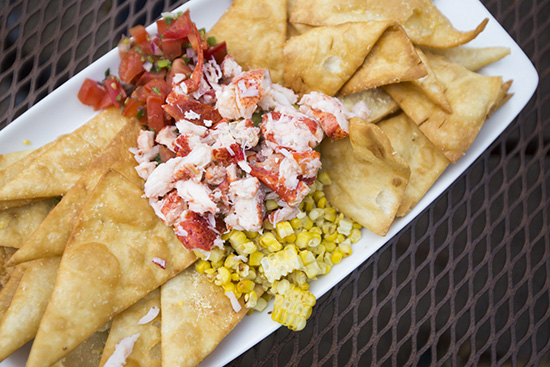 Stephanie's prides itself on serving "sophisticated comfort food." And that's what you'll find on the restaurant's ample menu. To start, we chose the creamy ricotta and tomato bruschetta ($15), which resembled a carefully crafted tower of hearty, grilled focaccia topped with garlic roasted tomatoes. The fresh and flavorful vegetables offered a taste of spring. But the generous dollop of ricotta was the real standout. The rich cheese beautifully balanced the bold flavors.
A single appetizer is substantial enough to share with several people or could make a meal for one. Unaware of this—it was our first trip—we ordered another appetizer as well, the lobster guacamole ($16). The dish had generous chunks of fresh lobster meat, diced tomatoes, and roasted corn on mashed avocado. We scooped up the dip with flaky tortilla chips still warm from the fryer.
Feeling somewhat full by this point, we nonetheless moved on to the entrées. First was the Asian yellowfin tuna salad ($22), on a bed of simple field greens with crisp sesame green beans, shredded cucumber, tangy pickled onions, and sweet wok-charred red peppers. Tossed in lemon vinaigrette and garnished with crunchy wontons, bright wasabi aioli, and a sweet soy sauce, the salad paired well with the tuna. At the chef's recommendation, we ordered the tuna rare. It was slightly pan-seared, which preserved its beautiful deep red color and fresh flavor.
For our second, and equally impressive, entrée, we also chose seafood: the jumbo sea scallops ($24). The pepper-dusted seared scallops were served on a mildly sweet mango-onion purée. The dish, with its side of wild rice and zucchini cakes topped with a bright and flavorful fresh mango and poblano salsa, highlighted the bold flavors Stephanie's is famous for.
Along with an impressive selection of salads, the restaurant offers an extensive array of creative sandwiches, like the ale-braised brisket sandwich ($17), a robust combination of juicy brisket slowly roasted in Boston's own Harpoon IPA, buttermilk coleslaw, and crispy onion strings served on thick slices of toasted ciabatta.
For a lighter alternative, we recommend the Poncherello sandwich ($17): roasted turkey breast, avocado, and lettuce on multigrain bread, dressed with a smear of Boursin cheese, a dollop of chipotle aioli, a sweet hint of red pepper jelly, and salty, crunchy bacon.
For those who prefer to dine inside, the recently renovated interior—featuring polished silver countertops and bright orange ottomans—exudes a classy ambiance. But the outdoor space, with its view of Back Bay brownstones, makes Stephanie's the place to bring family and friends for a unique Boston dining experience during Commencement Weekend. It's a leisurely lunch you won't soon forget. A word of advice: to eat inside, make a reservation in advance. Otherwise, you can spend a long time waiting for a table.
Stephanie's on Newbury, 190 Newbury Street, Boston, is open Monday through Friday, 11:30 a.m. to 11 p.m., Saturday, 10 a.m. to 11 p.m., and Sunday, 10 a.m. to 10 p.m. The restaurant accepts all major credit cards. Take any MBTA Green Line trolley to Copley Square and walk down Exeter Street to Newbury Street. Call 617-236-0990 or visit the restaurant's website to make a reservation.
This is part of a weekly series featuring Boston lunch spots of interest to the BU community. If you have any suggestions for places we should feature, leave them in the Comment section below. Check out our list of lunchtime tips on Foursquare.
Paula Sokolska can be reached at ps5642@bu.edu.
This Series
Also in
April 18, 2018

April 11, 2018

March 29, 2018