Carrie Preston Wins United Methodist Scholar/Teacher Award
Cited for "remarkable impact at BU"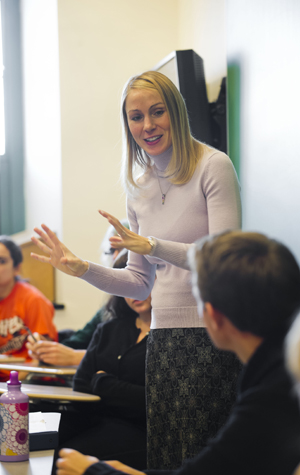 A passionate, popular teacher as well as a highly respected researcher and author, Carrie Preston has been contemplating what she calls "the dash." That's the one hovering between scholar and teacher, roles that can be at odds as they battle for turf in the psyches of stretched-thin faculty at major research universities like BU. But for Preston, a College of Arts & Sciences associate professor of English and director of the Women's, Gender, & Sexuality Studies Program, the two callings "complement each other in tons of ways."
Preston was recently named this year's winner of the United Methodist Scholar/Teacher of the Year Award, which recognizes outstanding scholars for their dedication and contributions to the learning arts and to their institution.
Preston's life-changing revelations about teaching and learning came following a year she spent studying the ancient Japanese form of dance theater called Noh at Hosei University in Tokyo in 2009. The ritualized dance form required that she bow to her sensei and hold an initially agonizing kneeling position, reflecting the form's required surrender and submission. The experience, which she recounts in her book Learning to Kneel "forced me into positions—quite literally—that were antithetical" to her role as a professor at BU, where she was committed to "a pedagogy that broke down the hierarchies between teacher and pupil." The Noh experience and scholarship shifted and culturally broadened her teaching strategies, says Preston, challenging her assumptions about what she considered a "democratic classroom." Immersion in Noh helped her discover the power of deference, she says, and brought a fresh perspective that broadened and deepened her teaching style as well as the cultural awareness of her students.
"Carrie Preston is fiercely dedicated to expanding and enriching the experience of her students within and beyond the classroom," says Maurice Lee, a CAS English professor and department chair. "She has had a remarkable impact at BU—as a teacher, mentor, program director, and university citizen."
A trained dancer with an undergraduate degree in English and dance from Michigan State University, Preston has a range of research and teaching interests, such as modernist literature, performance and dance, and feminist and queer theory, as well as transnational and postcolonial studies. In class, she is known for raising provocative questions, asking students to view issues from misogyny to criminal behavior in the context of culture and history. In her class Performing Gender, students examine how theatrical gender roles have changed over the 20th century. "I have them perform, and I give them a dance class," Preston says. In other classes she's had students create activist projects, one of which contributed to the creation of BU's Sexual Assault Response & Prevention Center (SARP). Other students became active in BU's gender-neutral housing initiative, approved by University President Robert A. Brown in 2013. Many of her students say that her classes have inspired them to continue the campus and community activism that began initially as course assignments.
"These students take what they learn and do so much," says Preston, who attended meetings with students for what became SARP and helped edit the 70-page proposal that was sent to Brown. "I was just blown away," she says. "They taught me much more than I taught them."
"One of the greatest joys of working with Professor Preston is how she always adds ethics into her graduate seminars, discussing issues of power between the professor and her students," says Paul Edwards (GRS'16). "She brings a sense of openness and humility in discussing her teaching methods and the growth that she expects from us as well as from herself."
"Carrie Preston's passion for helping and supporting her students, both undergraduates and graduates, far surpasses the time and resources any one teacher could dedicate to doing so," says Talia Vestri Croan (GRS'16). Croan, a doctoral candidate in English, has taken two courses with Preston. "When you speak with her, you know she cares deeply about assisting you—intellectually, academically, professionally, and personally—and that quality is what makes her such a superior instructor at this university," she says.
Preston's doctoral research at Rutgers University, where she earned a PhD in English and women's studies certification, focused on the dance legend Isadora Duncan. Her book Modernism's Mythic Pose: Gender, Genre, Solo Performance (Oxford University Press, 2011) received the annual Society of Dance History Scholars de la Torre Bueno Prize, awarded to a book that advances the understanding of dance studies. Preston, who came to BU as an assistant professor in 2006, is a Peter Paul Career Development Professorship recipient, which enabled her to study Noh performance technique in Tokyo and conduct research in Ireland and England.
"My Noh lessons taught me so much about learning that I shifted my teaching strategies," Preston wrote in an essay for the United Methodist Scholar/Teacher of the Year Award, titled "The Dash as Conflict: A Teaching Statement." She learned, for example, that "styles of interaction between teacher and student are culturally specific," and more, that the informal way she interacts with her students "is not necessarily more honest. In fact, it can conceal the very real operations of power in the classroom, the expertise of the professor, and the reality of grades."
"I won't be asking my students to kneel before me when they enter the classroom, as tempting as that might be," writes Preston. "I will feel more comfortable acknowledging expertise and giving plenty of space to conflict and contradiction." And she will always encourage and inspire her students to question the norms of our culture in the context of others, as well as embracing the conflicts in "the many dashes that define our identities."
Established by the General Board of Higher Education and Ministry of the United Methodist Church, the award is conferred at colleges and universities that, like BU, are historically affiliated with the United Methodist Church. The winner is selected by a committee named by the University provost.
"I feel so honored and so happy to be at BU," Preston says. "Above all else, this award shows appreciation, and I definitely feel appreciated by my students and colleagues."
Preston will receive the award at a private ceremony today.