A Fairy Tale for Grownups
CFA stages emotionally rich retelling of Cinderella story
There is nothing Disneyesque or candy-coated about the poignant opera Cendrillon, based on the classic Italian folk tale we know as Cinderella. In Jules Massenet's interpretation, the story has been reimagined as a profound, timeless tale of soul mates defying the strictures of social class and the shackles of societal expectation. Yes, Massenet preferred to call his opera a fairy tale. And yes, there is a lonely cinder girl longing for true love, a wicked stepfamily, a fairy godmother, a prince, and that coveted glass slipper. But the late 19th-century French composer and his librettist, Henri Cain, "do not shy away from dealing with deeper human emotions, a balance of classic fairy tale elements and a deeper underbelly," something modern audiences will relate to, says E. Loren Meeker (CFA'99). "But it is nevertheless a world where dreams come true for those who are true to their hearts and souls."
Meeker is the stage director of a College of Fine Arts production of the opera, which opens tonight and runs through Sunday, April 19, at the BU Theatre. Presented by the School of Music Opera Institute and the School of Theatre, Cendrillon is being staged in modern dress and with dual casts.
Punctuated with exquisite arias, both roles—Cinderella (Cendrillon) and Prince Charming (Prince Charmant)—get equal time in Cendrillon, which elevates the prince from his usual one-note, Ken-doll persona. "Both make their entrances in a frame of isolation, sadness, and yearning," says William Lumpkin, a CFA associate professor of music and artistic director of the Opera Institute, who is conducting Cendrillon. The lovers, each full-fledged characters, share their hopes and dreams as the opera unfolds.
"It's so satisfying how the character of the prince is developed," says Jesse Darden (CFA'16), one of the two students singing the prince role. "You can easily relate to him. He's feeling oppressed by the superficial people around him, and he's yearning for something real." Alexandra Rodrick (CFA'16), who also plays the prince in what was originally a so-called pants role—a male role cast for a woman—says that in the Massenet version, "instead of Cinderella being lifted from her ashes by this royal person, it's more that they're saving each other. They're active participants in each other's salvation."
For Samina Aslam (CFA'15), who performs the role of Cendrillon, the opera offers an opportunity to sing a beautiful, rich score. "There's so much emotion in the music," she says. And unlike the version told in Grimms' Fairy Tales, where Cinderella's father, Pandolfe, has died, in Cendrillon he is a significant character. "You get to explore that relationship too," says Aslam.
Although minimalist, the staging of CFA's Cendrillon is full of magical touches and tricks of light. The tale "doesn't go as dark as Grimm—there's no mutilation," says Meeker, referring to that version's description of the stepsisters cutting off their toes to squeeze into the glass slipper. "But Massenet doesn't shy away from characters' expressing the depth of their loneliness, which makes the appearance of the fairy godmother so much more brilliant. It's not a world where there's icing and glitter on everything."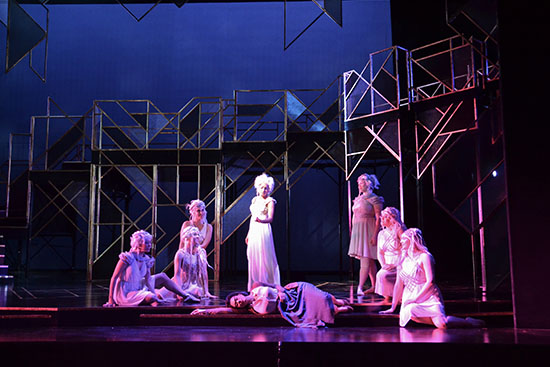 Massenet, who lived from 1842 to 1912, composed more than 30 operas, including Le Portrait de Manon, which CFA produced in 2012 as part of its Fall Fringe Festival.
Cendrillon runs tonight, April 16, Friday, April 17, and Saturday, April 18, at 7:30 p.m., and Sunday, April 19, at 2 p.m., at the Boston University Theatre, 264 Huntington Ave., Boston. Tickets are $20 for the general public, $15 for BU alumni, WGBH members, Huntington Theatre Company subscribers, and senior citizens, $5 for students with ID. Members of the BU community can get two free tickets with BU ID at the door on the day of performance. By public transportation, take an MBTA Green Line trolley to Hynes Auditorium or Symphony, or the Orange Line to Mass. Ave. Purchase tickets here or call 617-933-8600.