Training Medical Professionals to Teach
New online program now open for registration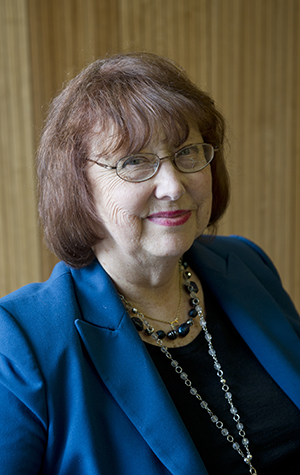 Many medical students dream of being able to teach one day, but the intensive rigors of their curriculum leave them little time to acquire the skills that would prepare them to do so. The same is often true for doctors and nurses who have developed areas of expertise and are interested in teaching, but lack the requisite teaching background.
Gail March (CFA'73) has witnessed this firsthand as a School of Medicine assistant professor and director of instructional design and faculty development. For the past decade, March has run a faculty development program at MED. But she realized she wasn't reaching everyone, particularly busy health care providers who have dedicated their professional lives to caring for patients and suddenly find themselves asked to teach. That led March to propose and create a new program, the BUSM+ Medical Education Badge Program through a Digital Learning Initiative (DLI) seed grant for online innovation in higher education.
The program's first course, Teaching and Learning, will provide health care professionals with a foundation in students' learning styles, give them tools to design an interactive course, and teach them how to evaluate students. Registration is open now through December 15. Sessions begin January 15 and run through March 30.
"It's a very new concept," says March. The program is designed for health care providers of all stripes—including doctors, nurses, chiropractors, and dentists—who are preparing to enter the classroom as instructors. March says the pilot program is also ideal for health care providers already teaching who want to enhance their skills. "We wanted to introduce some new ideas in medical teaching because there have been so many advances in medical technology," says March.
"There is growing demand for nontraditional professional development programs," says Chris Dellarocas, director of the DLI. "Such programs are typically short, highly targeted, and do not culminate in traditional degrees, but rather in micro-credentials, such as certificates and badges. Beyond the merits of its excellent content, the MED badge program is especially interesting because it is Boston University's first experiment with badges."
Registrants complete up to 10 online sessions to receive the badge level that corresponds with the number of sessions they complete: competent (5 sessions), exemplary (7 sessions), or master (10 sessions). Single sessions are also an option for those not looking to earn a badge.
Each session features a video with tips from MED's leading faculty—such as Anna Hohler, associate professor of neurology; Robert C. Lowe, associate professor of medicine; and Wayne LaMorte, professor of surgery and School of Public Health professor of epidemiology—on topics such as facilitating small-group learning, developing interactive lectures and presentations, designing multiple-choice assessments, and identifying the neurological basis for the adult learner. Participants will have a week to complete each session, which can be accessed 24/7. Those electing to take all 10 sessions will be given 12 weeks to complete the program.
Registrants receive their digital badges once they've completed the requisite number of sessions. March says they can use Mozilla's Open Badge infrastructure to create a "backpack" to store their new accolades. Or, if they prefer, they can attach them to their electronic portfolio, CV, or social media sites such as LinkedIn and Facebook.
Each badge is embedded with the professional's name and the sessions he or she completed. "No one else can claim it," March assures. "It's your badge." For those who prefer recognition the old-fashioned way, physical badges and pins can be requested at registration.
March has already heard from health care professionals interested in taking the sessions from as far away as India, Armenia, and Russia. She says the program is designed to be of use to fellows, residents, medical students, physician assistants, nurses, physical therapists, and many other health care professionals—especially considering that the sessions count toward required continuing medical education credits.
Registrants who teach at MED can take the sessions for free, while those affiliated with BU or the Boston Medical Center will receive a 50 percent discount. All other students will pay a fee of anywhere from $60 to $450, depending on whether they are taking a single session or acquiring a master-level badge, or something in between. March says she chose this pay structure because she wants students to be committed to the program and not drop out, which can occur in free massive open online courses. All profits from the program will go toward funding additional courses.
If all goes well, March envisions running the course again in the summer. She also plans to launch three more courses—Curriculum Design, Academic Leadership, and Medical Education Research—covering skills, she says, that medical students and professionals want to learn, but often don't have time to pursue in traditional classes.
Visit this site for more information about the BUSM+ Medical Education Badge Program.
Institutions and schools outside of Boston University registering more than 10 people can email busmplus@bu.edu for discounts.