Six Women Who Broke New Ground
BUAG show celebrates Boston's first professional woman artists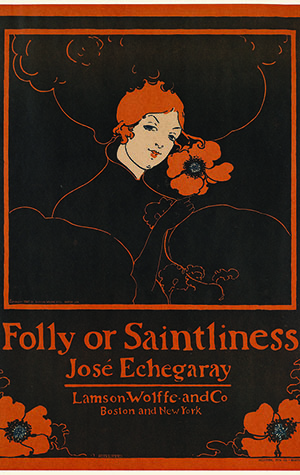 The turn of the 19th century was a time of change in Boston. There was the rise of industrialization and immigration, the women's suffrage movement, Progressivism, and improved public transit. Boston's artistic community flourished, too. The Museum of Fine Arts (MFA) and the School of the Museum of Fine Arts were both established in 1876. Numerous associations for artists blossomed, and the British Arts and Crafts movement, which rejected the separation between fine and decorative arts, arrived.
All of these events, as well as the influence of Boston's most esteemed artists (all men—not surprising, given the time frame), created the foundation from which more women could enter the arts and, for the first time, earn a living as artists.
That development is the subject of a fascinating new exhibit at the Boston University Art Gallery (BUAG) at the Stone Gallery, titled Craft & Modernity: Professional Women Artists in Boston (1890–1920).
Focusing on six women who worked within blocks of one another and frequented Boylston Street and the Back Bay, and the many artistic and women's organizations there, the show explores how the importation of the Arts and Crafts movement to the United States and its emphasis on equality and individualism opened up new artistic roles for women. Nowhere was that truer than Boston, which embraced the movement early, becoming the first city to establish a Society of Arts & Crafts, in 1897.
"Proponents of the Arts and Crafts movement integrated the fine and decorative arts, thereby permitting women greater recognition amongst artists," notes show curator Caroline Riley (CAS'04, GRS'16), the Jan and Warren Adelson Fellow in American Art in BU's history of art and architecture department. One of the principle goals of the exhibit, she says, is "to document women's contributions to artistic thought that have been minimalized in the art historical discourse."
Riley says her interest in exploring underrepresented artists began as an undergraduate at BU and deepened while she was earning a master's degree in the Winterthur Program at the University of Delaware. It wasn't until she accepted the Adelson Fellowship and returned to BU for her doctorate, she says, that she was able to develop the exhibition.
The six artists included in Craft & Modernity are Alice Austin (1862–1933), a professional photographer; Edith Brown (1872–1932) and Edith Guerrier (1870–1958), two of the founders of the Paul Revere Pottery, which operated from 1906 to 1942; Sara Galner (1894–1982), who decorated some of the most outstanding pieces produced by the firm; Mary Northend (1850–1926), who used her photography to accompany her articles promoting Colonial Revivalism and her Progressive viewpoints; and Ethel Reed (1974–1912), who was well known in the 1890s for her exuberant posters, illustrations, book covers, and endpapers.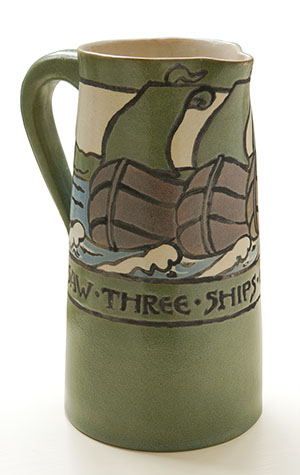 In putting the show together, Riley began with a list of 20 women artists who were working in Boston between 1890 and 1920, the years when the Arts and Crafts movement flourished in the United States. As her research developed, she found herself eliminating some artists because they had too small an archival imprint and others because their work could no longer be located. She traveled all over Massachusetts and to Washington, DC, tracking down leads and poring over archival records at the American Antiquarian Society, the Boston Athenaeum, the Boston Public Library, BU libraries, and the MFA, among other places.
What emerged—and what visitors to BUAG will enjoy—is a fascinating portrait of six women who found a way to make a living as artists at a time when the idea was still novel. They moved in the same circles, although it's unclear from the exhibit whether they all knew one another. Austin, Guerrier, and Brown took classes at the Museum School, while Reed was engaged to an instructor there. In many instances, their lives resemble a Venn diagram with other people and institutions connecting one artist to another. For example, the Arts & Crafts Society exhibited Austin's photographs as well as works by the Paul Revere Pottery at various times. "A network of ideals and people tied these women together in an arrangement of mutual support and professional competition," says Riley.
Craft & Modernity includes 147 examples of the six artists' work. Reed was one of the city's most accomplished illustrators. She created numerous book covers and posters, most featuring depictions of young women. Her women exude a confidence and independence that mirrored the changing role of women at the time. Her most striking works in the exhibit are two illustrations for a children's book, The Arabella & Araminta Stories, by Gertrude Smith, published in 1895, which chronicled the adventures of twin girls. Reed's vibrant work—hailed by one critic as "magnificently original"—revealed her fascination with Japanese culture and Japanese prints, as evidenced by her use of flat color and thick outlines.
The Paul Revere Pottery, launched by Edith Brown, Edith Guerrier, and Boston socialite Helen Osborne Storrow, a Progressive reformer, was created to provide a skill and jobs to young immigrant women. No one was more adept at decorating the pieces than Sara Galner, an immigrant who had perfected the cuerda seca pottery technique, in which the design is applied in a wax-and-manganese mixture to bisqueware. When fired, this application forms an unglazed, black outline that guides application of the colored glazes; the piece is then refired. The examples of Galner's ceramics in the show, Riley says, reveal her "attention to detail, especially with her floral decoration," and "documents the importance of the role of the decorator in personalizing designs conceived by Brown and Guerrier." Galner was so accomplished that, in addition to decorating standard designs that were sold in the pottery's shop, she also took on special commissions that would be displayed at exhibitions.
Although they worked in different media, the six artists shared a number of similarities, such as proficiency in more than one medium. Reed not only illustrated posters, books, and book covers but also produced pastels and watercolors. Austin, who had the longest career of the women, taught drawing, painting, and sculpture classes in addition to being a professional photographer. Northend, whose studio produced an astonishing 30,000 prints, thought of herself principally as an author. Galner not only designed ceramics for the Paul Revere Pottery but also ran their shops on Boylston Street and in Washington, DC. And Guerrier worked as a librarian in a public library branch in the North End, in addition to her work at the pottery.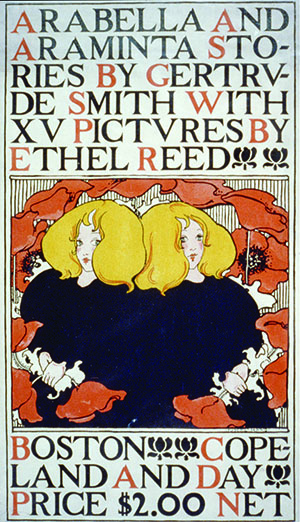 As women, they were largely confined in their choice of subject matter and limited to using their talents to produce images of women, children, and the home, says Riley. As she notes in the catalogue, "they changed the meaning of childhood and the home as they simultaneously altered their community's expectations of their gender."
While all six women made a living from their work, several struggled financially. In her decade with the Paul Revere Pottery, Galner negotiated an increase in salary from $4 to $7 to $10 a week. Even with her librarian's salary, Guerrier was forced to take in borders to help meet expenses. And Reed, whose posters were once snapped up by collectors, died penniless in London. Even at the height of her fame, she worked piecemeal, earning $20 for posters, $10 for a book cover, and $10 for book illustrations.
The BUAG exhibit not only brings to attention the work of these half dozen accomplished women, but it also advances our understanding of the ways in which women gained entry into the professional art world and the challenges they faced once there. It's also a stunning reminder of the ways in which American artists embraced the Arts and Crafts movement and put their unique stamp on it.
Riley says she hopes visitors "are as enraptured by each of these women as I became, both in terms of their artistic production and the strategies each employed in order to be able to call herself 'artist.'"
Craft & Modernity: Professional Women Artists in Boston (1890–1920) is on view at the Boston University Art Gallery at the Stone Gallery, 855 Commonwealth Ave., through Friday, December 19. Hours: Tuesday through Friday from 11 a.m. to 5 p.m. and Saturday and Sunday from 1 to 5 p.m. The exhibit is free and open to the public. To reach the gallery by public transportation, take an MBTA Green Line B trolley to BU West.