PayPal Cofounder Shares Entrepreneurial Wisdom
BUzz Lab brings Peter Thiel to SMG
A word of advice for hopeful entrepreneurs: don't pitch Peter Thiel on a restaurant. He's not a big fan. In fact, the PayPal cofounder and billionaire investor thinks restaurant business plans are among the least sustainable, because eateries too often succumb to competition.
The restaurant taboo was one of the many rapid-fire nuggets of wisdom that Thiel shared with a packed audience on Tuesday at the School of Management auditorium. Thiel was there to discuss his book, Zero to One: Notes on Startups, or Hgooglow to Build the Future, and to answer questions through moderator and Boston Globe innovation columnist Scott Kirsner (COM'93). BUzz Lab, the University's new center for entrepreneurship, invited Thiel to campus to wrap up its inaugural semester with a bang. Within 72 hours of announcing the event, all 400 seats were spoken for, according to Ian Mashiter, an SMG lecturer and BUzz Lab director. The event was also broadcast on Livestream.
Thiel said the idea for his book evolved from a class on entrepreneurship that he taught at Stanford in 2012. He ran into a challenge early on when he realized that entrepreneurship greatly relies on serendipity. "Every moment in the history of business happens only once," he said, adding that the next Bill Gates won't build an operating system and the next Larry Page or Sergey Brin won't make a search engine.
Thiel challenged the audience to consider the question: "What great company is nobody starting?" And he asked them, much as he does job prospects, to "tell me something that's true that very few people agree with you on." Neither promises an easy answer, but that's the point. "We live in a world where courage is in much shorter supply than genius."
Thiel offered his own truth when he challenged people to think of competition as the antonym of capitalism. "What you always want to be aiming for as an entrepreneur is a monopoly," he said. Google has dominated the search engine market since 2002, he said, although their business moves try to hide that fact. They waltz out new technologies, like smartphones and self-driving cars, under the Google banner so they can say, "'No, we're not the monopoly the government is looking for.'"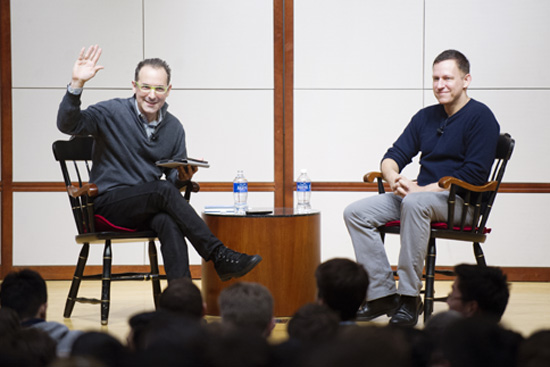 Successful entrepreneurs find niche markets. "All happy companies are different, because they found something unique to do," Thiel said. Those that follow trends are bound to fail. "When you hear 'cloud computing' or 'big data,' you should run away as fast as possible."
So what's that first step toward launching a monopoly? Thiel advises focusing first on a small market, and then recognizing the value of a product or service and capturing a sizeable percentage of the market share. He was one of the first people to financially back Mark Zuckerberg when his fledgling Facebook had a market of 10,000 Harvard undergraduates—a tiny group compared to its current 864 million daily active users.
Thiel also compared the success of the aviation and search engine industries. The first generates $180 billion per year, while the second pulls in $50 billion per year. However, because airline industries are highly competitive, they end up with a 1 to 2 percent yearly profit; search engines like Google have a chokehold on the market and see a 20 to 30 percent yearly profit.
When Thiel's talk ended, Kirsner took a seat alongside the entrepreneur to feed him audience questions, amassed in real time on an iPad.
Asked how his Stanford undergraduate degree in philosophy has influenced his choices as an entrepreneur, Thiel said philosophy, at its best, is interdisciplinary and focuses on big picture questions, which come in handy when considering all aspects of a business model—from product development and hiring to market share and world affairs.
Had Thiel noticed a change in business schools since his undergraduate years? Yes, he said, there is now tremendous interest in entrepreneurship and innovation, so much so that it's considered key to the country's future.
One student wanted to know if Thiel thought venture capital was the next bubble, and if companies valued at billions of dollars were teetering dangerously on little to no cash flow (paging Snapchat). He said some companies' financial models rely heavily on estimates of future earnings, and for good reason. PayPal saw three-quarters of its cash value evolve after 2011, even though the company went public in 2002. "I tend to think we're not in a bubble like the late '90s" of the dot.com era, he said.
Another student asked how entrepreneurs can tell if a potential market is small enough. Thiel said they should shoot for a well-defined market that can be expanded rapidly. Amazon started as an online bookseller, and now sells everything under the sun. But Kirsner, playing devil's advocate, said that was part of Amazon's problem—it wasn't making a profit because it was trying to monopolize every market. Thiel saw it differently. Amazon's goal was to sell everything cheaply, wipe out competition, and yank up prices. The company's plan is to "turn the dial," he said, "and within 10 to 20 years, it will be the most profitable company in the history of the world." His comment drew nervous laughter from the crowd.
Another student wanted to know if "a nice, honest guy can make it big." In other words, Kirsner asked, is everyone in Silicon Valley mean or are there people there you'd want to invite over to a backyard picnic?
"I don't even know how to answer that question," Thiel deadpanned. He said most Silicon Valley dwellers are "quite good people" who act ethically, particularly those involved in monopoly-like businesses. It's in the competitive spaces where people are more ruthless. "They'll hire their grandma and pay her less than minimum wage, he said. "It's in hyper-competitive contexts that the worst gets brought out in people."
Kirsner stoked the fire by asking why an MBA was a bad investment, warning Thiel he might be blamed if students drop out of their BU programs. While hesitant to give sweeping generalizations, Thiel said that MBA students "decide collectively to try to catch the last wave" of business innovation, which "leads to herd-like thinking. If you're in an MBA program, be aware of this and try to resist." He also thought MBA programs overly stress business as a known process, when they should be describing it as the passionate exploration of a new product or service.
Finally, Kirsner asked Thiel to share a truth no one agrees with him on. When it became clear the PayPal founder was avoiding the question, the Globe columnist pressed him to share "something truly horrifying."
Eventually, Thiel relented. "Universities are in a crisis today similar to the Catholic Church in 1500," he said. Higher education can't be a system of "you go to Yale or you go to jail." Students' future paths will be much more heterogeneous. "You have to find out how to save yourselves."