Lunch, Anyone? SoulFire
BBQ in BU's backyard
There is almost nothing about Allston that bears any relationship to the South. However, a trip to SoulFire, the excellent barbecue restaurant on Harvard Avenue, will transport you to North Carolina. The restaurant offers a wide array of authentic Southern cuisine at college-friendly prices, great for the seasoned BBQ enthusiast or those eager to tackle their first rack of ribs.
We stopped by SoulFire on a recent Wednesday afternoon to find the restaurant unusually quiet. At most other times, walk past the chalkboard sign on the sidewalk advertising specials and you'll find it packed.
The decor screams soul, with its larger-than-life mural of painted soul singers popping off one wall and a playlist of more than 3,400 gospel, country, and rhythm and blues songs. A small bar lines one end of the restaurant, and each table is outfitted with a checkered tablecloth, a large roll of napkins (crucial to the hands-on rib experience), and four flavorful sauces packaged in a recycled six-pack case.
But enough about the ambience. The real story here is the barbecue and the sides. Patrons come here for the ribs, the pulled pork and brisket platters, the fried chicken, and the catfish. The sauces offer different ways to enhance your meal. The fiery sauce is a traditional mustard sauce, but with a habanera devil relish, the SoulFire has a tomato base with vinegar and pepper, the sweet sauce—perfect for chicken—is made with molasses and honey, and the pitboss is a traditional North Carolina sauce with cider vinegar and pepper—a good choice for pulled pork.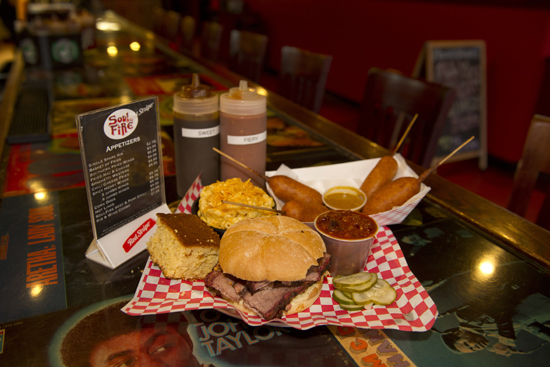 The appetizers were all appealing; we decided to go for a classic corn dog ($2), made with Pearl's pork, and deep-fried macaroni and cheese ($3, small; $5, large). The corn dog was a simple but delicious combination of crunchy and salty on a stick. The fried macaroni and cheese bites were moist and creamy, despite their unappealing, square-shaped presentation. Also offered are party wings ($7), covered in different sauces, including BBQ, spicy honey, and buffalo, and chili ($5 small; $7 large).
For our entrée, we ordered the half-rack of baby back ribs platter ($17) and the fried catfish platter ($14). Both were served with corn bread, pickles, and two choices from a long list of sides: mashed potatoes, collard greens, coleslaw, baked beans, mac and cheese, rice and beans, and potato salad.
The fried catfish was well cooked in Southern seasoned flour, but lacked any distinctive flavor unless paired with one of the sauces. The baby back ribs, though, had a robust smoky flavor. You have to use your hands and bite into the pork, but the tender meat makes the mess worth it. SoulFire also offers spare ribs ($14, $16, $25), a much larger rib, for those wanting a meatier option. The pulled pork platter ($12) is another popular entrée.
The corn bread was crumbly and buttery, the pickles crunchy. Both were excellent palate cleansers between bites of the ribs and sides. The collard greens had large bits of bacon, which gave them a strong meaty taste. The mashed potatoes, smothered in a delicious homemade gravy, were smooth and tasty. The coleslaw was standard, but its light, crunchy taste balanced the other, heavy dishes.
SoulFire also offers a wide selection of Southern-inspired sandwiches, each served with one side and pickles. The hand-pulled pork sandwich ($8), lightly coated in a North Carolina vinegar sauce, is the most popular. There is also a Texas-style sliced brisket sandwich ($9), served ungarnished on a bulkie roll, but the restaurant often runs out because a limited amount of brisket is made each day.
This is a place that knows how to marry the art and science of barbecue to produce smoked meats featuring great flavor, and it serves huge portions. Our leftover ribs made for an ample dinner later, and the leftover corn bread was a good breakfast the next morning.
SoulFire is at 182 Harvard Ave., Allston; hours: 11:30 a.m. to 11 p.m. daily; phone: 617-787-3003. View the menu here. SoulFire accepts all major credit cards. By public transportation, take an MBTA outbound Green Line B trolley to Harvard Avenue or the 57 bus to Brighton Avenue and Linden Street. SoulFire has a second location at 737 Huntington Ave., Boston.
This is part of a weekly series featuring Boston lunch spots of interest to the BU community. If you have any suggestions for places we should feature, leave them in the Comment section below.
Kat Sorensen can be reached at katsoren@bu.edu.
This Series
Also in
April 18, 2018

April 11, 2018

March 29, 2018