Lunch, Anyone? Life Alive
"Urban oasis and organic café" in Cambridge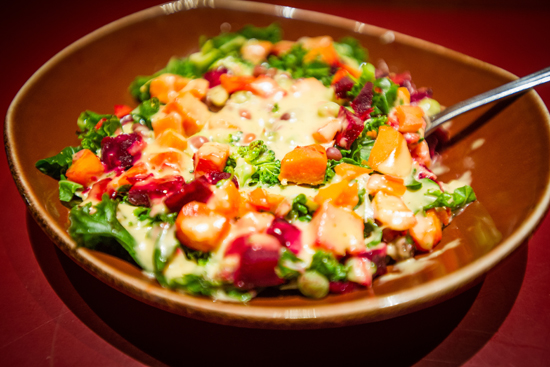 The mantra at Life Alive, the self-described "urban oasis and organic café" in Cambridge's Central Square, is "whole food goodness and fast food convenience."
The restaurant delivers on all counts, with a commitment to organic unprocessed meals, flexible ordering options (including takeout), and a menu designed to appeal to vegetarians, vegans, gluten-free eaters, paleo dieters, locavores, and yes, even plain old omnivores.
When we entered, we were greeted by the scent of fresh fruits and veggies (locally grown organic produce is served whenever possible). Colorful paintings of smiling Buddhas adorn the sunny, yellow walls, and the atmosphere has a lively summer farmers market feel.
We got there after the typical lunch hour rush, but it was still bustling with customers, and seating at the upstairs counters was scarce. We were accommodated in the downstairs area. Before heading down, you order and get a table number. Choices are alcoves outfitted with cushioned benches, small bistro style tables for two, or large wooden dining tables for bigger groups—most empty at that time.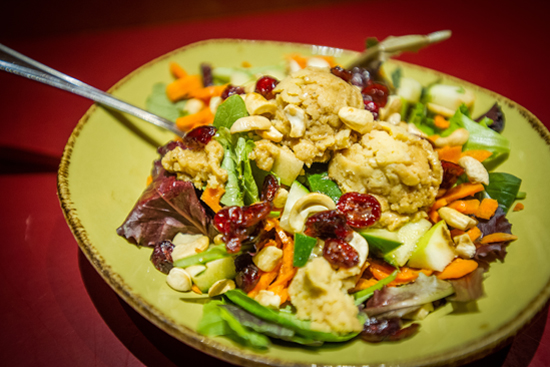 Since this was our first visit, we ordered the café's signature dish, the Goddess ($5.35), a mixture of carrots, beets, broccoli, dark greens, and sprouted legumes on short-grain brown rice. The vegetables had a generous drizzle of the restaurant's famous Ginger Nama Shoyu Sauce, whose tanginess reminded us of a creamy vinaigrette. Served warm, the Goddess was welcoming on a damp spring day, providing the satisfaction of comfort food without any of the guilt so often accompanying it.
We almost ordered the Fool ($8.99), udon noodles, shiitake mushrooms, carrots, pearl onions, tofu or sprouted legumes, dark greens, and sesame seeds coated in a sesame ginger sauce, but instead opted for the Sufi Poet salad ($5.75). Consisting of a bed of spring greens colorfully dressed with shredded carrots, cranberries, cucumbers, Granny Smith apples, and cashews, garnished with scoops of creamy, house-made red lentil hummus, it was refreshing and original. The balsamic vinaigrette made the dish a standout, highlighting the vegetables' freshness. The dressing's sweetness contrasted well with the tart apples, and the cucumbers and cashews provided a satisfying crunch. We wished we'd ordered a larger portion, so we could have brought leftovers home.
Most meals are available in three sizes: Filling Bowls (the largest), Handy Wraps, or Demi. We chose the Demi size for each selection and were more than satisfied.
Life Alive offers an array of fresh-pressed juice combinations. The Ginger Crush ($4.25) is a lemonade made with ginger, lemon, maple syrup, and pure water, the Superhero Alive ($6.79) a blend of apple, carrot, ginger, cayenne, spirulina, garlic, apple cider, vinegar, honey, and pure water. You can also choose from more than 20 tea varieties, all available for purchase in bulk. You can order a cup ($2.75) or try select flavors like Chai ($3.95), Rooibos ($4.30), or Matte ($4.30) in latte form, made with your choice of rice or soymilk and served hot or cold.
We tried one of the dandi-blend drinks, the Dandi-Mocha Latte ($4.20). Made from dandelion, beets, and chicory roots, dandi is a detoxifying coffee substitute. Although it wouldn't have fooled habitual coffee drinkers, its subtle chocolatey taste and foamy milk crown gave us something warm and sweet without all the caffeine.
Life Alive has a separate menu for its impressive smoothie selection, and rightfully so, since one of the smoothies could be a meal in itself judging by both size and ingredients. All have coconut milk–based, nondairy, soy-free ice cream made locally by FoMu, as well as fresh house-made chia-almond milk. On our next visit, we plan to try the Lust Alive ($5.99), featuring strawberries, bananas, candied ginger, cinnamon, and raw cocoa with an ice cream and rice milk base. You can add what the café describes as Nutri-Boosts to any juice or smoothie ($.50 to $2). These include bee pollen, goji berries, aloe, and kale.
With its vibrant atmosphere and delicious food, Life Alive offers a therapeutic escape from the humdrum.
Life Alive, 765 Massachusetts Ave., Cambridge, is open Monday to Saturday, 8 a.m. to 10 p.m., and Sunday, 11 a.m. to 7 p.m.; phone: 617-354-5433. The café takes all major credit cards. By public transportation, take an MBTA Red Line train to Central Square.

This is part of a weekly series featuring Boston lunch spots of interest to the BU community. If you have any suggestions for places we should feature, leave them in the Comment section below. Check out or list of lunchtime tips on Foursquare.
Paula Sokolska can be reached at ps5642@bu.edu.
This Series
Also in
April 18, 2018

April 11, 2018

March 29, 2018