Lunch, Anyone? Audubon
Your New South Campus Neighborhood Favorite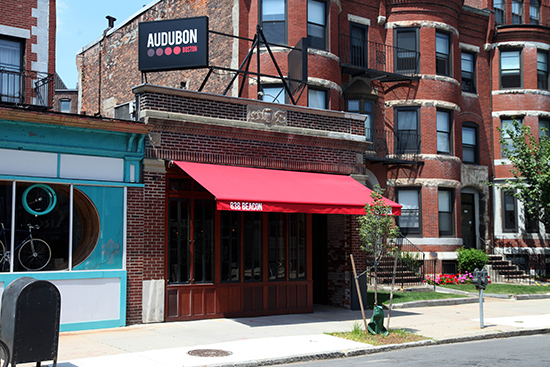 In order to be considered a neighborhood staple, a restaurant needs to meet a few essential criteria: a reasonably priced menu, a friendly staff, and food that constantly delivers. Happily, Audubon, located on Beacon Street just outside Kenmore Square, succeeds on every count. The restaurant, formerly known as Audubon Circle, reopened last spring under new management with an eclectic, contemporary menu that is sure to satisfy the diversity of South Campus Terriers' tastes.
We stopped by for lunch midweek to find the eatery only moderately busy. The long bar was empty, as were many of the booths and tables. An expanse of bright windows at the building's front let in plenty of light, illuminating the interior's dark tones—rich, polished wood, simple black furnishings, and subdued artificial lighting.
For starters, we ordered a hot plate of yuca cakes ($8). Also known as cassava, the starchy root was prepared in the form of a patty, fried to a crispy gold on the surface while the inside remained tender and moist. The steaming discs were smothered in a mojo sauce tasting strongly of garlic with a tang of what appeared to be either lemon or vinegar. A bed of simple mixed greens added a welcome freshness and vibrancy to what was otherwise a dense appetizer.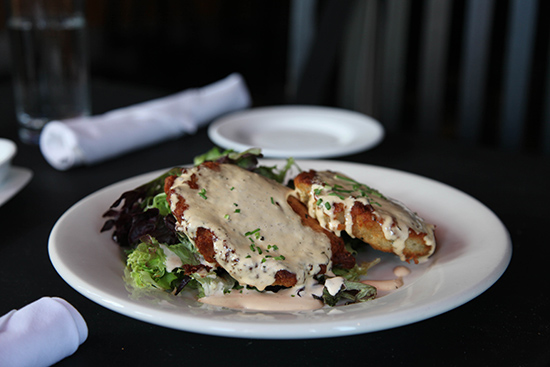 The pork pot stickers ($10) arrived steaming hot with a perfect caramelized crust. Served atop some spring greens, the dumplings were garnished with thin, latticed slices of lotus root. The classic filling comprised a medley of water chestnuts, red bell pepper, crisp snow peas, and sweet shishito pepper. These pot stickers were delicious on their own, but the creamy dipping sauce that accompanied the dish—not advertised on the menu—took it to a whole other dimension. A favorite when the restaurant was called Audubon Circle, the new owners have smartly retained the popular dish.
Among its many attractions, Audubon boasts a charcoal grill, and we couldn't resist trying out their classic, 8-ounce burger ($9). The patty was moist and tender, blanketed with melted cheese, and topped with a generous helping of creamy avocado ($1 extra). Crisp lettuce and tomato slices for topping were served on the side, along with a spear of tangy pickle and a small salad. For those wishing to customize their burgers, Audubon offers an array of additional unique toppings, from bacon jam to pineapple salsa, and even a fried egg, each for $1.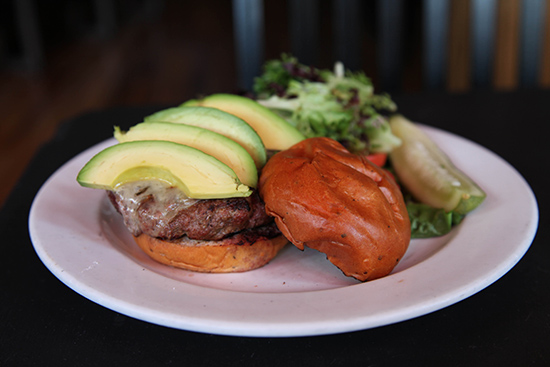 For our entrée, we were about to order the grilled pork ban mi ($12), an updated taken on the classic Vietnamese sandwich, served with pickled jalapeños, carrots, cucumber, bok choy, and spicy ginger aioli, but ultimately went with the pizette ($10) instead.
Made with house-made dough with ingredients that rotate with the season, our "little pizza" was topped with white beans, roasted pepper, and taleggio cheese. A quick firing in the grill resulted in a crust that alternated between soft, doughy bubbles and crisp, charred pockets. The dish's one downside was that it was oversalted, prompting us to ask for a water refill. In retrospect, we wouldn't recommend the pizette for a lunchtime meal, but it would have been perfect as an appetizer washed down with a couple of beers on a Friday night. And with Audubon's selection of more than 20 beers, ciders, and ales ($5–$6), not to mention the extensive and reasonably priced wine and cocktail menus ($8–$10), we plan to do just that.
Audubon is located at 838 Beacon St., Boston. The restaurant is open Monday through Thursday, 11:30 a.m. to 1 a.m. and on Sundays from 11 a.m. to 1 a.m. (the kitchen closes at midnight each evening). Audubon serves brunch on Sundays from 11 a.m. to 3 p.m. Phone: 617-421-1910. Audubon accepts cash and all major credit cards.
To get there via public transportation, take any Green Line trolley to Blandford Street or the #57 bus to St. Mary's Street. From there, walk up Blandford Street and turn left onto Beacon Street.
This is part of a weekly series featuring Boston lunch spots of interest to the BU community. If you have any suggestions for places we should feature, leave them in the Comment section below.

Paula Sokolska can be reached at ps5642@bu.edu.
This Series
Also in
April 18, 2018

April 11, 2018

March 29, 2018