$12.5 Million Gift Creates Innovative Center for Social Work, Health
Anonymous donor funds research for affordable, available care here and abroad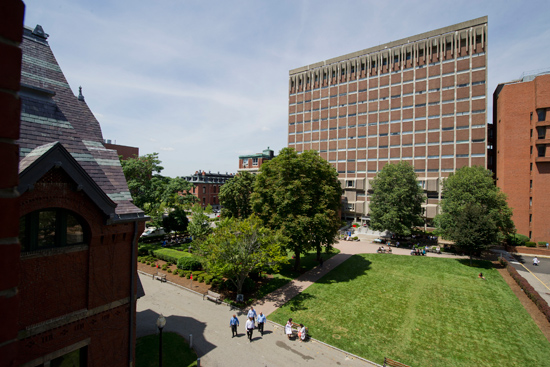 The doctor—and social worker—will see you now. Social workers play a critical role in health care, and an anonymous $12.5 million gift will create a new BU center melding social work and public health science to improve care here and around the globe.
The Center for Innovation in Social Work and Health (CISWH) will be sited on the Medical Campus as part of the School of Social Work and will partner with BU's Center for Global Health and Development (CGHD). It will "engage a wide group of scholars across the health professions around workable and cost-effective models that serve the broad health needs of people in the United States and abroad," says Gail Steketee, a professor and dean of SSW.
Preventive medicine requires attention to influences on health like families and neighborhood circumstances, says Steketee, and "social workers understand the large picture of people's lives—what drags down people's health and what improves it."
"We know from the research data that a focus on medical care alone, no matter how cost-conscious, does not lead to healthier or happier lives for people as a whole," she says, citing lagging American longevity and chronic disease prevention compared to other developed nations. "We must think differently about health care and about the equity of that care—access and quality care for everyone."
"We have lots to learn from each other," says Jonathon Simon, CGHD director and BU's Robert A. Knox Professor. As examples of the partnership, he points to social workers' expertise, coupled with that of researchers at his own center, as a way to help people with HIV/AIDs and child health, two signature CGHD initiatives.
"Two centers working together will be able to do more in these areas," he says. Both entities will "share a commitment to serving underserved and marginalized populations in the United States and around the world."
An SSW fact sheet about the new center says collaboration will promote more efficient and widespread health care, and the need for that "stems from increasing urbanization, skyrocketing costs, poor health care outcomes in the United States compared to other countries, and critical health equity needs across underserved groups. In addition, we have much to learn from the pressing needs of developing countries that seek to provide affordable health care for large numbers of people currently without care."
Also, the Affordable Care Act—Obamacare—"creates a unique national opportunity to develop and test interprofessional care models that can improve individual and community health outcomes and reduce costs," the sheet further says. "Leaders in social work, medicine, public health, economics, management, and related fields can redefine and restructure primary care by creating new community-based care systems."
President Robert A. Brown is enthusiastic about the new center's potential "to help transform the urban health care delivery system, by creating and critically assessing new models for effective treatment and management of particular patient populations."
The center's efforts, says Jean Morrison, University provost, "have the capacity to both transform and elevate the standing and stature of the discipline of social work and social workers. For example, the gap that currently exists in terms of how our society compensates social workers versus medical personnel is not necessarily an accurate reflection of the impact that social workers have on the long-term well-being of people. The center has the capacity to reframe the importance of the discipline of social work and social workers in the health care delivery system."
Steketee says the University will seek a known "interdisciplinary scholar" with a background in social work to direct the new center, and the University hopes to have the director in place by January 2015. The dean expects the center will be operational by this summer as affiliated SSW faculty and colleagues develop research and training projects.