BUTI Gets Three-Year Reprieve
CFA dean's plan addresses concerns of advisory panel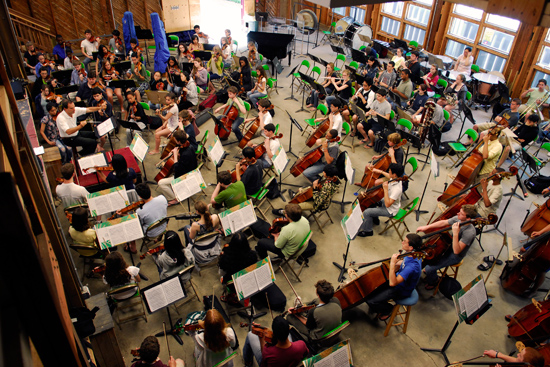 The Boston University Tanglewood Institute (BUTI), a College of Fine Arts summer satellite program for gifted young musicians, will continue operation for at least three more years. President Robert A. Brown and Jean Morrison, University provost, made the decision based on the recommendations of an advisory panel appointed last October by Morrison.
A newly created position of full-time executive director is just one of many proposed actions put forward by CFA Dean Benjamin Juárez, in response to the recommendations, to make the nearly half-century-old institute, in Lenox, Mass., at the Berkshires summer home of the Boston Symphony Orchestra, more cost-effective. But in a memo dated April 8 to BU School of Music faculty and staff, Morrison said that if "the goal of establishing BUTI on sound fiscal footing is not met," BU will consider closing it.
Attended by approximately 340 high school students and high school graduates each summer, BUTI has been affiliated with CFA since 1967, when Edward Stein, then CFA dean, instituted the program as a counterpart to the BSO's Tanglewood Music Center. The result has been a fruitful and harmonious association, with students attending Boston Symphony Orchestra performances, and BSO musicians acting as role models and mentors. At least 14 BUTI alumni have gone on to become members of the BSO. As Juárez notes, the institute has been "an important feeder of undergraduate students" for the School of Music. But BUTI's aging infrastructure, cost of operations, faculty and staff salary requirements, and increased University subsidies to keep the program afloat led Morrison to convene the nine-member advisory committee, chaired by Nicole Hawkes, associate provost for strategic initiatives.
In his mandated response to the panel's recommendations, Juárez recently released a plan of action "for immediate implementation" to streamline BUTI's operation, improve its cost-effectiveness, expand its fundraising, and align the Lenox campus visually "with the BU brand."
"The members of the committee are extremely gratified to learn that many of our recommendations will be implemented," says Hawkes. "BUTI is a distinctive program with the potential to contribute significantly to the future of professional music, giving BU an important leadership role."
"Boston University Tanglewood Institute is an extraordinary program, but like so many arts programs, it has its complexities and challenges," says Juárez. "The recommendations made by the committee make enormous sense and reflect the committee's careful evaluation of every facet of the program. We have already begun implementing the items outlined in my response to the committee's report, and look forward to continuing to make progress with the School of Music's full engagement as we work toward creating a sustainable future for BUTI's next chapter."
The new management structure for the institute will separate the roles of executive director, a position that will be filled before the summer 2014 season, and artistic director, a School of Music faculty appointment that will be held by longtime BUTI executive director Phyllis Hoffman (CFA'61,'67). Hoffman says she is "thrilled that the University has expressed a commitment to build upon the achievements of the past 47 years. We are grateful that the committee and the administration recognize BUTI's unique and inspirational environment and its profound and enduring impact on its alumni."
In addition, BU's internal auditors will review BUTI operations to help the University balance the program's budget and overhaul its overall design, income, and expense structure, which, according to Juárez, reflects "a very complicated and inefficient use of some resources." That overhaul will involve a review of the number of students and the duration of each program, which must adhere to "a context of what we can afford," the CFA dean says. According to his plan, the new executive director will work with the School of Music and BU Admissions on a recruitment plan.
Richard Cornell, School of Music director ad interim, is grateful for the decision to keep BUTI operational, while acknowledging the University's challenge to the institute's faculty to "help guide that program to a sustainable future."
"The faculty of the college have placed high value on the program and what it has achieved for nearly 50 years, investing in it an immense amount of human capital," says Cornell. "It is a proud and optimistic moment for the School of Music and for the College of Fine Arts."