POV: Starving Out Food Stamps
We shouldn't gut a program that works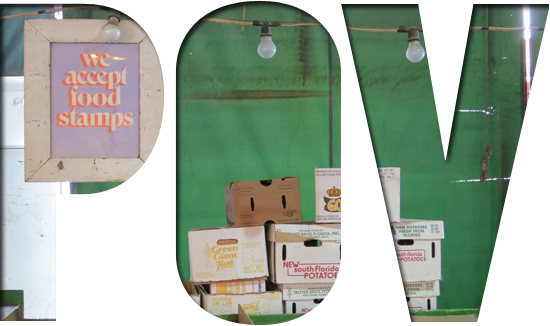 "POV," a new addition to BU Today, is an opinion page that provides timely commentaries from students, faculty, and staff on a variety of issues: on-campus, local, state, national, or international. Anyone interested in submitting a piece, which should be about 700 words long, should contact Rich Barlow at barlowr@bu.edu.
SNAP, the Supplemental Nutrition Assistance Program (formerly Food Stamp Program), has been placed on the chopping block by House Republicans, who just pushed through a bill that would cut $40 billion from the program over the next 10 years.
SNAP acts as a vaccine against food insecurity and hunger. Food insecurity is the measure of households' inability to get enough healthful food in socially acceptable ways for all its members to live active, healthy lives. It is the food access threshold for serious, harmful health effects at all stages of life, from the womb to old age. Our research consortium, Children's HealthWatch, has for more than a decade accumulated data on the impacts of food insecurity and interventions to decrease food insecurity among low-income babies and young children.
These youngest Americans and their families are at highest risk of food insecurity. Infants and young children in the first three years of life, the most critical period for the growth of the body and brain, are the most physiologically vulnerable to lasting ill effects of food insecurity on health and learning. They also are less likely to be considered in state and federal legislative debates about policies that affect their well-being.
In the 14 years since the food security measures were developed, a substantial body of peer-reviewed research literature has documented strong relationships between food insecurity and negative physical and mental health outcomes in children and adults. Our research, and that of many others, has convinced us that food insecurity—which affects approximately 16 million US children (21.6 percent)—is one of the greatest public health threats that our nation faces.
Young children in food-insecure households are in worse health, more likely to have been hospitalized since birth, more likely to be iron-deficient, and more likely to be at risk for learning and behavior problems than their food-secure peers. SNAP is the most important and effective public health program we have for reducing these health impacts of food insecurity.
SNAP is also our nation's most important "counter-cyclical" antipoverty program, meaning it responds promptly to economic downturns, thus sustaining the economy, and more important, the health of our children. It has been estimated that every $1 in SNAP benefits generates between $1.72 and $1.79 in domestic economic activity.
Approximately 47 million Americans, including 900,000 in Massachusetts, receive SNAP. In 2011, 69 percent of SNAP benefits went to households with children; one in four American children depend on this "kitchen table" benefit, which unlike any other government nutrition program except for the Special Supplemental Nutrition Program for Women, Infants, and Children (WIC) provides resources only to purchase food for consumption at home, rather than at school or in other group settings.
The poverty threshold for an average family of four with two children was $22,811 in 2011. That year, 83 percent of households receiving SNAP had incomes below the poverty threshold and 43 percent had incomes at or below 50 percent of the threshold.
SNAP successfully targets Americans living in poverty, but it is important to remember that many of those recipients are in poverty even while they struggle to earn a living. More than 60 percent of SNAP-recipient families with children have adults working for pay. Others, because of their health or age, cannot realistically participate in the workforce; 83 percent of benefits go to families with a child or an elderly or disabled member.
SNAP benefits, when received by pregnant women, are associated with decreased rates of low birth weight. In households with children, SNAP reduces the risk of food insecurity, enhances intake of B vitamins, iron, and calcium, and lowers the risk of anemia, obesity, poor health, hospitalization for failure to thrive, low academic test scores, and reports for child abuse or neglect. In so doing, SNAP not only makes life much better for children and families, it also saves society money.
In spite of this strong medical evidence, intense efforts are being made to cripple or kill SNAP by claiming that as a nation we cannot afford to nourish our impoverished fellow Americans. The recently passed bill would make several destructive changes to the $80 billion a year program. It would require SNAP recipients between the ages of 18 and 50 without minor children to get a job or enroll in a job-training program; it would place benefits to those people on a three-month timer; it would restrict people on other social welfare programs from automatically becoming eligible for SNAP; and it would allow states to require that recipients be tested for drugs. Yet many middle class and wealthier Americans benefit from mortgage tax deductions, which are also a subsidy. The private emergency food network, made up of food banks, food pantries, and similar organizations, is an important and necessary response to immediate food needs, but it does not have the resources or infrastructure to address a problem of the magnitude and chronic nature of food insecurity.
Even before the proposed draconian cuts, the Institute of Medicine (IOM) found SNAP benefit levels too low to fully prevent food insecurity and the resulting impacts on health for recipient families. Current maximum benefit levels provide just $1.60 per meal per person, and even these meager benefits are scheduled to decline to $1.40 per meal on November 1, 2013. That cut will result from the premature termination of the American Recovery and Reinvestment Act (ARRA), which boosted benefits during the worst of the recent recession. The average family of four will lose 21 meals per month.
Current policy trends thus portend an increasing epidemic of food insecurity and all its negative health effects. Proposals even more alarming than the 13 percent cut imposed by the ARRA rollback are being advanced in the House of Representatives, with incalculable risk to the nation's health.
As health researchers, we cannot remain silent about these totally preventable threats to the health and learning ability of America's children. SNAP is one of America's most cost-effective and successful public health programs. It is the best vaccine we have against food insecurity and its health consequences, but like all vaccines it must be provided at therapeutic doses to all susceptible individuals if it is to effectively protect the health of our nation.
John Cook, an economic demographer and a School of Medicine associate professor of pediatrics, can be reached at john.cook@bmc.org. Stephanie Ettinger de Cuba (SPH'03), director of policy and advocacy at Children's HealthWatch, can be reached at sedc@bu.edu. Justin Pasquariello, the executive director of Children's HealthWatch, can be reached at justin.pasquariello@bmc.org. Deborah A. Frank, a pediatrician, founder of Children's HealthWatch, and a School of Medicine professor, can be reached at dafrank@bu.edu.
"POV" is an opinion page that provides timely commentaries from students, faculty, and staff on a variety of issues: on-campus, local, state, national, or international. Anyone interested in submitting a piece, which should be about 700 words long, should contact Rich Barlow at barlowr@bu.edu. BU Today reserves the right to reject or edit submissions. The views expressed are solely those of the author and are not intended to represent the views of Boston University.