Nightlife: The Beehive
Good drinks, great food, even better music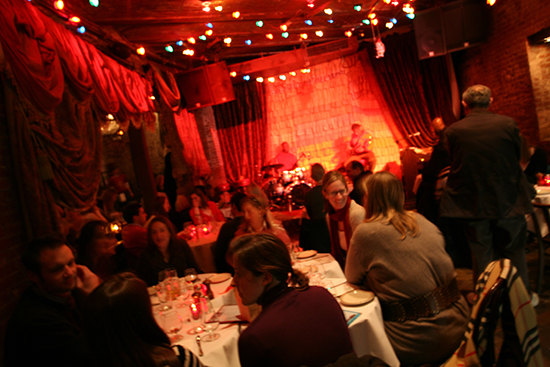 The Beehive, in Boston's fashionable South End, more than lives up to its reputation as both a terrific restaurant and vibrant music venue. Open less than six years, the neighborhood bistro (21+ only) has attracted a loyal following—locals, young professionals, and those from all over the Boston area drawn to its eclectic roster of musicians.
The place was quickly filling up when we stopped by on a recent Thursday around 9 p.m. Nashville-based country singer–songwriter Chris Carpenter was opening for Berklee College of Music alum Clara Lofaro, whose work has been featured on the NBC hit show The Voice. Patrons had come for the music or to sample the restaurant's innovative cocktail menu and mouth-watering food—or both.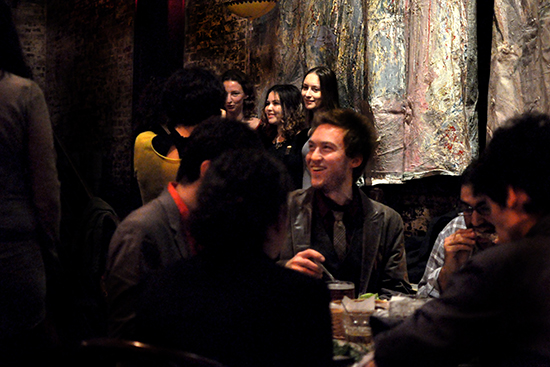 The Beehive has three dining rooms and two bars; the one upstairs looks down on the performance space. The decidedly bohemian décor of the former boiler room, woodshop, and loading dock is cozy and elegant—lots of beautiful exposed brick, sparkling chandeliers, velvet drapes, and vintage-style posters. On the walls is a changing array of work for sale by local artists. The eatery's name has influenced quite a bit of the décor, with beehive-shaped beer glasses and an assortment of other beehive-themed objects on view.
Much has been made—and deservedly so—of the Beehive's extensive cocktail and wine menu. The wine list alone is seven pages long and includes more champagnes than you're likely to find anywhere else in town. Special cocktails include the Kentucky Orchard (butter-infused bourbon, fresh apple cider, and St. Elizabeth Allspice Dram) ($12) and the Tokyo Rose (lychee cognac and peach liqueur) ($12). If you're in the mood for something more casual, the bar also serves bottled Guinness ale and has Harpoon IPA on tap.
The Beehive's appetizers and entrees are anything but typical bar food. While it's described as "simple, satisfying, and generous comfort food," even something as standard as roasted salmon ($24), served with tabouli and cucumber yogurt tzatziki, is given a fresh presentation. The menu offers numerous seafood and grill options as well as unique appetizers. We ordered two: the "fall-off-the-bone" baby back ribs ($13) and the Moroccan cigars (lamb-filled phyllo spring rolls) ($10.50). The ribs were out of this world—cooked perfectly and slathered with just the right amount of sauce so good it had us licking our fingers. The Moroccan cigars were also tasty, and the portions generous.
The Beehive's real draw is its live music, presented nightly with no cover charge. It attracts a mix of local, national, and international artists playing all kinds of music. Often described as a jazz club, the Beehive frequently offers early evening dinner jazz sets by some of the finest local musicians, as well as performances from up-and-coming jazz bands like Bagels the Dog. It hosts an array of blues, R&B, electronica, reggae, Latin, country, cabaret, and burlesque performers, making it one of the city's hippest music venues.
While it's less casual and more expensive than the typical college bar, the Beehive offers good food and libations along with first-rate music—great for a relaxed date or a classy night out with friends.
The Beehive is in the South End, in the Boston Center for the Arts Cyclorama building, 541 Tremont St., Boston. The place is 21+ and accepts all major credit cards; for reservations, call -617-423-0069. Find hours here. By public transportation, take any MBTA Green Line trolley to the Copley Square station, walk down Dartmouth Street (Newbury Street should be behind you), turn left onto St. James Avenue, right onto Clarendon Street, and left onto Tremont Street.
This is part of a series featuring Boston nightlife venues of interest to the BU community. If you have any suggestions for places we should feature, leave them in the comments section below.
Andreia DeVries can be reached at adevries@bu.edu; follow her on Twitter at @andreia_dev.