Nightlife: Frost Ice Bar
The coolest atmosphere in town (literally)
Most bars don't deliberately create an icy atmosphere for their guests, but at Frost Ice Bar, cold is what they strive for, literally. Maintained at a chilling 21 degrees, Frost Ice Bar is New England's first permanent, year-round, indoor ice bar. What does that mean? Everything, including the glasses, sculptures, walls, and seating areas—even the tip jar—is made of ice. Better yet, it's all Boston-themed.
To get in, guests must purchase a ticket either online or at the door for a specific entry time. At $18.99 for general admission, the price is rather steep, considering you're allowed to stay for a maximum of 45 minutes. However, off-peak tickets are currently available for weekday afternoons, at nearly half the price. The cover charge includes the use of a warm jacket: everyone dons the same purple, poncho-like jackets, complete with fuzzy, faux fur–rimmed hoods. The jackets are fairly warm, but won't keep you toasty if you are wearing just a shirt and jeans underneath, as we discovered. Gloves are also provided, and boots are available for rent at $6.
When you enter the lounge, a photographer immediately snaps a picture of your party, which can be purchased on your way out, along with a plethora of T-shirts, shot glasses, and other souvenirs. Inside the glistening, brightly lit bar, whose walls change color constantly, the icy décor gives off a thoroughly Bostonian vibe. Ice sculptures feature baseballs, ducks, and teacups. There's even one of Brookline-born President John F. Kennedy. The bar's most impressive ice sculpture is a seating area replicating the Boston Public Garden's famous swan boats—all of it carved inside the bar. However the massive ice chandelier by the front entrance makes for a close second.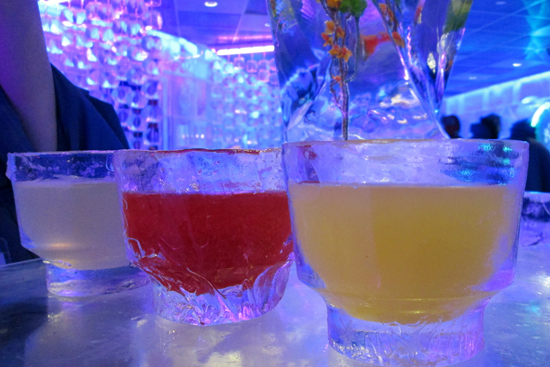 To buy drinks, you must start a tab before even entering the room—the interior is too cold for a credit card machine to work. You are given a receipt held in a lanyard, which the bartenders scan when you order a drink. Your card is not immediately charged, and at the end of the night, you can pay by a different means if you choose to. There's no full bar. Guests must pick from a selection of signature, premade cocktails ($11). Those not keen on vodka may have difficulty selecting a drink, as 6 out of 11 cocktails on the menu contained vodka when we were there. Our bartender recommended the Big Dig and the Old North Ender, each designed to quench any vodka enthusiast's thirst. The Big Dig—Reyka vodka, Triple 8 cranberry vodka, lemonade, and raspberry puree—was strong and tasted deliciously of raspberry. The Old North Ender, made with Reyka vodka, lemon sorbet, Westport Rivers Sparkling Wine, and Pallini Limoncello, had a milder taste but was just as pleasant. A word of warning: hold on to your drink tightly when it arrives. The ice glasses keep your drink cold, but are so slippery that they can be tricky to hold.
The allotted 45-minute visit will more than suffice, providing ample time to have a drink, look around, take pictures—and shiver a bit. It's a unique experience but the place, which opened in August 2013, has a decidedly touristy feel; it's more of a one-and-done type venue than the kind of place you're likely to return to.
While you can't exactly call it a hot spot, Frost Ice Bar is undeniably the coolest new bar in the Boston area.
The Frost Ice Bar is open seven days a week from noon to 10 p.m. General admission is $18.99, reduced admission is $16.99 for students, seniors, and members of the military, and admission for children ages 6 to 12 is $12. During the fall off-peak season, discounted tickets ($10 for adults; $5 for children) are available from noon until 4:45 p.m. Sunday through Friday. Guests under 21 are permitted entry until 5 p.m. Alcoholic drinks are $11; nonalcoholic drinks are $6.
Frost Ice Bar is at the Faneuil Hall Marketplace, third floor. By public transportation, take an MBTA Green Line trolley to Government Center.
This is part of a series featuring Boston nightlife venues of interest to the BU community. If you have any suggestions for places we should feature, leave them in the comments section below.
Irene Berman-Vaporis can be reached at imbv@bu.edu.