Lunch, Anyone? Root
Vegan cuisine in Allston
The good news about Root, the new plant-based restaurant and juicery in Allston's Union Square, is that both nonvegans and vegans can enjoy its delectable dishes and juices.
In the space formerly occupied by vegan pizzeria Peace o' Pie, the restaurant opened in July and has already been named one of BostInno's 10 best vegetarian restaurants that meat-eaters will love. Prices are reasonable: $3 for shaken drinks—such as honey linden flower iced tea, sweetened with agave, maple syrup, and brown rice syrup—and $9 for "big bite" sandwiches.
On a recent midday visit, Root was festooned with Halloween-themed decorations. Pumpkin-shaped lights draped the counter and a pumpkin etched with the restaurant's name sat on top. Paintings of farms lined one wall, recycled bike wheels another.
Patrons order at the counter and pay via iPad. The small, 20-seat dining area faces the open kitchen. Self-serve water in mason jars, straws, utensils, and napkins are near the counter. After ordering, we sat at a booth made of reclaimed wood, and our order began to arrive one item at a time on square white plates. Now it was time to dig in.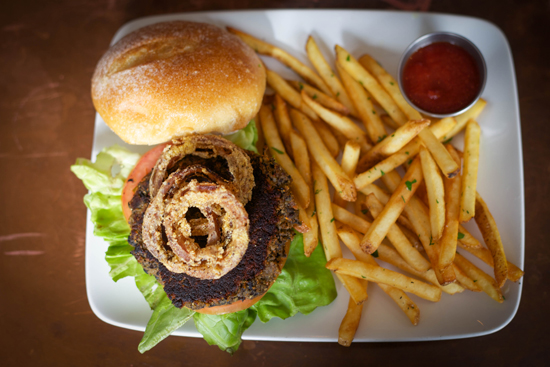 One of the more popular entrées is the Root burger ($9)—and it was easy to see why. Served with a choice of dressed greens or herbed fries, the house-made black-bean and quinoa burger comes topped with Boston lettuce, tomato, crispy onions, and garlic aioli spread on a slightly chewy but sturdy bun. The generous portion of not-too-salty, not-too-crunchy, olive oil–infused fries nicely complemented the burger. But it was the house ketchup, light, fresh, sweet, that stole the show. The combination made for a surprisingly satisfying dish.
We ordered another Root favorite, the Korean quinoa wrap ($9), which is also served with a choice of greens or herbed fries and consists of golden quinoa, topped with sesame-infused sautéed Portobello mushrooms, kale, red onions, pickled carrots, and sprouts. The creamy gochujang aioli gave it a slight kick. For an additional $1, you can get a gluten-free version.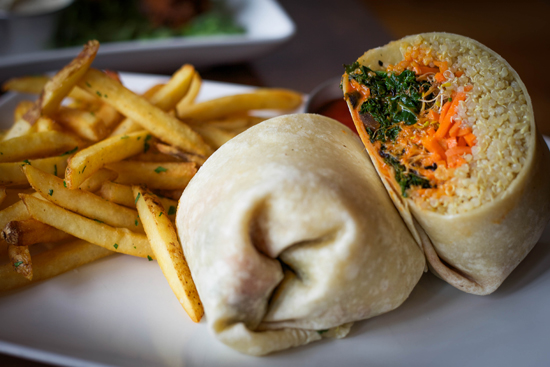 Next up, we tried the sweet corn and jalapeño hush puppies ($6), with house ketchup and garlic aioli sauces on the side. They had a thick, crispy, fried shell and the specks of corn in the cornbread left us craving more.
We were too full to try some of the other popular dishes, but based on word of mouth, we recommend the po' boy ($9), a sandwich with crispy cauliflower, spicy house rémoulade (French tartar-like sauce), sweet pickles, lettuce, and tomato on an Iggy's bun. Another house favorite is the sweet potato quesadilla ($7), a smaller dish made with sweet potatoes, kale, and sweet onions, served with a creamy thyme sauce.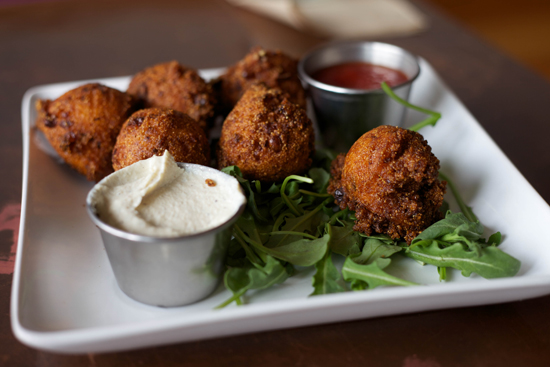 Try one of Root's five fresh juices ($6 for 12 ounces) or one of its four shaken drinks ($3 for 16 ounces) with your meal. We ordered the green juice, a fresh, nutrient-rich blend of cucumber, kale, green apple, and lime, served in a mason jar. Among the other juices are the citrus medley, made with oranges, lemons, and limes, and the Root punch, beets, sweet potatoes, and apples. Looking for more sweet options? Walk next door to the dairy-free ice cream shop FoMu, co-owned by a Root owner.
Root also offers a popular weekend-only brunch, which includes Liège (Belgian sugar) waffles ($9) and vanilla pancakes ($9), topped with your choice of pure maple syrup or seasonal fruit sauces and coconut crème, and George Howell coffee. Short on time? A take-out menu is available. The restaurant also does catering.
No matter what you order, all of the dishes stay true to Root's mission of offerng fresh, tasty, locally produced food. Even hard-core meat-eaters will be convinced of the delicious possibilities vegan cuisine can offer.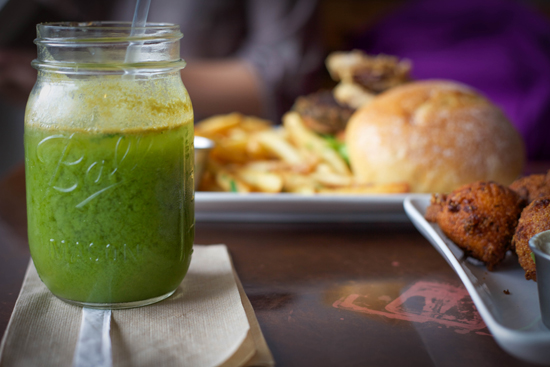 Root, 487 Cambridge St., Allston, is open Monday through Thursday, 11 a.m. to 10 p.m., Friday, 11 a.m. to 11 p.m., Saturday, 9:30 a.m. to 11 p.m., and Sunday, 9:30 a.m. to 10 p.m.; phone: 617-208-6091. The restaurant accepts MasterCard, Visa, and Discover, but not American Express. In addition to its regular menu, Root offers juice, take-out, and weekend brunch menus. Online ordering and catering are available. Root does not take reservations. By public transportation, take the MBTA 57 bus toward Watertown Yard via Brighton to the Cambridge Street at North Beacon Street stop.
This is part of a weekly series featuring Boston lunch spots of interest to the BU community. If you have any suggestions for places we should feature, leave them in the comments section below. Check out our list of lunchtime tips on Foursquare.
Sonia Su can be reached at ssu@bu.edu; follow her on Twitter at @SoniaSu_.
This Series
Also in
April 18, 2018

April 11, 2018

March 29, 2018